How To Clean Secret Lab Chair? Check the Type of Material Used on Your Secretlab chair, Collect the Items You Need, Clean the Upholstery, Remove Spots from The Chair
If you are a Secretlab fanboy, you must be upset by the fact that your Secretlab chair gets dirty easily, especially if it is fabric. (as Secretlab SoftWeave Fabric is much harder to clean than PU upholstery), you are not alone!
A lot of Secretlab users are facing the same problem, while others have absolutely no idea how to clean secret lab chair! That's why I created this handy step-by-step guide to show you the right way of cleaning your Secretlab chair.
Before going deep into the cleaning steps, there are a few points you need to know first,
The less Sweat the Better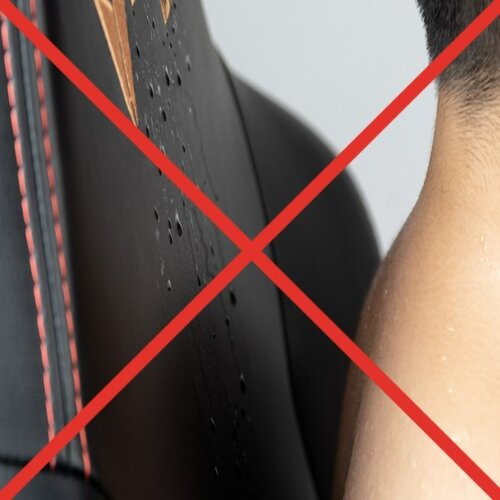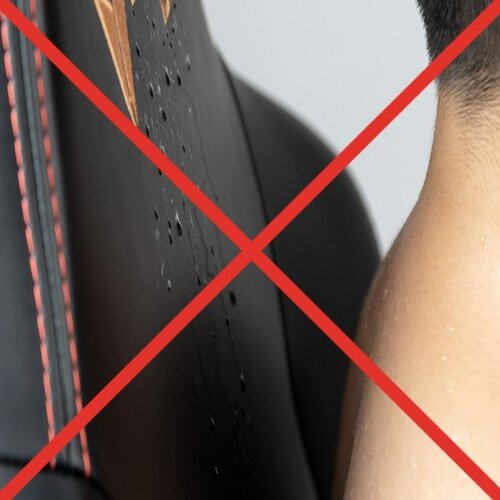 PU leather is the favorite upholstery option for most gamers as it is a synthetic material that feels and looks like real leather. PU leather comes in different qualities, but the fact is all qualities are prone to peeling when exposed to friction and sweat.
And the sad truth is, once your PU chair starts to peel, it can't be restored.
Sweat is naturally acidic, which means that it can have this effect over time. Actually, you can't tell your body to cease its homeostatic operations, but at least you can avoid bare-skin contact with your chair.
You also need to make sure that you dry off your body completely after shower before you sit on the chair
Read also, Secret Lab Cyberpunk Chair Review
Dedicate a day to Clean Your Chair
Such an important habit to get into is spoiling the Secretlab chair with a proper clean-up once every two weeks if you are living in a warm to cold climate, or every week if you are living in a hotter or more humid climate.
This 15 mins cleaning routine will contribute to minimizing the grime & dirt which naturally accumulates.
Protect Your Precious Chair from Sharp Objects
Always make sure that you keep sharp objects away from your chair surface, like Velcro and jean rivets.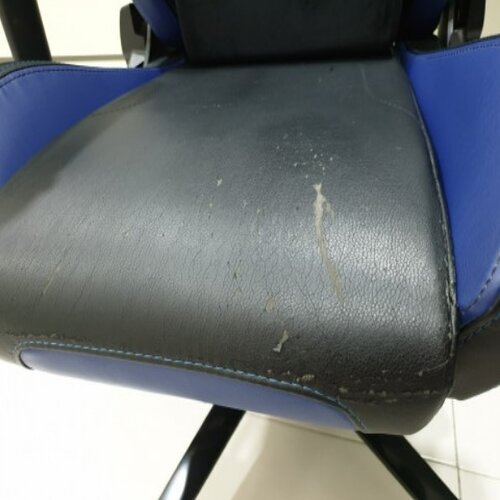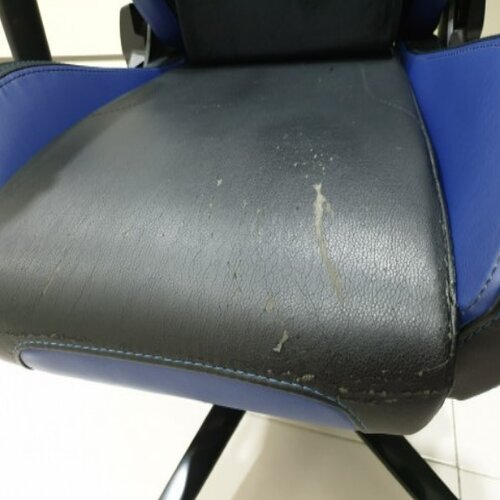 Keep Things Dry!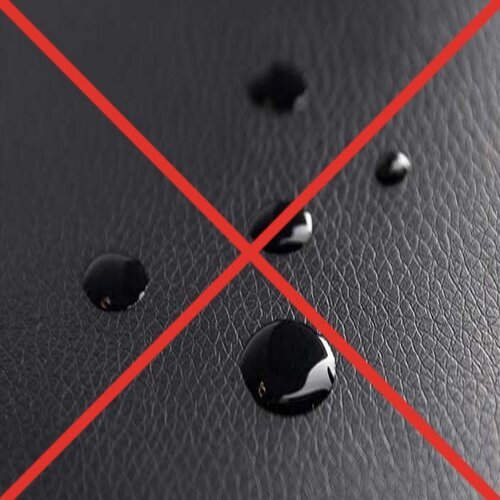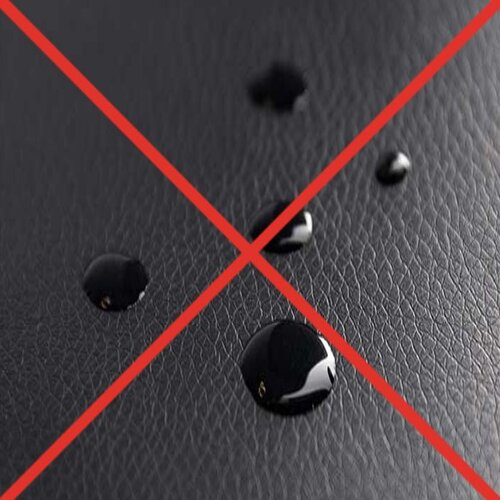 It is not only about sweat, but any kind of liquid (except for cleaners obviously!), especially if your asset is SoftWeave Fabric, as it isn't water-resistant like PU leather, so you have to minimize the chances of accidental spills as much as you can.
And if you accidentally spilled a soft drink or something, blot up the liquid on the fabric immediately with a paper towel or slightly damp cloth.
Also, check Secretlab Neuechair Review: based on real-life experience
Go Firm
It is always a better idea to get a medium-firm seat that is able to better retain its shape and integrity after long years of heavy use.
It is not only good for your posture but will avoid you from purchasing a new office chair or gaming chair every once in a while.
Now let's dive into the actual steps of How to clean secret lab chair
Step #1: Check the Type of Material Used on Your Secretlab chair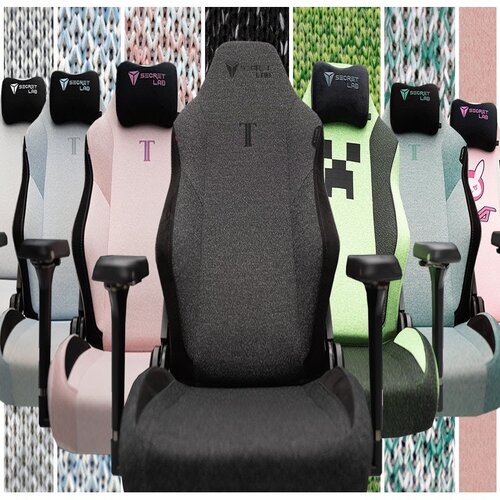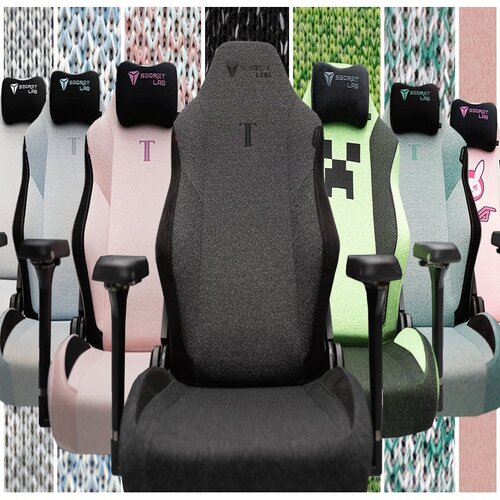 Different materials require different cleanup ways. So in order to protect your chair from being damaged while cleaning you need to know its materials and the right way for cleaning it.
Here are the most common materials and upholsteries of Secretlab chairs
PU Leather
Fabric
PVC Leather
Mesh
You will be ready to take a suitable approach to clean up your asset once you know which upholstery type is the majority of it. If you have no clue, you can google the name of your chair or check the user's manual or product description you received in the package.
Read more, 5 Best Secretlab Chairs: the ultimate guide for 2022
Step #2: Collect the Items You Need for Cleaning
if your Secretlab gaming chair is constructed from PVC Leather or PU Leather, you will need to gather a few things to clean your precious chair.
First things first, you will need a bucket that contains warm water, secondly, you will need a clean towel.
You also need to get a sponge and brush of different sizes, according to the level of cleaning you are willing to spoil your Secretlab chair with, or according to how dirty your chair is.
So what is your chair is made of Mesh or Fabric? Well, this is quite harder, but still isn't rocket science.
Your chair must be full of dust so you will definitely need to use your vacuum or blower machine. Simply vacuum the secret lab chair to remove all the stuck dirt.
If it is a mesh chair, you can use a standard vacuum attachment over it, while if it is a fabric chair, you can use the brush attachment on the vacuum by rubbing it gently.
We recommend wiping your chair once a week to avoid particles of dust from going too deep into the fibers of the chair, as they will collect over time and make it harder for you to get rid of them.
Read more , How to Use Secret Lab Lumbar Pillow?
Step #3: Clean the Upholstery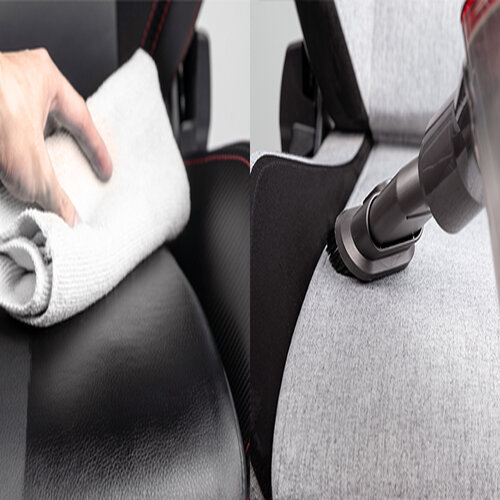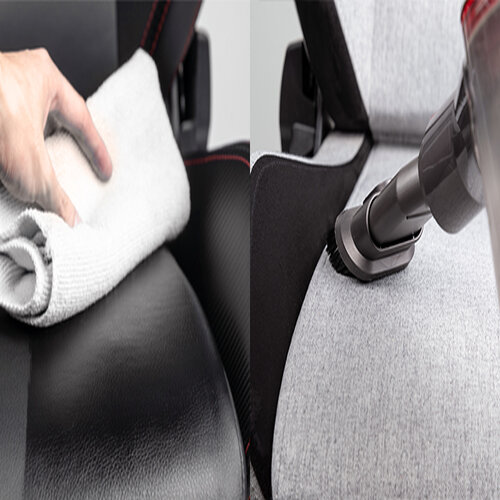 Next, you should start cleaning the Upholstery for removing any marks left by spills or pesky stains, but before you start, check the unit's care tag that is found on its backside.
If this care tag has an "S" mark, this means that you have to clean the chair using a solvent-based solution. If it shows a "W" mark, this means that you should clean it up using a water-based solution.
And finally, if it shows 'S/W' you can use anyone one of them. Actually, most Secretlab chairs have a "W" mark, and for that, you need to make a mixture of dish soap and warm water.
If you have a PVC Leather or PU leather chair, you need to wipe the mixture gently against the chair with a soft sponge.
On the other hand, if you have a mesh chair, you should never rub it, only blot it on gently, while if you own a fabric chair like Secretlab SoftWeave fabric chair you need to scrub the dirty spots with your brush directly.
It is worth mentioning that you can use a damp microfiber cloth for wiping against the grain of the suede for suede surfaces.
Read more, How To Assemble Secretlab Omega Chair? | 7 Easy Steps
Step #4: Remove Spots from The Chair
For hard stains, the previous steps might not be enough. If you did clean with the water solution and still can see a spot, then you probably have to spot clean it, let me tell you how.
Add a few drops of rubbing alcohol on a small piece of cotton and begin by testing it in a place that is out of sight like underneath the chair's seat, this is a precautious step for ensuring that you don't damage the upholstery.
After you rub the cotton against the chair, leave it for a few minutes to see if it causes any damage or not. If it didn't do any damage, then you are ready to go. Simply rub the cotton against the area where the spot is, but you need to make sure you rub it so gently and for a few rubs only, otherwise, the chair will have holes.
You can also use Baking Soda for cleaning the backrest and seat, as when it is mixed with water, it can dissolve dirt and grease in addition to its powerful deodorizing characteristics.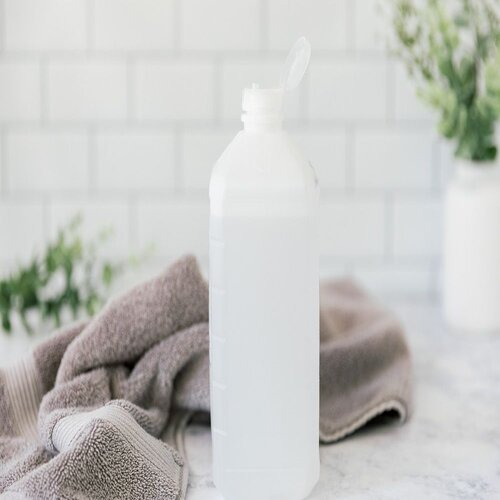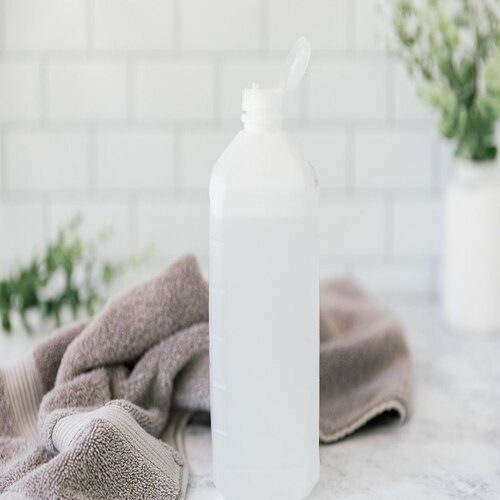 Read more, Best Chair Mat for Berber Carpet
Step #5: Time for Base, Armrests & Steel Frame
Now that you are done with the dust and stains it is time to dry clean the rest of your lovely Secretlab gaming chair.
This is the easiest step, all the items you will be needing are just a soft sponge or piece of dry cloth, a mixture of warm water and mild detergent & a paper towel.
Step #6: Take Care of Casters
Here we come to the last step of cleaning your Secret lab chair. wheel casters tend to make your clean-up process a little bit more challenging because of the too much dust, hair, and dirt that are most probably caught in them because as you know, they are just drag.
If your chair's wheel casters are made of stainless steel, you will have to clean them more carefully.
Now, flip your chair upside down, then grab the vacuum and use the crevice tool for cleaning the inside & all surface areas of any dirt.
In case you want a deeper cleaning, you can use a cloth and surface upholstery cleaners for removing hair and dirt from the outside areas of the wheel casters.
for the hard-to-reach areas on both sides of the wheels, you can use a cotton ball dipped in rubbing alcohol.
Read more, Secret Lab Cyberpunk Chair Review
Step #7: Dry the Chair Under Direct Sunlight
After you are done cleaning your secret lab chair, let it dry before using it by placing it where it is exposed to air and sunlight.
As you know sunlight is one of the most powerful disinfectants, and it won't only dry your chair but also kill any bacteria alive.
The chair will take around 30 minutes to get fully dry in hot sunlight, but if you are in a colder climate you will need to live it for a whole day till it fully dries.
Extra Step: Tighten Any Loose Screws
Now you must be having a shiny chair, we recommend you take some time to retighten all the screws of the chair as some screws might get loose overuse.
If by chance you found out that your gaming chair is squeaking, you can apply WD-40 to the screws for additional safety.
You can also use Secretlab Fabric Cleaners
Secretlab's Premium Fabric Cleaner spray is an effective stain removal product made to clean and deodorize the fabric upholstery so well while being gentle on it. It has anti-static factors for reducing static buildup.
Secretlab's Premium Fabric Cleaner comes in a 250 ml spray bottle and here is how to use it correctly.
Spray a little bit of the sprayer on a dry microfiber cloth.
With the damp cloth start to wipe your fabric surfaces.
If the stain doesn't go away you can repeat the last steps, till the spot goes away.
Place your chair near a window to air-dry.
It is worth mentioning that Secretlab also offers disposable, pre-moistened wipes, which contain the same solution at a less price.
Read More: https://thegamercollective.com/how-long-does-secretlab-chair-last/
Tips for Secretlab Chair General Maintenance
Try to place your secret lab chair away from the window, as frequent direct sunlight will damage & weaken the fabric. However, if it is a fabric chair you can expose it to sunlight to let it dry after cleaning.
Keep your chair away from pets as they will scratch it, and if you have a pet, secret lab Softweave is a better option than a PU leather chair.
Do not put sweat stains on the unit by staying cool or putting a towel down, as this will cause the upholstery to fade away.
For PU leather chairs or any genuine leather chairs, it is recommended to apply a leather conditioner once a week for preventing cracking.
Don't use a hairdryer near your chair, as that will compromise the leatherette's top coating, which results in damaging its durability and color.
Don't stand on the chair nor sit on its front edge
Also, check our picks of the 15 Best Alternatives for Secretlab Chairs Reviews
FAQ on How to Clean Secret Lab Chair?
Do Secretlab chairs get dirty?
Secretlab PU leather, SoftWeave™ Plus, and SoftWeave™ Fabric chairs get dirty over time just like any kind of chair. Cleaning PU leather is easy while cleaning fabrics is a little more challenging.
For cleaning fabric, you can simply vacuum up dust or dirt or use a fabric cleaner like Secretlab Premium Fabric Cleaner in case of spilled liquids.
 How do you sanitize a gaming chair?
For sanitizing your gaming chair just soak a sponge or piece of cloth with soap and warm water and scrub your chair clean of stains & dirt.
You can also use rubbing alcohol on light stains and place your chair in sunlight as the sun is one of the most powerful disinfectants.
Final Thoughts
A gaming chair is soft and breathable, it absorbs body oils, sweat, and dust, which over time build up odors, bacteria, and stains especially if it is a fabric gaming chair.
Deep cleaning isn't rocket science, and most of all aren't at all expensive. You will just need a vacuum, mild soap, sponge, and warm water to be all set, but for harder stains, it will need some extra effort.
Now that I have taught you how to clean secret lab chair perfectly you will be enjoying a hygienic, clean and comfortable gaming session every time.
Whether it is a cyberpunk 2077 edition chair, DVA chair, Omega chair, or Secretlab Titan Evo chair, a clean Secretlab gaming chair gives a shiny look to your gaming setup.