Secretlab is almost the best gaming chairs company on the market right now, kudos to its premium materials and innovative, ergonomic features that allow for an incredibly comfortable sitting experience and enhanced gaming sessions.
But let me tell you that not only do the premium materials and ergonomic features play an important role in making Secretlab chairs the top on the market, but also their upholstery options, including neo hybrid leatherette, PU leather, and Softweave Fabric material.
If you are looking for a super soft velvety gaming chair, then the Secretlab Softweave gaming chair is the best choice to make. And in the following lines, you will find everything you need to know about it.
Just keep in mind that, there are a few details that might differ according to the color you pick.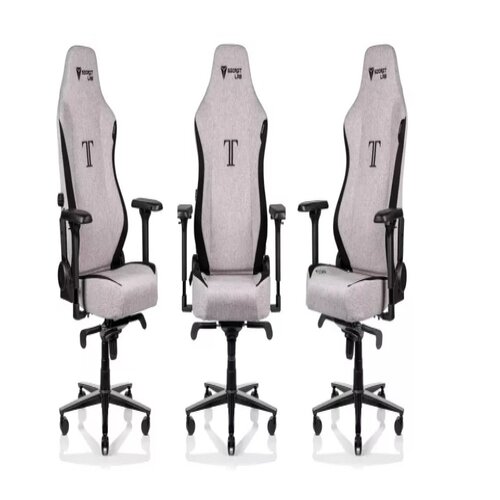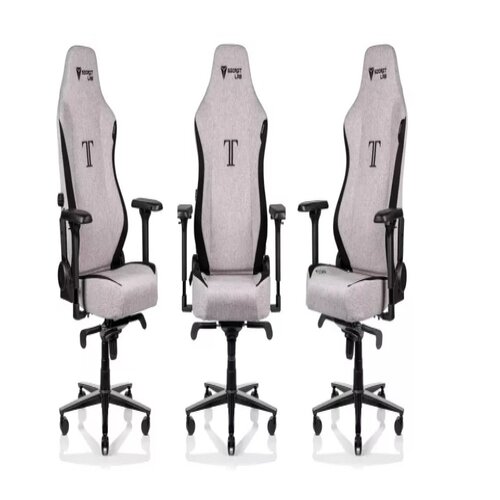 Secretlab Softweave Gaming Chair
Features
Secretlab SoftWeave™ Plus fabric
3d gradient knit
3.5x stronger than its predecessor
Magnetic CloudSwap™ replacement system
Patent-pending Magnetic Memory Foam Head Pillow
Hydraulics Gas Piston: Class 4, Heavy Duty
Proprietary pebble seat base
Soft PU coated 4d armrest
Full-length ergonomic backrest
Foam: High density, Cold Cure Cut
Steel frame construction
Built-in adjustable lumbar support
Recline High-grade spring; 85-165 degrees
ADC12 aluminum wheelbase
Mechanism Type: Multi-tilt
Before going more in-depth about the chair's features, let me tell you that you can get Secretlab Titan SoftWeave Cookies & Cream chair directly from the UK Secretlab store for a cheaper price when you pick it up at the US Secretlab store.
Package and Assembly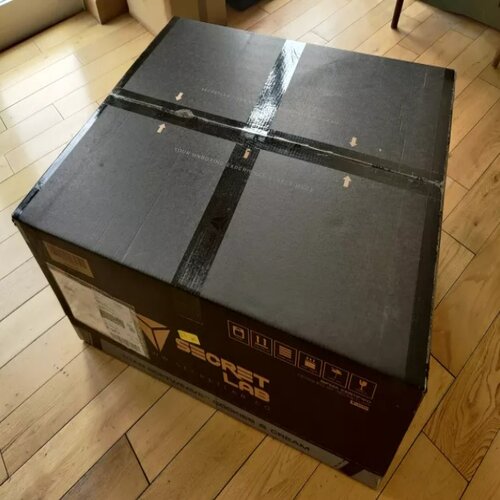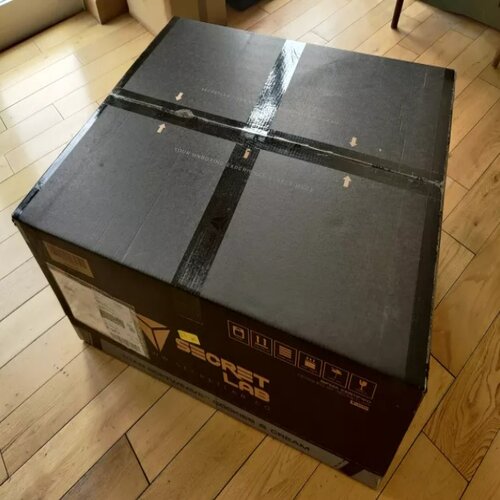 You will receive Secretlab SoftWeave packaged in a big black box with the logo of Secretlab on it. The whole box is heavy and feels so dense, which is an early sign that you are holding a serious piece of kit in your hand before even opening the package.
Also, check the other best white and black gaming chairs.
When you first open the package, you will find Secretlab welcoming you with a nice greeting message that will make you feel so special, in addition to a few friendly advice & contact details.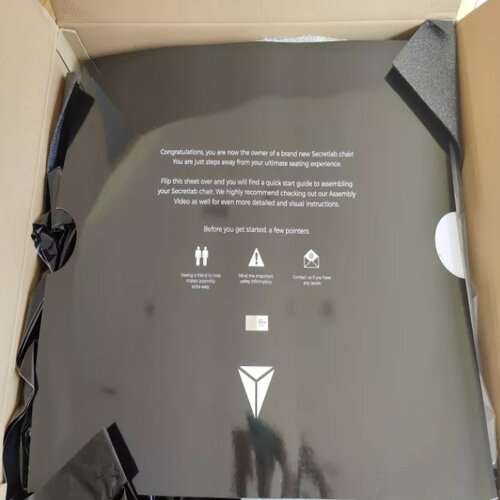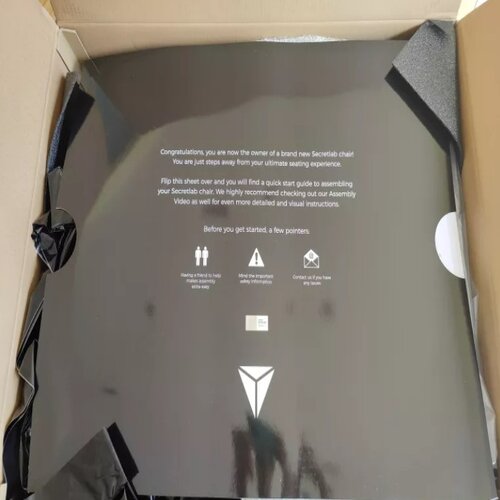 When you flip the message, you will find a big, glossy set of assembling instructions that has full-color photographs and easy-to-understand instructions.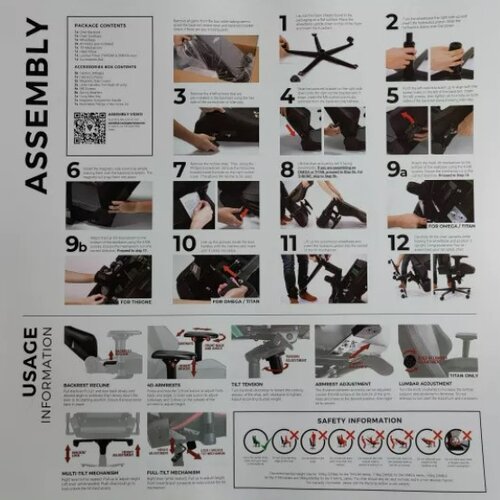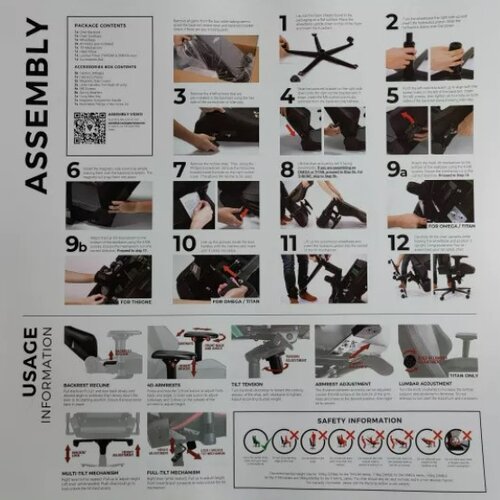 At this stage, you are going to find a small little badge of authenticity that comes with a note to indicate that the whole box has been hand-inspected by one of Secret Lab's employees.
To be honest, this is a really classy move and continues the initial air of a top-notch piece of tech.
You will find the package's components wrapped in Cellophane baggies, while the smaller parts, such as the nuts and bolts, as well as the tools you will need to assemble the premium gaming chair come in dedicated sub-boxes.
You will love how classy some tools are packed in their own sub-box, clearly labeling what every tool is and what it is used for, which makes the assembly process itself simple and straightforward.
You will find some instructions showing handy trips, as you should use some of the foam packaging layers to place the components over in order to protect them from scratches during the assembly process.
Putting Titan SoftWeave together will be proceeded at a quick pace, especially since the holder and wheels come joined together just like the backrest & the seat.
For assembling the backrest all you need to do is to slide it into struts found on the chair's seat, then get it secured with the attached solid and thick steel bolts.
From this very point, you can turn Secretlab titan SoftWeave gently over and fix the adjustable full-tilt mechanism to the base and connect it with the hydraulic piston that is found in the wheelbase.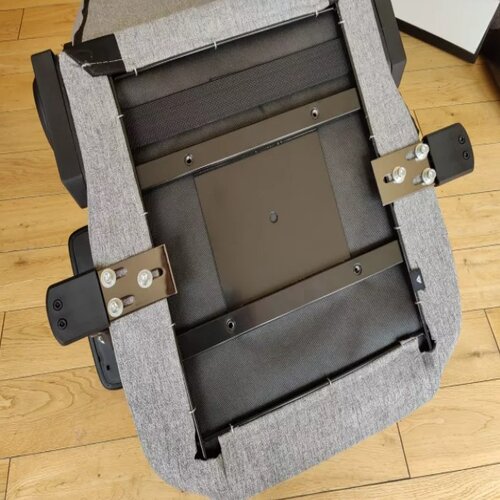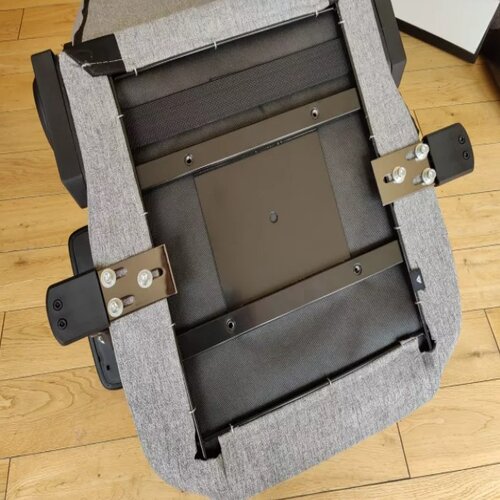 Now all that's remaining is a few coverings & adjustments for the chair's 4d armrest as you desire.
Personally, my assembly experience was amazing as it was very clear & straightforward, in addition to the potential pitfall's warnings. For instance; you find a big cardboard sleeve wrapped around the seat which tells you not to use the tilt adjustment lever till the backrest is securely installed.
Read more , How to Use Secret Lab Lumbar Pillow?
Design & Materials
The Secretlab titan best gaming chair has the same iconic Titan design as SecretLab's leather varieties: faux leather, leather (which is the most expensive), and fabric.
In this gaming chair review, I will be talking about the fabric upholstery, Softweave Fabric. This new SoftWeave fabric gives it a completely distinct look.
The material itself is surprisingly soft to the touch. Although it is not as smooth as leather, it is in no way coarse like fabric finishes on other cheaper gaming chairs or office chair varieties.
When you have a closer look at the SoftWeave material you will see how tight the weave is, along with subtle shade changes over the chair's surface.
As for the stitching, it is tight & consistent, with Secretlab and Titan Evo logos and badges that have smart finishes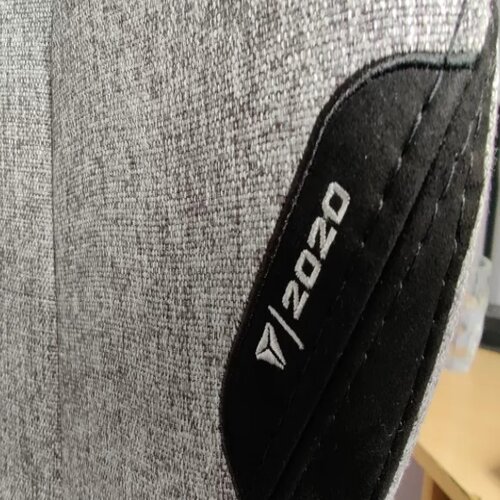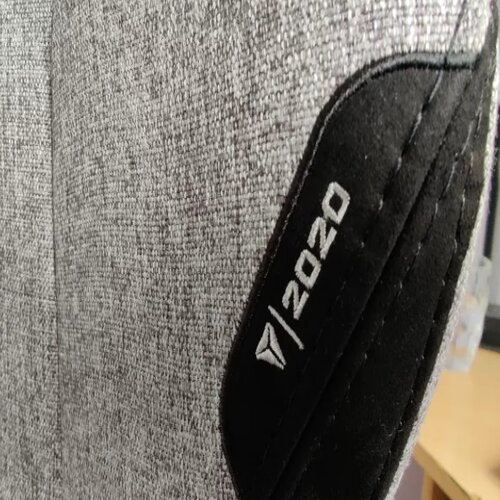 The neck pillow, armrests, and seat base come in black, adding a high-class look to the unit.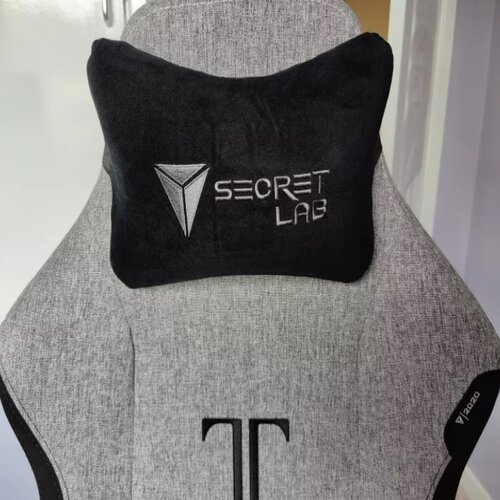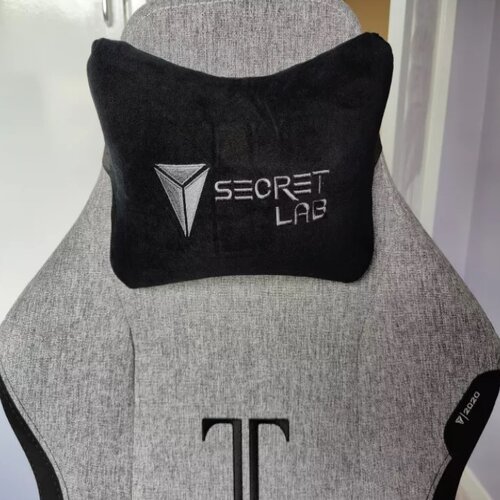 To sum up, when you see the titan softweave Secretlab chair after assembly you will know that you are looking at a real masterpiece with premium materials, actually, you might even confuse it with the great Secretlab omega chair, but the Large T letter will remind you that you are just looking to a Titan Secretlab Chair.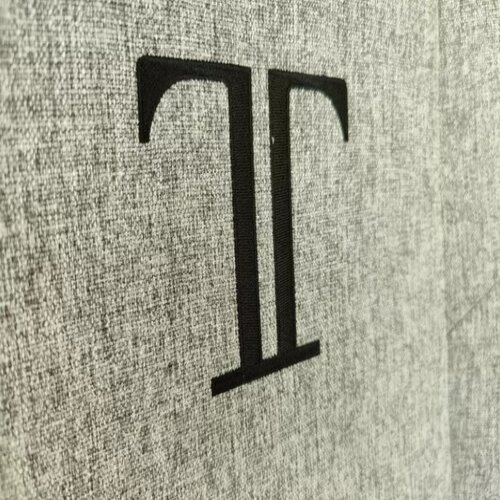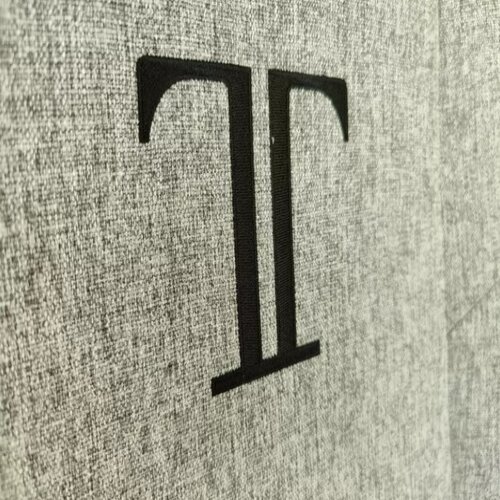 Secretlab Softweave is designed to match a wide range of gaming setups, that's why it is available in 6 fresh colors, including; charcoal blue (frost blue), mint green, plush pink (Dva gaming chair), black, cookies & cream, and arctic white.
If you have a pink gaming setup and want to make a stunning pinky addition to it, check out our plush pink Secretlab DVA gaming chair review. And if you want other pink varieties at less price you can check our 7 Best Pink Gaming Chair Models.
Performance and Features
When you first sit in Secretlab Titan SoftWeave gaming chair you will feel its support & comfort are immediately evident.
The chair's velvety soft fabric is very gentle & smooth on your skin while the 4d armrests offer a spongy exterior layer that allows for comfortable elbows leaning even in the longest gaming sessions.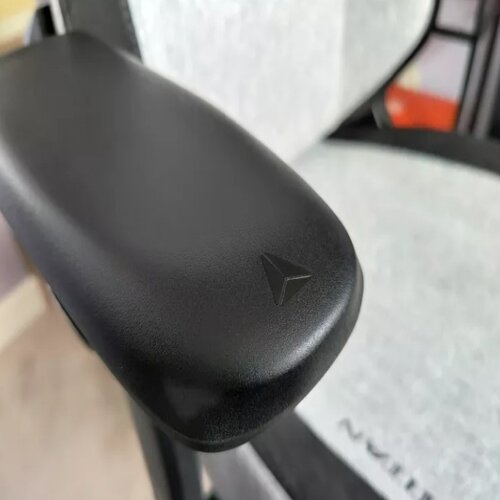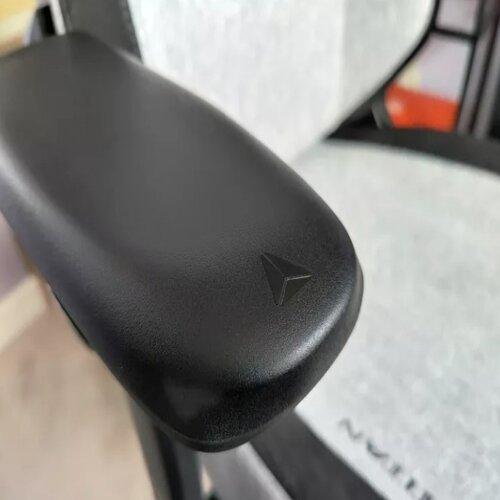 And speaking of the armrests, they are perfectly adjustable, you can move them up & down, move them forward & backward, in & out and rotate them.
It only takes a few button presses, and you will be having a perfectly comfortable sitting experience.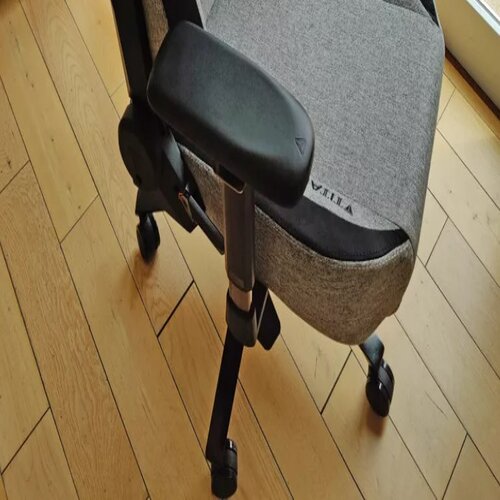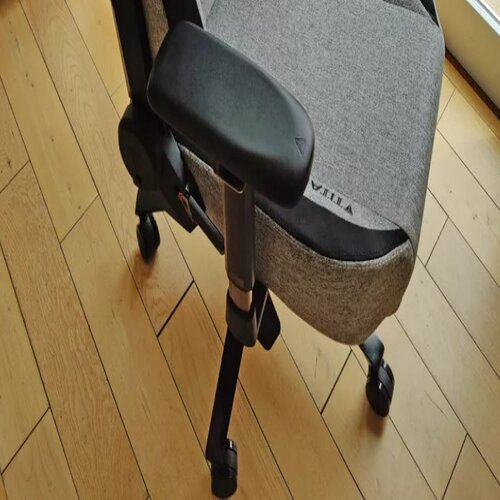 So, what about the tilt mechanism? The tilt is adjustable as the comfortable gaming chair comes with a lever located on the right-hand side, allowing for a near-horizontal level of backward tilt mechanism, which means that you can have peaceful naps on your favorite Secretlab gaming chair.
Moreover, you can adjust the chair's height by a lever that is built on the right side underneath the seat.
You can simply lift the paddle up when you sit on the gaming chair and you will find the hydraulic piston falling with the height adjustment being reduced. And when you depress the paddle while standing up the chair will start to rise.
Read also, How To Clean Secret Lab Chair? Easy 7 Steps
Ergonomics
You will be happy to know that Secretlab titan softweave gaming chair is a firm chair that helps in keeping your body in an upright posture, kudos to its hard steel frame that is covered in Secretlab's dense Cold-Cure memory foam mixture.
Which is different from other memory foam types as it is made by using a single piece of foam & aluminum molds instead of many foam layers.
It is worth mentioning that this memory foam mix also employs air pockets for absorbing pressure.
Although it is not the hardest chair that I have tried, it provides some give, while encouraging your spine to get straight by the gaming chair's more rigid feel.
In terms of ergonomics, Secretlab softweave chair is such an impressively comfortable chair, I have been using it while playing Fortnite, Cyberpunk 2077, listening to music, chilling and watching Netflix, and even for taking naps, and let me tell you that it performed exceptionally well during all these activities.
you might also like to check our detailed Secretlab Cyberpunk 2077 edition gaming chair review.
Secretlab Titan Specs
Upholstery: Softweave plus fabric, faux leather, or Napa leather
Seat Height: 18.7-22.4 inches
Backrest Height: 33 inches
Backrest Width: 21.7 inches
Total Height: 51.7 – 55.4 inches
Height Adjustment: 3.5"
Seating Area Depth: 19.7 inches
Armrest Height: 26-33 inches
Armrest Height Adjustability: 3.5 IN
Armrest Width: 3.9 inches
Weight: 77 pounds
Maximum Weight Supported: 290 pounds
Armrest Front to Back Adjustability: 2.8 IN
Warranty: up to 5 years
Pros
Smooth, quiet glide
6 fresh colors
Durable
Breathable
Incredibly soft to the touch
Comfortable and supportive
Excellent back support
Comfortable temperature regulation
Easy to put together
Cons
Not meant for gamers under 5'9″
No lumbar support (lumbar pillow)
You need to press the handles so well into place to lock them
Read more, Secret Lab Cyberpunk Chair Review
The Best Secretlab Softweave Alternatives
Secretlab gaming chairs are the best of all time, but their only issue is that they are expensive and not every gamer can afford them, so in the following section I will show you the best Secretlab Softweave Chair alternatives.
These gaming and office chairs won't be as comfortable as Secretlab chairs but they will still offer you a great amount of comfort and plenty of adjustable features that will take your gaming sessions to the next level.
Herman Miller gaming chair
Anda Seat Jungle Series
Razer Iskur gaming chair
GTRacing Pro Series
Homall Gaming Chair
OFM Ess Collection Racing Style Bonded Leather Gaming Chair
RESPAWN RSP-110 Racing Style Gaming-Reclining Ergonomic Chair with Footrest
Hbada Gaming Chair Ergonomic Racing Chair-Height Adjustable Headrest and Lumbar Support E-Sports Swivel Chair
CORSAIR WW T1 Gaming Chair Racing Design
Razer Enki X Essential Gaming Chair
AKRacing Core Series EX-Wide Gaming Chair
Anda Seat T PRO 2 Ergonomic Office Game Chairs
CORSAIR TC60 Fabric Gaming Chair
If you want to know more about some of these amazing alternatives check out our "Best Secretlab Chairs Alternatives"
FAQ on Secretlab Softweave
Can you sit cross-legged on a Secretlab chair?
Of course, you can!
You can sit comfortably sit cross-legged on Secretlab OMEGA, TITAN, and TITAN XL, as secret lab gaming chairs are made for catering to a huge variety of heights & builds, which means you will definitely find the size that allows you to sit with comfort.
To be more specific Titan xl will allow for a more spacious sitting experience as it comes bigger than the Omega chair, allowing you to sit cross-legged with more comfort.
But we actually recommend against sitting cross-legged with your bare feet as they will leave dust and unwanted footprints.
Also check, Secretlab Titan Softweave Vs Pu Leather| The Ultimate Comparison Guide
Final Thoughts
Secret lab titan softweave has definitely taken my gaming setup to a new level, actually not only my gaming setup but also my whole gaming sessions, credits go to the premium materials and comfortable features this ergonomic chair provides.
I have tried so many gaming chairs so far, but this softweave plus gaming chair is really remarkable and I can say that it is literally one of the best gaming chairs on the market.
Some people might be wondering, is it a good office chair?
Well, from my own perspective, you shouldn't get that ergonomic chair unless you are a pro gamer, as its top-notch materials and highly comfortable features will be an overkill to be utilized as an office chair, especially since the chair is costly.