Best Black and White Gaming Chairs – Elegance and Quality
What are the best Black & White Gaming Chairs? There are several options out there, but finding the perfect chair can be tricky. Are you looking for something comfortable, durable, and affordable? Or maybe you want something that looks good too. Whatever your preferences, here are some great choices.
Black & White Gaming Chairs are designed specifically for those who play video games. They offer comfort, durability, and style. These chairs are also known as "gaming chairs," because they were originally designed for professional gamers.
These chairs provide ergonomic comfort and support. They are designed to fit perfectly into any home or office setting. These chairs are also known to reduce back pain and neck strain.
There are several types of Black & White Gaming Chairs, each with its own advantages and disadvantages. Some models are better suited for specific genres or consoles. Others are more versatile and can accommodate multiple platforms.
Here is the list of the best black and white gaming chairs on the market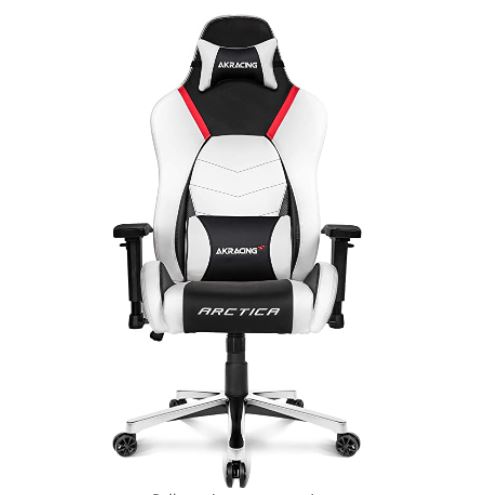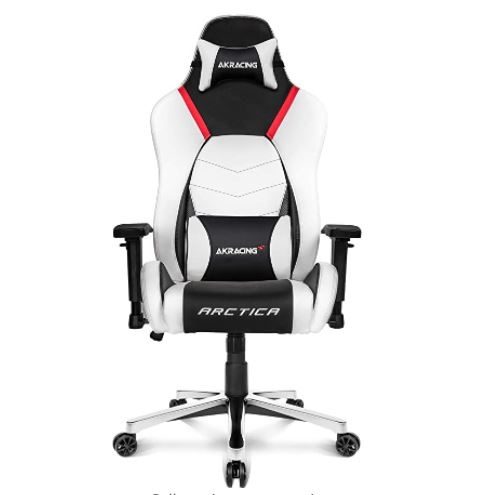 The AKRacing Masters gaming chair raises the standards for what a gaming chair of this price can be, and it truly lives up to those standards. Just like any gaming brand, AKRacing cares for its name and offers a series of chairs for all tastes and minds, but we choose the CLASSIC.
The racing style and ergonomic design of this chair prove its worthiness. You might wanna read this review carefully to get the full picture of how amazing this chair is.
Key Features
High-density Foam padding and PU leather
Strong aluminum base and steel frame
Adjustability
4D armrests
Dynamic tilt lock system
This seat will support you while you put in some hard work, with just enough padding to provide extra comfort without being bulky. Add to that the soft PU leather covering while being soft and simple to clean, so no stain problems!
This racing chair's base is of metal, enhancing its durability by up to 50% and twice the expected lifetime of a normal chair. Easily supporting up to 400 pounds, making it more flexible for bigger gamers and safe for them to move in their chair freely.
The adaptability of the Masters series is almost priceless. Their huge range of adjustability adds to the overall comfort of the chair. The 4D armrests give you freedom in moving, adjust it however you like up and down, in and out, back and forth, and even side to side. You could even flatten the chair to nap with its 180° recline feature with a dynamic tilt and rock function that'll lock at your desired spot and adjustable height for maximum comfort.
Pros & Cons
Pros
High-quality
Very adjustable
Comes with many extras
High weight capacity
Cons
Confusing assembly
A little uncomfortable for people with broader hips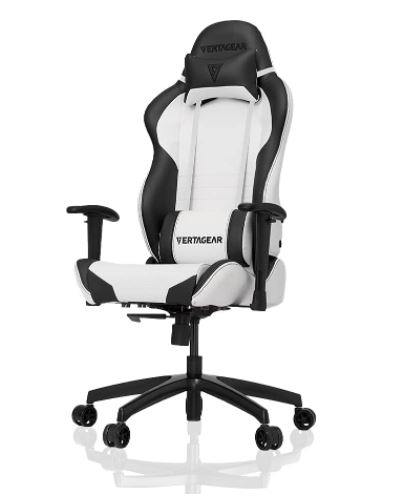 The VERTAGEAR S-Line 2000 is the embodiment of your wishes, having only two steps to get it ready to use and delivering a comfortable ride at a decent price. With the features of a much more expensive gaming chair, but still, the durability is of a cheap one.
The S-Line 2000 is also of the racing design with an ergonomic high back. The simple -yet beautiful- design earns it a point along with the other features. Making itself a strong option to consider among the best of the white and black chairs for the gaming experience.
Key Features
PUC leather
Adjustable neck and lumbar pillows
2D padded armrests
140° recline
Adjustable tilt and rocking
The whiteness of the PUC contrasts with the black and creates a beautiful aesthetic, long-lasting, and stain-resistant aesthetic. While the chair's steel frame and high-density foam provide the best of both worlds in terms of comfort and cleanliness.
In terms of features, the S-Line 2000 performs admirably. The neck and lumbar pillows are of high quality and can be changed to any position of your choice or even removed totally. Because the armrests are only in two dimensions, you don't have entire control over them, but they still manage to be a nice feature during your gaming session.
It only reclines to 140 degrees, which is less than other chairs, but it does include an 80-degree swivel, for you to lean forward with ease. The ergonomic chair includes an adjustable tilt mechanism to rock and lock into one of four locked positions, and it is available in a range of heights to satisfy both tall and short players.
Still, with a 2- to 10-year warranty, depending on the item, you shouldn't be bothered. The S-Line-2000 is a superb pick, offering an amazingly simple setup process using VERTAGEAR's fast 2-step assembly technique and a typical choice of quality and comfort features.
Pros & Cons
Pros
Easy assembly
Sturdy and comfy
Long warranty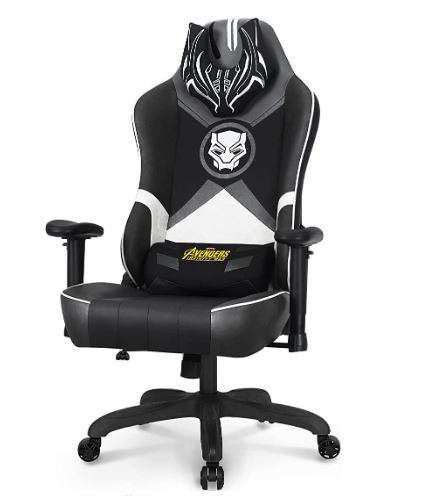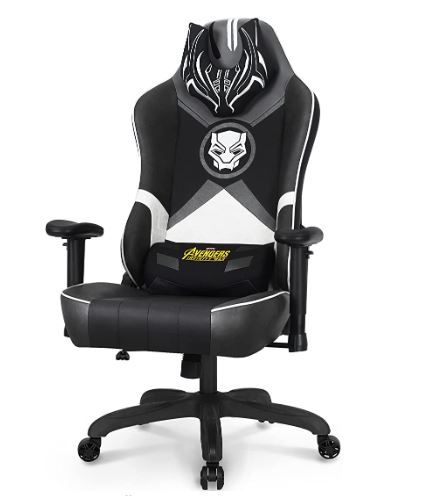 The Marvel series is at the forefront of gaming chairs with its modern design of the gorgeous Black Panther-themed chair, and it's a fantastic addition to your Marvel collection (and other stunning range of colors). It has a gorgeous look thanks to its one-of-a-kind and cutting-edge design. Your feelings for your favorite hero will be fulfilled. Making it a great purchase.
They provide a wide choice of models, from low-cost to high-end gaming chairs, to pick from making this a budget chair and a high-quality gaming chair at the same time. Each model is tailored to meet the specific needs of the gamer.
Key Features
Max weight capacity of 400 pounds
High-quality memory foam wide seating
Lumbar support and extra cushions for the backrest
Ergonomic neck pillow
This gaming chair features enough seating for the gamer, making it quite pleasant to use over time. The broad seats will support the larger gamers. With a capacity of up to 400 pounds of maximum weight, supporting pretty hefty players. And it comes with a sturdy nylon ABS base that can hold whatever weight you want it to hold.
The cushions and seats of this gaming chair are padded with superior memory foam for extra comfort. The chair is totally covered in tough and long-lasting leather that WILL last. Extra cushions on the backrest of this gaming chair provide additional lumbar support. There is also a well-made and ergonomically designed neck cushion and adjustable headrest to add to the chair's comfort.
This chair may be comfortable for larger people, but it will be uncomfortable for taller gamers. The low seating position of this gaming chair maybe a touch too low for excellent ergonomics.
Pros & Cons
Pros
Strong build
Durable
Easy assembly
Aesthetic
Amazing lumbar support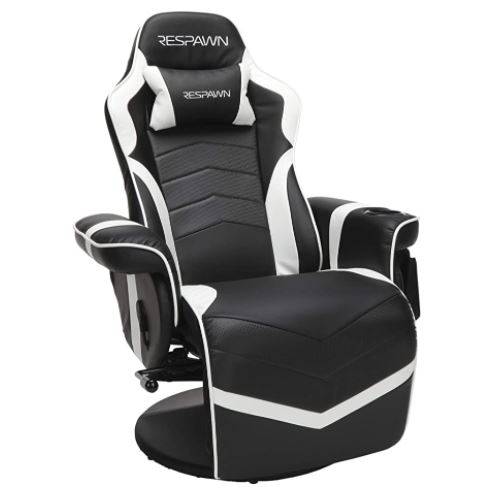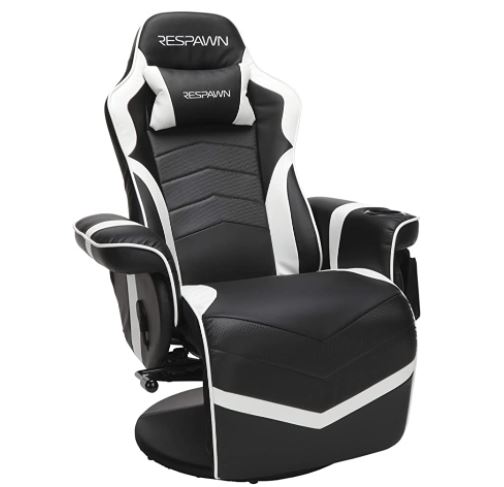 Are you ready to step up your gaming game? For console gamers searching for a bit extra comfort, RESPAWN provides the perfect seating solution. The White RESPAWN-900 Racing, Reclining Gaming Chair motivates you to win as you rest in luxury.
This gaming recliner has split upholstery for lengthy gaming sessions as well as headrest support to keep your posture straight. There's also a built-in cup holder in the left arm for quick and easy refreshment, as well as a set of adjustable features like the detachable panel for keeping game controllers and headsets close at hand.
Key Features
Cup Holder
Wide seating
135 degrees recline
Attached footrest
Lumbar pillow
The seat is designed to give additional comfort and convenience by combining the chair and footrest into one continuous surface, eliminating typical recliner gaps where wires can become entangled when the footrest collapses.
The back reclines 135 degrees and slides independently of the retractable footrest, for you to sit in any position you like. The base of this reclining gaming chair swivels 360 degrees to allow for more flexibility. Giving you more comfortable postures and wonderful resting options.
This gaming chair may provide good comfort when needed. The lumbar pillow provides back and upper body support, avoiding weariness during play. There is also a cup holder in the armrest for your convenience, so your lap is always clean. It has superb, soft armrests that add even significant support to your shoulders and upper body.
RESPAWN, an award-winning brand, is dedicated to your satisfaction and backs up your gaming days with a 5-Year Warranty. Would you power up without this cozy gaming chair? You may relax knowing that the chair is covered by a 5-year warranty. It's time to play!
Pros & Cons
Pros
Firm build
Sturdy base
Reliable lumbar support
Cons
Does not come with wheels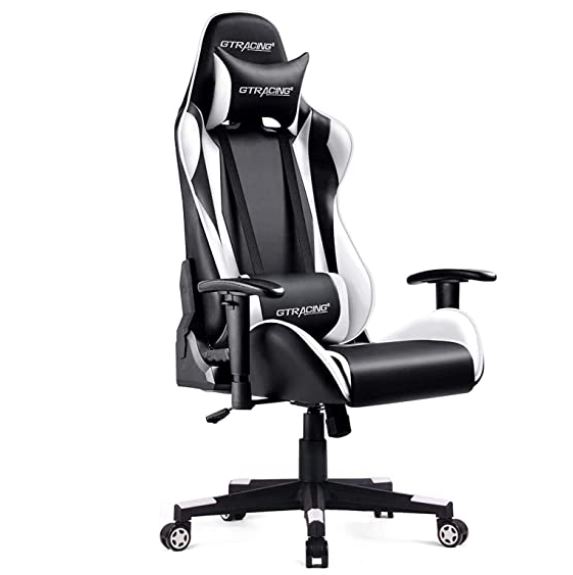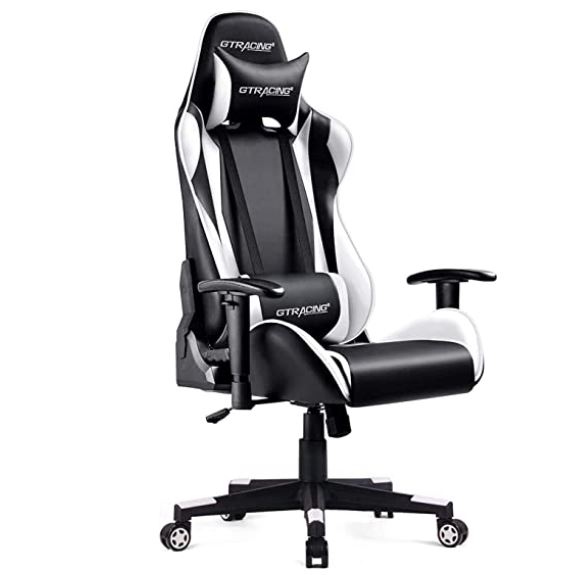 For long gaming sessions, the GTRacing ergonomic gaming chair is THE ONE. Fancy this, it's also within your price range. One of the most comfortable gaming seats on the market, and an excellent pick.
To begin with, its sleek design of a racing-style gaming chair brings you a premium sensation. The racing-style chair has numerous functions. Its versatility allows it to be utilized everywhere, including your room, gaming console, or even at work.
Given its low price, the benefits of this heavy-duty gaming chair are mind-boggling. You can see the amazing quality of this chair when we dive into its qualities on your own because of its high level of comfort with a set of additional features.
Key Features
170 degrees recline
Adjustable armrests
High-quality coating
Ample lumbar support
Ergonomic built
This comfortable chair has a robust steel structure and can hold a significant amount of weight. It is also supported by a robust metal base and free flow wheels, allowing the seat to be incredibly flexible and nimble.
The armrest may also be adjusted in height to provide additional support for the arms and upper torso. This adds to the gaming chair's appropriateness for users of varying sizes. This chair's comfortable seat cushions and padding are all made of high-quality leather to provide the gamer with superb lumbar support. The added lumbar and neck supports will provide ultimate comfort when relaxing on this chair.
This very affordable gaming chair is ideally constructed, so you won't get tired of sitting in it after only a few minutes. It also provides adequate lumbar support to protect your back from becoming weary and suffering after a short length of time. The backrest may be reclined from 90 to 170 degrees for more convenience and back support. It also includes a rocking motion, which makes this gaming chair even more pleasant for the gamer.
Pros & Cons
Pros
High-quality materials
Great customer service
Generous recline
Cons
Narrow seating
Low armrests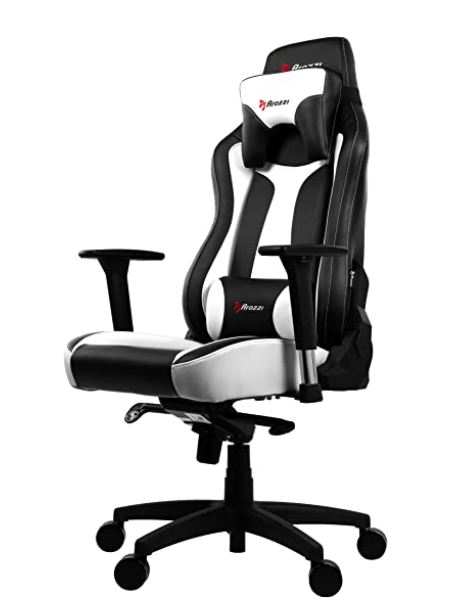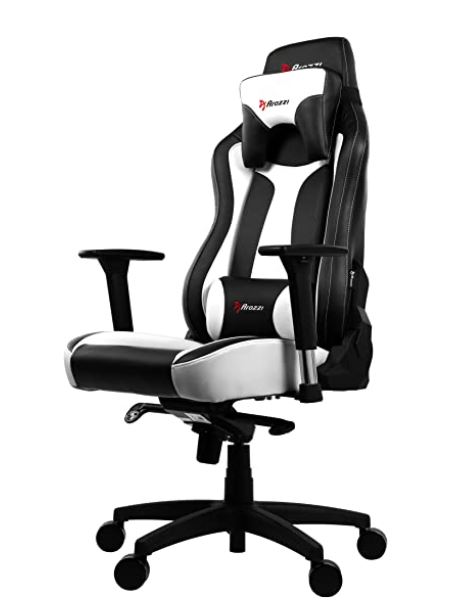 This, like the Masters Series, is a high-end chair with a high price tag. The Arozzi Vernazza Series is an excellent choice for seats due to its high-quality construction and flexibility to customize the chair to your liking.
The extensive list of functions provided in the Arozzi series to assure your comfort and meet your demands from a gaming chair that at times appears to be your closest friend. Along with a steep cost for good quality. superior to the usual office chair.
The Vernazza Series is a sturdy and comfortable gaming chair with a variety of customizable options that allow you to tailor it. It's a luxury chair at a steep price, but it's an excellent choice if you're looking for a white gaming chair. If you go along with it, remember that you'll be on your own in 2 years.
Key Features
165° recline
PU leather upholstery
3D armrests
Neck and lumbar support cushions
Cold-mold foam padding
The PU leather cover over the cold-mold foam seat cushions provides a pleasant ride while still being durable enough to carry you through several tournaments and matches. While most chairs claim to be ergonomic, the Vernazza has a broader design that guarantees you have plenty of areas to be cozy.
The Vernazza boasts side panels on the back and a seat that lifts just enough to feel safe, but not so much that you feel pressed into position, making it a good fit for bigger players.
When it comes to EXCELLENT comfort, this chair has an adjustable lumbar support pillow and neck support that are meant to keep you upright and free of low back problems. The cushions are removable and adjustable if you find them to be too much for you. You may need to take extra time aligning them to get the precise position for them, but the general quality and form are excellent if you want more support and a comfortable experience.
Pros & Cons
Pros
2 years warranty
High-Quality material
Great comfort
Easy assembly
Cons
Does not go all the way back
Frequently Asked Questions
What is the most important feature of a gaming chair?
Gaming chairs are available at different prices and styles, so it's essential to do your research before purchasing one. The main features you should look for are what keeps your back aligned. In addition, there are extra features that add comfort to your gameplay.
The most important thing to look for in a gaming chair is back support features. This is especially helpful if there are gamers who need extra lumbar spine support. Gaming sessions can last for hours, and it is vital to have a good posture the entire time.
How to Choose the Right Gaming Chair?
When looking for a gaming chair, be sure to look for some distinct features that will help you keep an aligned posture and comfortable position. Ideally, the features you should look for in a chair include one that is:
Easy to assemble
Not too heavy
Durable
Comfortable
Comes with a free warranty if manufacturing errors cause any defects or damages
The gaming chair should come with almost three adjustable positions: reclining backrests (or lumbar strain relief), seat height adjustment as well as tilt tension controls.
What are the different types of gaming chairs?
The different types of gaming chairs include those with features like armrests and ergonomic designs or racing-style seats. Additionally, there are gaming chairs with or without wheels and chairs that recline.
Why should I get a gaming chair?
Gaming chairs are a great purchase for anyone who spends a lot of time playing video games. A gaming chair is made to support the back and neck while also making gamers comfortable for longer durations.
They're also designed with extra comfort elements like armrests or lumbar cushions, so gamers can concentrate on their games rather than worrying about aches and pains from sitting in one position for too long.
You're not just investing in improved comfort and ergonomic support for your back when you buy a gaming chair; you're also investing in yourself as a gamer.
A good gaming chair might mean the difference between victory and defeat when gaming. It's critical to discover one that meets your requirements, so do your homework before making a purchase.
Final Verdict
Our winner is VERTAGEAR S-Line 2000 Black and White. As a gaming chairs brand with high-tech designs mixed with ergonomic features, Vertagear gaming chairs are meant to deliver optimal comfort no matter what sort of gamer you are. So, whether you love first-person shooters or turn-based games, there's one that's right for you! And The S-Line 2000 stood strong among the other competition, combining elegance with quality, and both with a GREAT affordable price.