Are you looking for the best gaming chair? If yes, then you should check out our top picks for the best blue and black gaming chair. They are designed to provide comfort and support during long hours of gaming, plus they look awesome too!
Gaming has become the norm right now. Whether it's playing games at home or going to arcades, everyone loves to play. The problem is, sitting down for long periods of time can cause serious health issues. That's why it's important to choose a good gaming chair.
There are a few things to consider when choosing a chair. For example, comfort, durability, price, and style.
There are several types of gaming chairs, each with its unique features.
Here's a list of some of the best black and blue gaming chairs options
Best Black and Blue Gaming Chairs under 500$. (Cool and Durable)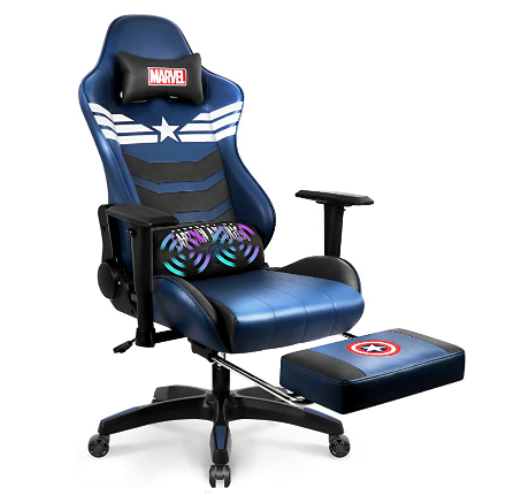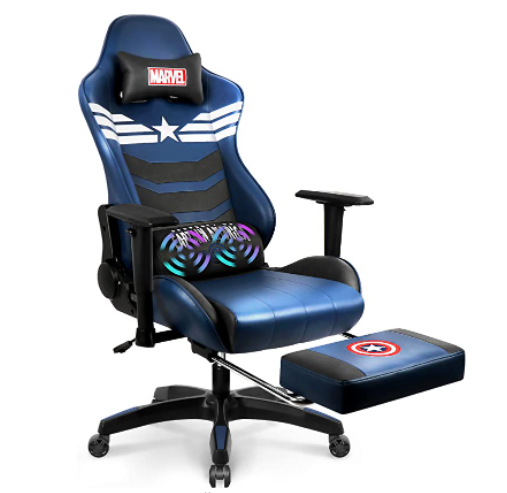 At the forefront of gaming chairs, the marvel series is a quality chair for your Marvel collection with its beautiful Captain America-themed chair (and other stunning range of colors). The design of this chair is a vibe check. Its unique and modern look will make you feel like an astronaut in space. Satisfying your love for your favorite hero. Making it a MARVELous choice.
They offer a wide variety of models, ranging from budget to premium ones. Each model is designed to suit the specific requirements of the gamer.
Key Features
Molded foam padding
For greater comfort during prolonged sitting hours without hurting your back.
Adjustable neck and lumbar pillows
Gaming can be extremely tiring for the body. If you're not careful, gaming can cause serious health issues. These adjustable pillows help relieve neck and back pains so that you can play for longer periods of time without feeling tired.
Adjustable footrest
Adding a footrest is a great way to improve your comfort, but it won't be useful if it doesn't fit your size. Too far or too near. Adjust it to your own personal preferences and needs.
Rocking function and 180 recline
Send your chair all the way down to stretch your back or even for small naps between deathmatches.
Tri-tone PU leather
The LeatherSoft Highback Racing Gaming Chair provides beautiful texture and smooth movement. It helps the chair to adjust to your body temperature.
However, this chair is no Iron Man here. It's an average gaming chair. It gives you great quality for the price (which is a really fair one). But it's not your chair if you're looking for durability.
Pros & Cons
Pros
Catchy design and color scheme
Fast shipping
wide range of prices
Easy assembly
Cons
Armrests problems
Not durable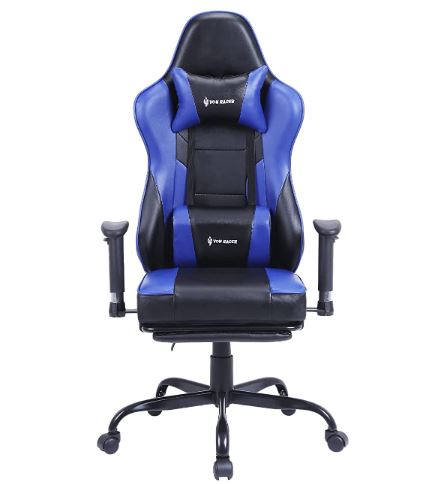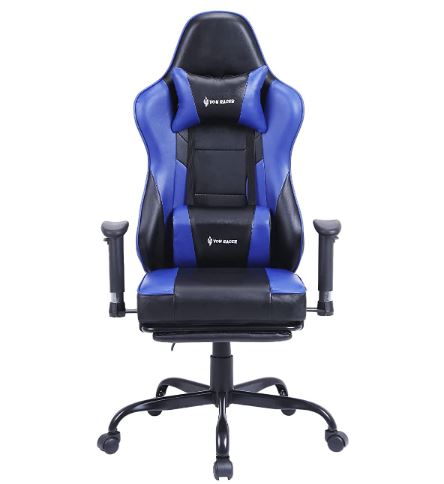 The VON racing style chair brings a LOT to the table. It is a quality gaming chair from the amazingly simple design, combining black with blue in an attractive way. Counting it as an amazing piece for your daily use.
To the vast set of features included to ensure your comfort and answer your needs from a gaming chair that some days seems like your best friend.
Alongside a hefty price to a decent quality. Better than your average office chair
The best features we found concerning this chair were unbelievable.
Key Features
Thick flat seat cushion
The cushion is comfy to sit on. In the VON the padding is very soft and the whole upholstery job (in the lumbar cushion too) is done well to relieve your pain.
Soft-padded, PU leather
The VON is coated with this type of leather soft High-Back Racing Gaming Chair for higher flexibility and durability of the chair. Paired together with the soft padding of the chair for more sense of comfort.
Retractable footrest
The footrest is set to reduce fatigue and back strain. And if you're not using the footrest, you can easily just retract it.
Massager lumbar pillow
Reliefs from strained or exhausted legs and ankles. And pumps your blood circulation.
135 degrees reclining Racing Chair
Gives a better stretch for your back. Your back can rest easy now.
Those features ensure long gaming hours of comfort and relaxation for your spine.
Though the recline of this chair is limited, only goes up to 135 angels, which is an issue for some people.
Pros & Cons
Pros
Good quality
Easy assembly
Comfy seats
Cons
Limited recline
Small armrestse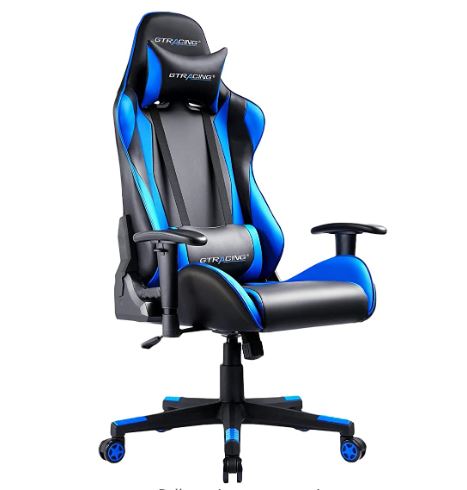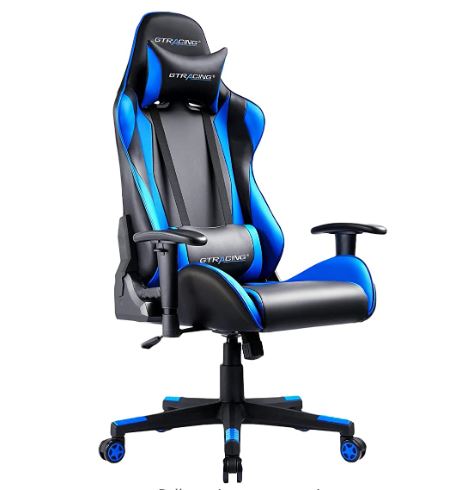 This ergonomic gaming chair is THE one for your long hours of gaming sessions. Check this out, it is also within budget. Considerably one of the most comfortable gaming chairs and the perfect option.
Its minimal design of a racing-style gaming chair gives you a premium feel to start with. The racing-style chair is multifunctional. Its adjustability makes it suitable anywhere, your room, your gaming station, or even your work.
The merits of this heavy-duty gaming chair are mind BLOWING considering its price. You can see the high quality of this chair with its high level of comfort we get into its features all on your own.
Key Features
Excellent build quality
The GTRacing chairs are firmly supported with a solid structure. With a max weight capacity of up to 300 pounds.
170 degrees reclining Racing Chair and tilt mechanism
Sitting for a long time is harmful to your spine and your posture in general. An adjustable recline to your comfort position is your savior. A full backstretch to give you a bit of a rest during your long gaming sessions, with an adjustable seat height.
PU leather and premium foam
The cushion is thickly padded with premium foam to give you maximum comfort with firm seating for durability. The comfort of the lumbar cushion and neck pillow make this one of the most premium gaming chairs.
Adjustable height and armrests
The arm rests' function is to align the body properly. It prevents building tension in the muscles of your neck, shoulders, arms, and hands. Adjusting the armrests to the right width relaxes those muscles. For a better body alignment try to adjust the width of the armrests so your elbows become right under your shoulders.
Ergonomic design
The ergonomic build of the chair promises the right sitting position. Minimizing any harm done to your posture or any back pains. Making it a safe chair for your health.
At the forefront of gaming chairs, GTRacing is a gaming chair deal for you if you're on a budget. It suits your gaming or working needs just fine with the perks of the aesthetic design and comfort. Achieving perfect balance.
Few customers stated that it may be a little bit uncomfortable for big builds, so you may want to look for a larger gaming chair if this might be an issue for you.
Pros & Cons
Pros
Fast shipping
Great customer service
High-quality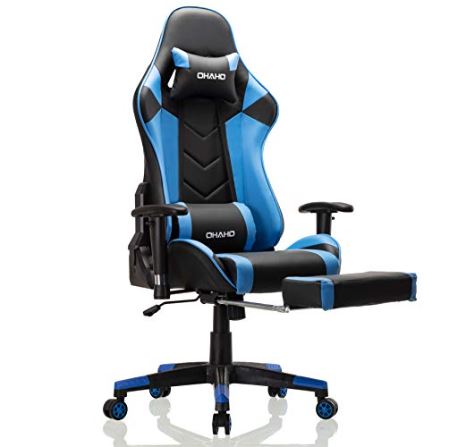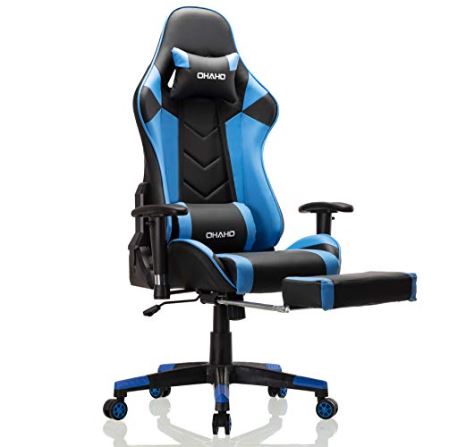 The OHAHO chair here of the racing style has an amazing design with a set of colors to suit your taste. Their yellow chair is just as remarkable as their blue and black one. This cheap chair is not only design-driven but also affordable and of really good quality.
The comfortable chair is made to fulfill YOUR wishes with built-in lumbar support and a neck pillow. Every part of it is adjustable to suit wherever corner you see fit.
Key Features
180 degrees reclining Racing Chair and adjustable height
A reclining function in the chair is made to relieve your stress. Your spine can relax and take a break from tensing all day and reduce your backache. The feature also eases your motion, where it becomes easier to stand up or sit down.
Rocking function
Rocking is known to provide HUGE serenity and peace vibes. You can chill in your all day with a sense of calmness and relaxation. It even soothes your nerves. It can also be a form of non-rigorous workouts! See! Totally healthy.
Massager lumbar pillow
As we mentioned before, the massager pillow releases the build-up tension from your body during the day and calms your mind. Giving your mind more focus afterward on your video games.
Retractable footrest
The footrest -as we said- is an ENORMOUSLY important part of the chair for body alignment, releasing tension from your back and legs, and reducing your back strains.
The OHAHO chair is a solid piece and a good chair to go for. Except for a few issues in the armrests and the footrest. The armrests don't lock well in place. And the footrest doesn't support larger weights.
Pros & Cons
Pros
Fast shipping
Good customer service
Excellent neck and back support
Comfy footrests
Cons
Weak footrest
Wiggly armrests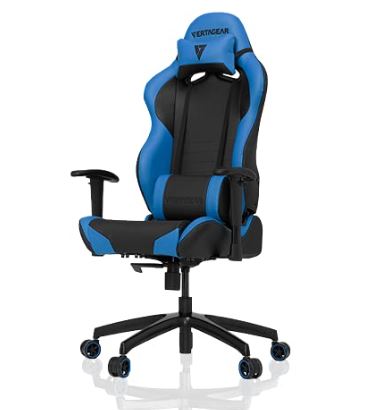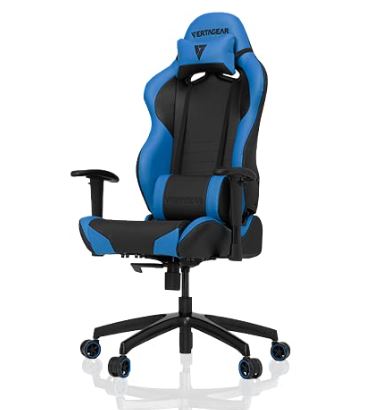 This is the only pricey item on our list but for a good reason. The Vertagear is considered an AMAZING chair by the words of actual gamers and the great reviews of the customers. It's of a great build it might even improve your posture!
This chair is very flexible and customizable to your need. It offers HUGE support with a neck pillow and lower back pillow. And of a very high-quality frame.
Key Features
Firm ultra-premium high resilience foam
The upholstery here speaks for itself. The high resilience foam padding provides a more durable seat cushion. This way you just know that it won't flatten easily or quickly in a matter of months. It's gonna take more than that to flatten this firm beast.
You can see that it's firm in padding but also soft and comfy for long hours of usage. So, no need to worry about sitting around all day. The Vertagear has got you.
PUC Synthetic Faux Leather
It's an artificial leather mostly made of plastic because today we choose animal rights.
Adjustable tilt with locking system
This function is made for you to adjust your rocking position or recline position to your will. Whether you're working, reading, gaming, studying, or even napping the Vertagear is there for you. Along with a locking system for all of you people with trust issues out there (still can't get over Mufasa getting betrayed obviously), no need to worry. TRUST THE CHAIR.
140 degrees recline
The Vertagear reclines up to a 140-degree position for back comfort and relaxing your muscles from time to time or even during breaks.
This ergonomic chair is very customizable to match your marathon gaming sessions. The firm padding can be too firm for some people. So, you better check this point before buying.
Pros & Cons
Pros
Highly supported
Very customizable
Comfy neck and lumbar support
Easy assembly
Cons
Too firm for some
Uncomfortable armrests
Frequently Asked Question
What Should I Look In A Gaming Chair?
You need to set your budget and get the most support and comfort out of it. Don't always buy the most expensive gaming chair thinking it has superior quality. While it may be comfortable, some excellent deals can provide comfort but not break the bank. Get the chair with the most adjustability to give you freedom and flexibility in terms of posture and angles.
Are Gaming Chairs Better Than Office Chairs?
Definitely yes. Gaming chairs have customized settings for safer long hours of sitting. Some gaming chairs have massagers to renew your blood circulation and a rocking mechanism for a gentle amount of exercise, so it wouldn't be a disaster for your health.
Gaming chairs also contain lumbar support and adjustable recline and tilt to straighten your back, improve your posture, and fit your comfort.
Why Gaming Chairs Are So Expensive?
The better materials, more advanced features, more advanced the technology used, more premium designs of a chair, the higher the cost becomes. So you might want to set a budget first and get the actual features that you need.
What Are Racing Style Gaming Chairs?
Racing-style gaming chairs have become very popular over the last few years. They often feature very similar attributes to regular chairs but they have a much lower price.
They are also made with materials that can be cleaned and taken care of easier than other types of gaming office chairs.
Final Verdict
That's all folks! All the listed chairs are of good quality and durable!
But still, we have a winner! The GTRacing E-Sports Gaming Chair did top them all in the gaming chair market. It carries the best of them all with the least cons too! And it comes at a very fair price. The after-sales service is just the ABSOLUTE best. They do really care about their customers' needs and comfort. Yet, may you never have to deal with after-sales service. Which is pretty much guaranteed.