Despite the fact that female gamers are quite literally taking over the industry, finding gaming accessories in feminine colours is still challenging for some reason. Finding pink gaming chair models, for example, can be pretty tricky. They exist, but many brands don't seem to make their chairs in pinkish shades.
On top of that, finding a good pink gamer chair is an even more daunting task. There are tons of chairs out there, but many are made from inferior materials. So, to take the guesswork out of the search we've tracked down the best pink chair models for you! Our list consists of all pink shades and ONLY the cream of the crop when it comes to building quality.
Best Pink Gaming Chairs
If you're trying to finish off your gaming setup with a poppin' pink seat – we've got you covered. Below, you'll find the seven chairs we recommend most based on colour (obviously), durability, comfort, price, and more.
Read More: https://thegamercollective.com/pink-bunny-gaming-chair/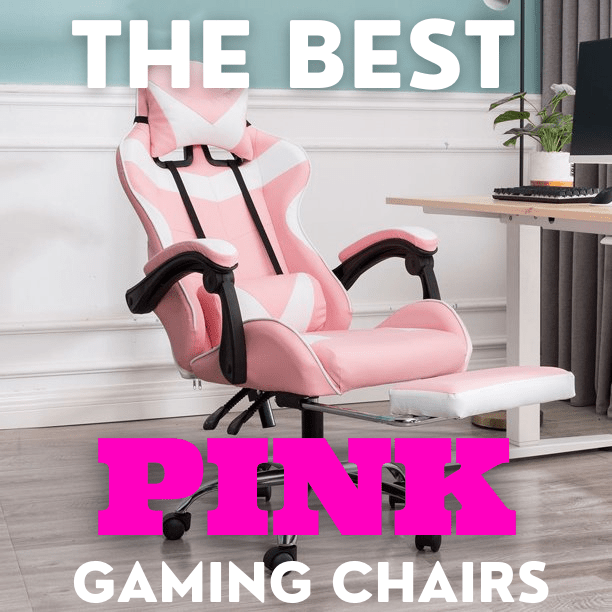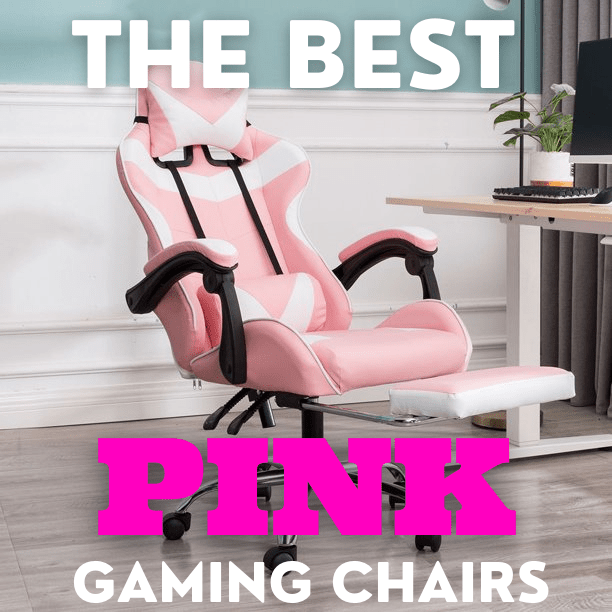 1- AutoFull Pink Leather Ergonomic Gaming Chair
First up is the AutoFull Pink Leather Ergonomic Gaming Chair. This model was specifically designed for the pink enthusiast gamer. It's not just a color option – this is literally a PINK model seat. Not only does it look fantastic, it's also incredibly well-made, built for comfort, has a removable set of pink bunny ears for the headrest, and it's backed by a 3 year warranty from the manufacturer.
The chair itself is ergonomically built to provide excellent lumbar support, a comfy place to rest your butt, an extra padded back to alleviate back pain, and a cushiony pillow to avoid a stiff-feeling neck. Combine that with awesome reclining capabilities, a sturdy frame, and adjustable seat and armrest height and you've got yourself a piece of powdery pink perfection for a gaming chair.
This is the ULTIMATE chair for pink lovers. It's a beautiful seat. It's functional, durable, and comfortable as hell, too. This is by far our favourite pick for this particular colour. It's honestly just a great chair regardless of colour.
---
2- Von Racer Massage Gaming Chair in Pink
Second place goes to the Von Racer Massage Gaming Chair (in the pink colour scheme, of course). Another luxuriously comfortable chair with stunning aesthetics and an incredible overall build, this model from Von Racer is truly special.
The chair is a bit unique, too, in that it features a USB-powered electric massager within the included lumbar pillow. So, not only will you feel like you're sitting on a cloud thanks to the supple, think padded on the chair, but you'll also be able to have a relaxing back massage while gaming in it, too.
This Von Racer seat also comes with a retractable footrest, a heavy duty base to keep the chair as stable as possible, height adjustable armrests, recline options with a locking lever, a superbly soft seat cushion, and more. It's a heavenly chair to keep you extra comfy while gaming. Plus, it looks incredible in the pink and white color combo!
---
3- Leopard High-Back Gaming Chair
Our third selection for best gaming chair in pink is this Leopard High-Back Swivel Racing Chair. While this one is available in a variety of colors, the white/pink variant is definitely a stellar option. Even the legs of the base and caster wheels have a splash of pink amidst the black which blends together beautifully to make for one stunning seat.
Much like the other two chairs previously mentioned, the Leopard High-Back is also undeniably comfortable to sit in. Adjustable height, 360 swivel, a strong base, armrests that can be adjusted for a personalized fit, a wide and plush seat back, and a well-cushioned seat for your buttocks make this chair a dream to play games, stream, or even work from.
The chair also comes with some awesome lumbar and headrest pillows for added support. All this plus an ironclad frame, smooth PU leather, and a strong, smooth-rolling base make the Leopard High-Back Swivel Racing Chair a pinnacle of pink gaming chair greatness.
Read More: Pink Girly Gaming Setup for a Cute Gamer Girl Setup
---
4- Nokaxus Large Ergonomic Racing Seat
Our next pick is the Nokaxus Large Ergonomic Racing Seat. Yes, it comes in pink and yes, it's got slightly larger dimensions for those wider frame gamers that need a little more space to not be squeezed and uncomfortable while playing their favourite games. It's an incredible, heavy-duty chair with great style, superb construction, and tons of outstanding reviews.
This one, similar to the Von Racer, features an electric massage unit built into the lumbar pillow. Plus, it's made with a breathable, wear-resistant fabric that feels amazing and stands up to the test of time through normal wear and tear.
The Nokaxus chair is also made with thick, high-density foam that's both more comfortable and more durable than other models. This is the large variant so the weight capacity is higher as well – 350 pounds to be exact. Overall, this is just an insanely strong, comfy chair that happens to sport some killer looks in the pink colour option, too.
You've found the perfect pink gaming seat – awesome. Got a desk that'll match its fierceness? There are tons of options, including corner gaming desks with LED lights that you can customize to match your new chair!
---
5- GTRacing Ergonomic Esports Gaming Chair in Pink
Not impressed with the models listed above? No worries – we've got more! The next one we recommend checking out is the GTRacing Ergonomic Esports Pink Gaming Chair. This is a highly-praised chair across the board in terms of looks, quality, and comfort. It is available in a lovely white and pink colour combination that is adorably cute, too.
The chair is built to last with a beefy metal frame, thick padding on the back and seat, adjustable height on both the seat and armrests, reclining, and ultra-smooth rolling caster wheels. Like a lot of other gaming chair models this one is also shipped with a removable headrest and back support pillow for added comfort while gaming.
This GTRacing chair supports players up to 300 pounds in weight, allows for both reclining and rocking, and features full, 360-degree swivel functionality, too. It's a great chair. And it looks pretty spectacular in pink.
---
6- Bigzzia Gaming Chair (Pink and White Version)
Our sixth choice is none other than the Pink and White Version of the Bigzzia Gaming Chair. We put this one on the list as a very budget-friendly option. At just $100 it's actually a pretty decent seat and the pink variant will look fabulous in a color-matched gaming setup.
This Bigzzia model isn't too different from other models. It's fairly comfy, has well-padded armrests, a comfortable seat, and adjustable height. The biggest differences are the materials used, the lack of removable pillows, and the fact that the armrests are locked in place (you can't set their height). Those few things aside, it's still a decent chair and if you're on a tighter budget – it's a good bit cheaper than the models listed above.
It's worth nothing that some people have had complaints about this particular model being a bit wobbly. The base isn't made with the strongest materials, so if it's not on a perfectly flat surface or screwed together tight you will likely notice a little instability. Just something to keep in mind – it doesn't affect everyone.
Read More: Best Blue Gaming Chairs.
---
7- Powerstone Massage Pink Video Game Chair
Last, but certainly not least, on our list of the best gaming chair models that are pink is this Powerstone Massage Gaming Chair. This is a premium quality, heavy-duty chair with massage functionality. It's available in a multitude of colour options, but the black and pink look superb on it.
The chair's black and pink colour scheme is a bit unique compared to the other seats we've mentioned so far in this list. The chair is mostly black with pink accents. We figured we'd add in an option of this variety because, well, some people don't want an ALL pink gaming chair. And, quite frankly, this Powerstone model looks insanely slick with the predominantly black with darker pink segments.
This is a very well-made chair, too. Everything from the headrest down to the wheels is made from high-quality materials. The chair supports up to 330 pounds, has ultra-thick padding, an included footrest, a massaging lumbar pillow, and the company behind it backs the chair with a one-year quality guarantee.
Also, check this cute pink gaming chair from secretlab.
Concluding Notes
Pink is a colour that symbolizes powerful femininity (check the best pink gaming setup), for sure – but that doesn't mean a guy can't love it, too. Whether you're a female gamer that thinks all things pink are just the cutest and best colour scheme to go with for your entire gaming setup or you're just someone that appreciates a good pop of vibrant colour, a pink gaming chair is an accessory of luxury and style.
The models listed above aren't the only options available, but they are by far some of the best you'll find. Not into pink? Hey, no worries, there are chairs available in practically every colour imaginable. Check out our list of the top gaming chair models to learn about what other high-quality chairs are out there. Most are available in a multitude of colour configurations.