Dva Gaming Chair review: the cutest add-on for your setup
Our favorite Secretlab gaming chairs company has collaborated with Overwatch, and the first product they brought to light is the marvelous DVa gaming chair.
Just like Secretlab omega & titan gaming chairs, DVa is a gaming accessory that makes a stunning addition to your pink gaming setup.
So, if you are a pro gamer willing to buy Secret Lab dva edition, read my "Dva gaming chair review" where you will find everything you need to know about it.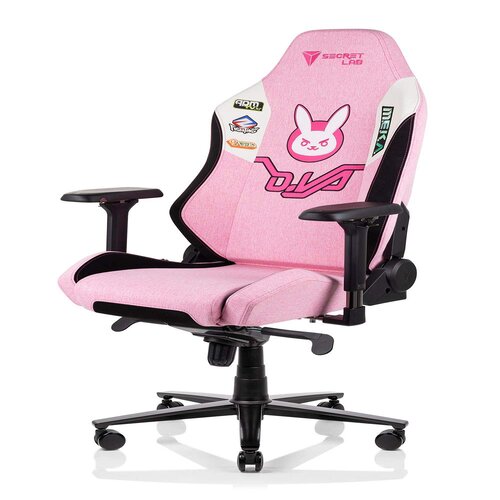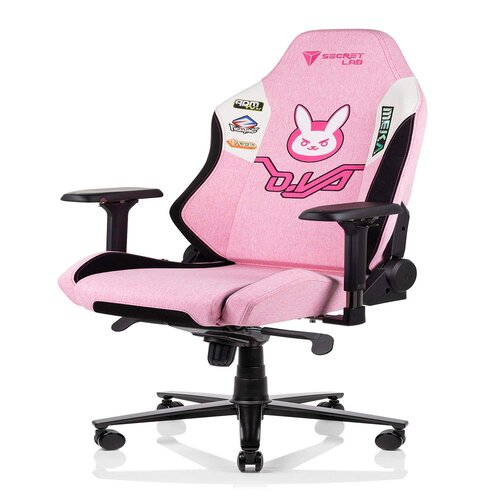 Dva Gaming Chair
Features
Designed in collaboration with Blizzard
Secretlab SoftWeave fabric
Designed for excellent breathability, durability, & a dreamy soft touch
Patent-pending Cold Cure Foam Mix Cushion
Features bubblegum pink upholstery
DVa chair from Secretlab is one of two Overwatch different designs Secretlab has come up with for its official partnership with Blizzard.
The first design doesn't look so different from Secretlab omega & Titan Evo gaming chairs, as it is just basic black featuring orange gradient accents with an Overwatch logo, covered with high-quality faux leather.
The second design which is everyone's favorite is a cutie pink chair, and this is what I am going to talk about in the next lines.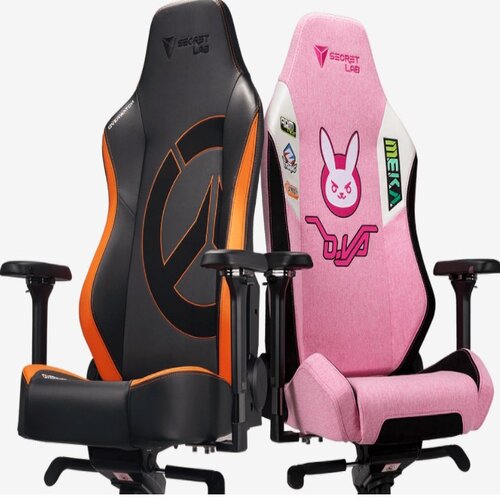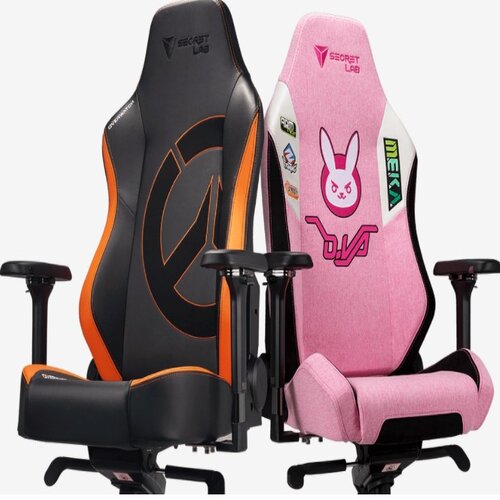 Fabric & Materials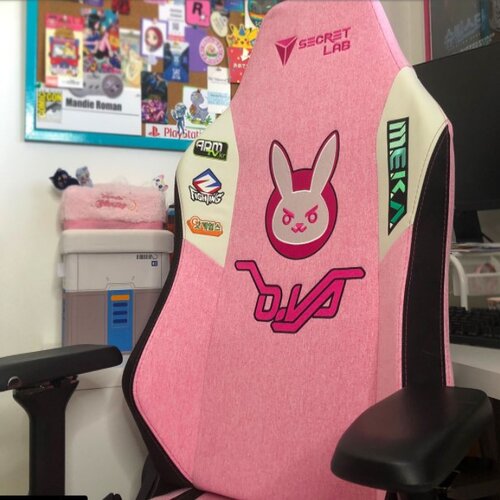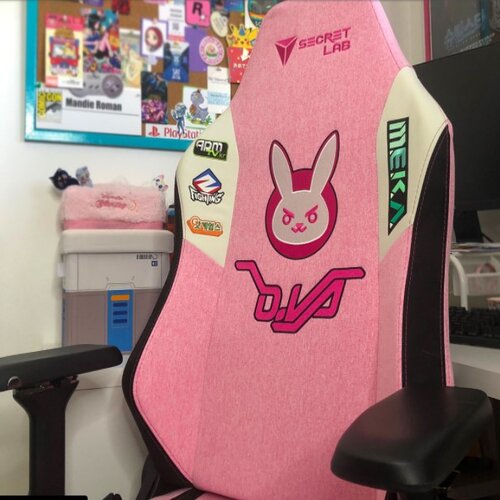 Secretlab dva edition comes upholstered in SoftWeave fabric., which is Secretlab's most refined fabric. Making the gaming chair smooth, breathable, and amazing to sit on it.
You should keep in mind that if you are living in a real hot region the softweave fabric upholstery will leave you a little sweaty during the long gaming sessions.
You might also be interested in reading: a full review about Secretlab Softweave gaming chair.
Furthermore, you will find PU leather on the back & shoulders making it such a comfortable chair.
As for the base of the chair, it is made of AD12 aluminum, with PU wheels that you can lock and unlock.

In terms of design, the gaming chair comes in a soft pink color scheme with a big DVa logo at the front & back, in addition to a cute bunny stitched in the center.
I can tell that this gaming chair has a lot more personality in contrast to other choices, its chic and fancy style makes it a great addition to your pink girly gaming setup.
Comfort
Secret Lab provided Secretlab chair dva edition with memory foam, and cold foam technology that feels like icing on the cake.
You will love to know that these foams have a highly dense structure that contours to your body shape and does not deform easily, it maintains your S-posture suitable for sitting, providing you with exceptionally comfortable sitting experience.

Furthermore, the gaming chair includes a coating of calmful & soothing cooling gel on the neck pillow. And the lumbar support adjustment feature eliminates back fatigue.

Most of all, the breathable softweave fabric keeps your body cool even in the longest gaming sessions.
Also, check this review about the pink bunny gaming chair from Autofull.

for extra back support, the chair has an amazing tilting feature that allows you to straighten and relax your back after spending a long day on your uncomfortable office chair at work.
When I tried dva gaming chair for the first time, I felt that the seat cushion is so hard, but later on, I got used to it and found out that it is actually encouraging me to sit in an upright posture.
Size & Dimensions
Dva edition has two armrests, each armrest is 10.6′ (L) x 3.9′ (W).
the chair's weight is 66 lbs. and can support up to 240 lbs, so it is obvious that the chair is meant for small to medium gamers, just like the Secretlab Omega gaming chair.

it is worth mentioning that Dva Secretlab chair also comes in the titan x large design, which is a large chair with almost the same design.
The recommended height for that chair is 5'3 inches to -5'11 inches.
The chair also has some improved features like the adjustable 4D armrest. The adjustability of those armrests is exceptionally easy.
Furthermore, it has a neck & lumbar pillow that are made of high-quality memory foam that is encased in microfiber fabric.
Plenty of adjustable features
Just like omega & titan Secretlab chairs, dva edition has plenty of adjustable features that allow for maximum comfort sitting experience every time.
Including the ergonomic adjustable armrest that you can move back & forth, left & right.

The gaming chair can also be tilted to 180 degrees to allow you to take peaceful naps. And you will be glad to know that it leans back as well as forward
One more notable feature is that the caster wheels let you glide swiftly without denting your gaming chair mat or scratching your floor.
Last but not least you can adjust the height of the chair as you prefer, you can lift it & show off that you are 6'4 inches, or even lift it down & become 5'5 inches.
Durability & Warranty
Secret lab dva edition comes with a generous 5-year warranty card in addition to a booklet to explain the warranty details.

In terms of durability, this gaming chair is very strong and offers long-lasting durability.
But you need to make sure that you don't go further than the recommended weight capacity which is 240 lbs. only.

One of the notable features that provide the chair with extended durability is specially engineered leather & fabric that is designed to be stretchable to withstand any abrasion or flex for many years to come.

You don't have to worry much about tear & break, as it is 4x stronger than other gaming chairs on the market.
Dva Gaming Chair Specifications
Backrest: Adjustable Full-Length Backrest
Backrest Width: 53 cm
Backrest Height: 80 cm
Recline: 85-165 degrees High-Grade Spring Backrest Recliner
Height from floor to seat base: 46-55.5 cm
Seat Base Width: 22 inches (56 cm)
Height adjustment: 9.5 cm
Length between armrests: 62-70 cm
Armrest: PU coated 4d armrest with full metal mechanism
Lumbar Support: Signature Memory Foam Lumbar Pillow
Neck Support: Signature Memory Foam Head Pillow with Cooling Gel
Weight: Approx. 77.3 lbs. (35 kg)
Chassis: Steel Construction
Package Size: 82 cm (L) x 70 cm (W) x 37 cm (H)
Recommended weight capacity: 240 lbs.
Pros
Exceptional durability
49-day refund or return policy
Medical friendly
Exceptionally comfortable chair
Multiple adjustability levels
Cons
The forward tilt is useless
Heavyweight parts
Hard to assemble
Expensive
Short armrests
Hard to clean
FAQ about Dva Gaming Chair
Is Secretlab Titan or Omega better?
Both Titan & Omega gaming chairs are impressive, almost the best options on the market.
Omega gaming chair is available in a single size, a wide range of schemes & styles. As well as 3 Upholstery options: NAPA leather, SoftWeave fabric & 2.0 PU leather.
On the contrary, the Titan chair is available in 3 sizes: small, regular, and the larger chair xl, a lot of designs and two Upholstery options: SoftWeave Plus fabric & NEO Hybrid Leatherette, which makes Titan Evo a better option.
Are Secretlab chairs comfortable?
Yes, they are exceptionally
Omega, titan, neuechair, and DVA are the most ergonomic gaming chairs on the market now for all the good reasons.
They are firm enough to support your body's posture without making your body sink down or making you have any slipping feelings.
Moreover, they offer more than an upholstery option with different sizes that fit all gamers.
What also makes Secretlab chairs super comfortable is their ergonomic features including; 4d armrests & lumbar pillows, providing you with an exceptionally comfortable sitting experience.
What is a 4D armrest?
A 4D armrest is that type of armrest that you can easily adjust in 4 dimensions. In other words, you can adjust its height, take it forward & backward, move it left & right, and rotate it around its axes.
It is worth mentioning that 4d armrests come usually with high-quality padding to allow for maximum comfort and support in every gaming session.
Does Secretlab have sales?
Yes, it has. In fact, Secretlab gaming chairs company has a sale almost every two months and sometimes every month. So, if you are a gamer who is looking forward to getting a premium Secretlab chair at a little bit cheaper price and is patient enough to wait for a sale, we definitely recommend that
Final thoughts
Secret Lab dva edition is excellent for all the overwatch fans who are willing to spend hours in the company of this competitive Diva.
All in all, its cons do not hold much value in front of its outstanding layout & exceptional ergonomic features.
Even though the gaming chair is a little bit expensive, it is definitely worth your money.
Its most appreciated feature is its comfortable design which keeps you in a proper posture. You won't suffer from muscle strain or body pain even in the longest gaming marathons.
For all the Overwatch fans over there, dva edition from Secretlab is one of the must-have gaming accessories in your lovely gaming setup.