Secretlab Titan Evo 2022 Review: an Honest Opinion
If you are sick of cheap gaming chairs that keep your muscles straining and your body paining during even the shortest working or gaming sessions, then you should finally spoil yourself with a high-end gaming chair that keeps your body in a good posture.
And the best gaming chair on the market right now to go for is the impressive Secretlab Titan Chair. It is such a comfortable chair that is made of premium materials and has plenty of ergonomic features.
In the following lines, you will find everything you want to know about the Secretlab Titan Evo Chair.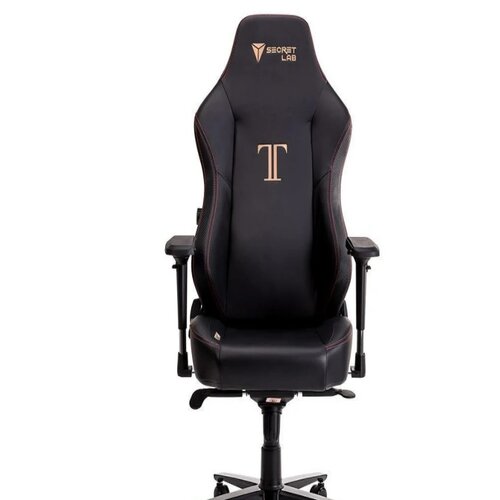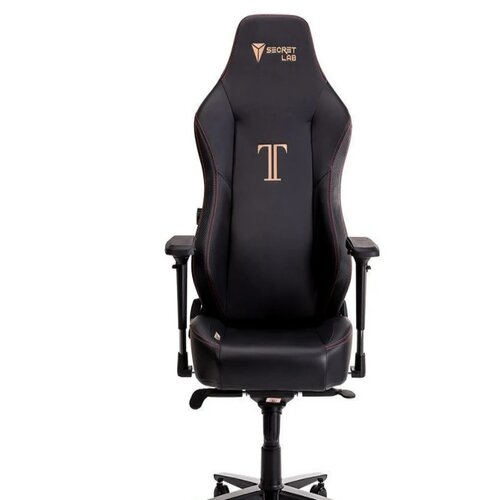 Secretlab Titan Evo 2022
Features
Secretlab NEO™ Hybrid Leatherette
Magnetic Memory Foam Head PillowOne chair, Three sizes: Titan Small, Titan Regular and Titan xl
Patent-pending
4-way L-ADAPT™ Lumbar pillow Support
4D Armrest with CloudSwap™ Technology
Pebble seat base
Secretlab SoftWeave™ Plus Fabric
Generous 165-deg of recline
Anti-counterfeit NFC tag
5-year Extended Warranty
Easy to Assemble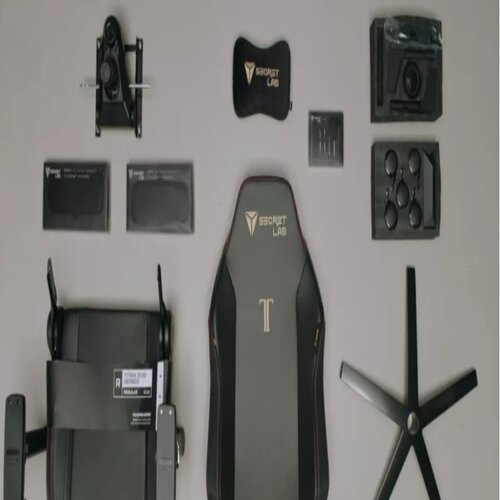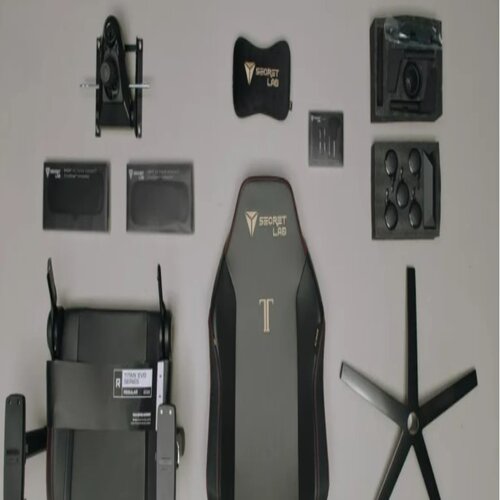 First of all, unlike the Secretlab omega chair that is a little bit hard to assemble, it is effortless to put Secretlab Titan Evo 2022 together, kudos to its design tweaks
When you unbox Secretlab Titan Evo, you will be glad to find that most of the chair is pre-assembled, with the rest of the spare parts & tools safely packed.
The back of Titan Evo includes metal plates that have screw holes, you will need to get them attached to the hinges found at Titan's bottom. This is a perk for you as you don't need to dig the bolt & keep wiggling it around until it safely and properly catches.
In spite of the heavyweight, as the gaming chair weighs around 76 pounds, you will be able to build it on your own
Read More: https://thegamercollective.com/secretlab-titan-softweave-vs-pu-leather/
Design
Gaming chairs are popular with their racing chair-like shapes, striped cushions, and high back design. Instead of doing the same, Secretlab focused more on the build quality, materials and durability. To be honest that is what makes Secretlab chairs the best gaming chairs on the market.
Secretlab TITAN Evo best gaming chair is designed to look like a high-end car seat rather than a regular gaming chair.
My titan chair comes in a titan stealth finish, covered with a smooth, black faux-leather layering, slivers of carbon fiber, gold Secret lab logos, and red-accented stitching.
You can get better than that but this chair looks and feels so aesthetic for me and my modest gaming setup.
Regarding the material, it is faux leather, called Secretlab NEO Hybrid Leatherette, which Secretlab states that it is 12x more durable than the regular PU leather found on most gaming chairs.
That doesn't make pu leather any less, actually Secretlab omega chair has 3 material options one of them is pu leather. And it is one of the most recommended gaming chairs on the market, but it is mainly targeting smaller gamers.
Also, check the best Secretlab chairs ever.
Check out our detailed Secretlab Omega Chair Review
TITAN Evo comes in 2 upholsteries: NEO Hybrid Leatherette & titan SoftWeave Plus Fabric. And you have the freedom to pick up from over twenty color signatures, including; popular game titles, eSports teams, and more.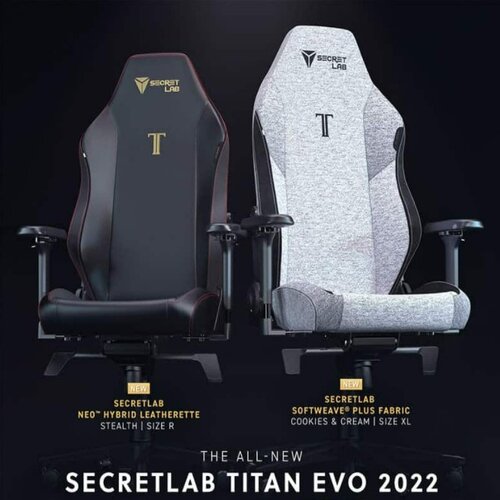 As for SoftWeave Plus fabric. it is known to be 3.5x stronger than the original SoftWeave fabric, and softer & breathable. You will be happy to hear that this fabric is more cat-friendly.
As for size, the Secretlab titan Evo chair comes in three sizes: Titan Small, Titan Regular & Titan xl.
Here is the sizing chart:
Titan Small. Seat base size: 17.7 inches, Height: <5'6′ inches, Weight: <200 lbs.
Titan Regular: Seat base size: 18.5 inches, Height: 5'7 inches – 6'2 inches, Weight: <220 lbs.
Titan XL: Seat base size: 19.3 inches, Height: 5'11' inches – 6'9′ inches, Weight: <395 lbs.
Also read, Why Are Gaming Chairs So Expensive?
Powerful magnets
One more notable feature is the felt-covered memory foam head pillow that utilizes powerful magnets which you can simply attach to the headrest of the chair, offering you just an amazing adjustable lumbar support.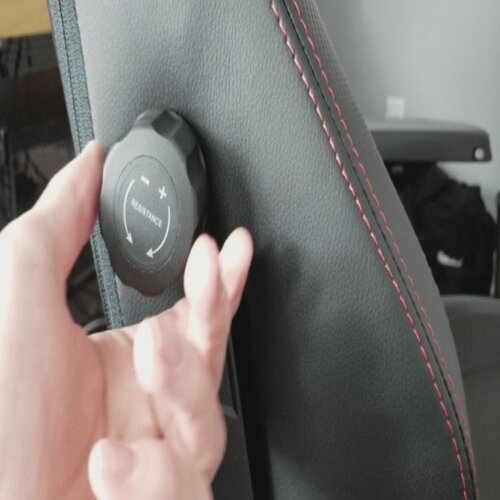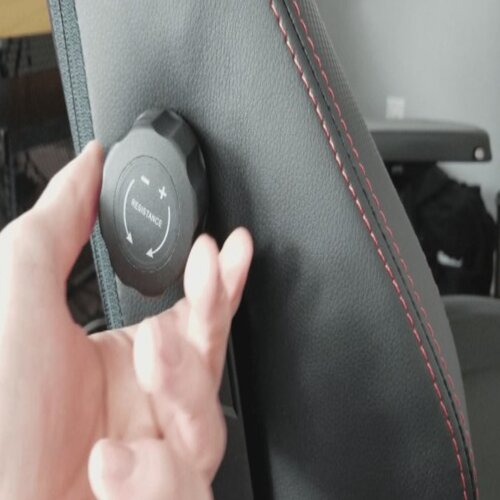 Secretlab Titan offers lumbar support adjustability through a resistance knob located on the side of the chair.
Allowing you to switch off by using the lumbar support at full resistance, and drop it back down to 0 resistance with absolute ease when you want. Helping you to sit in a comfortable position for long periods of time.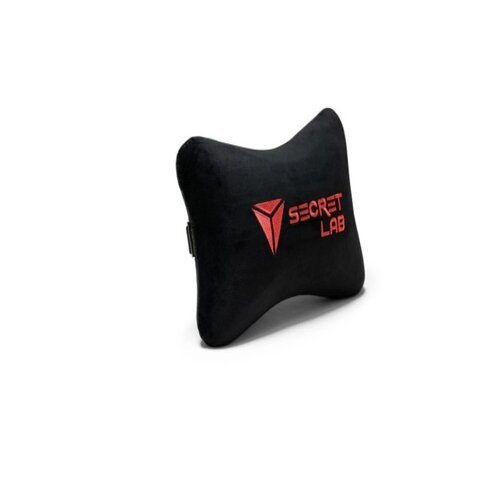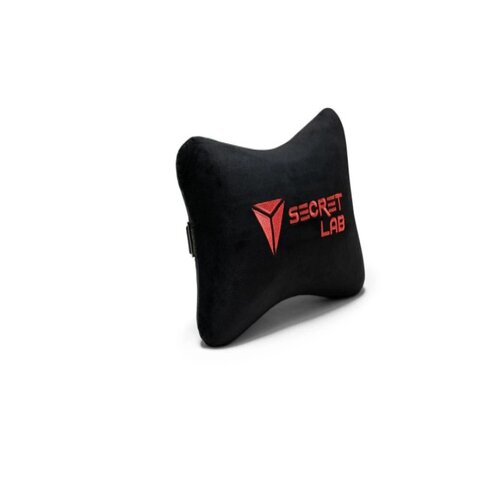 You will love to hear that the pillow clings on just enough to shift it against the neck and is still yet to buckle to even the most stressful moves.
Furthermore, they made me more relieved that the elastic strap won't be slipping off the chair's tapering top frequently.
There is also another magnet found in the padded tops of the 4d armrests, which will allow me to effortlessly replace the firm foam armrests in case they got damaged in the future for any reason.
So, all in all, let me tell you that the titan's metal foundation doesn't only make the assembly process effortless, but also gets rid of the need for more screws, straps, and any other traditional way to keep the chair's parts intact.
Read More: https://thegamercollective.com/secretlab-vs-herman-miller/
Plenty of Adjustments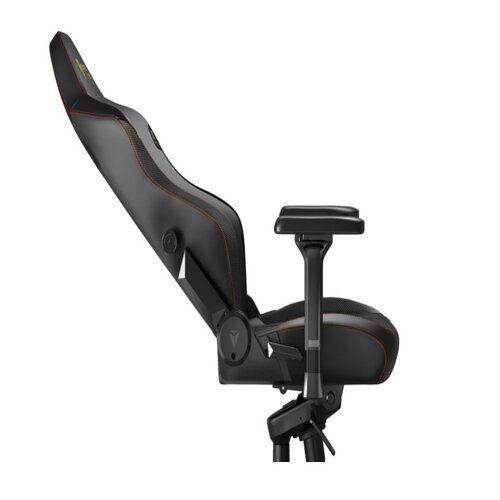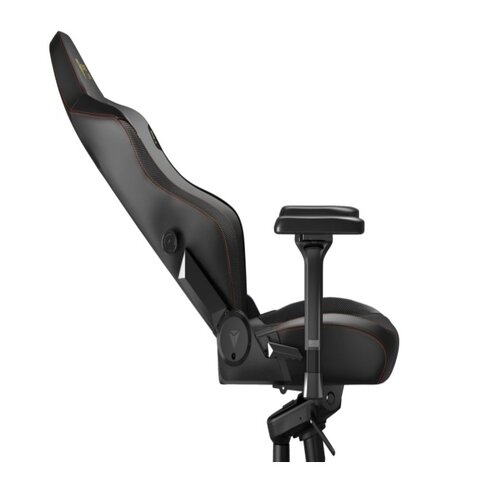 Titan Secretlab chair has various adjustments, which makes your sitting experience super comfortable whether you are using it as a gaming chair or an office chair.
This gaming chair features built-in lumbar support through a dial that changes the chair's firmness where it is hitting your lower back, in addition to one more dial-based lumbar support.
Secretlab titan gaming chair allows me to move the adjustable 4d armrest in all directions, twist the lever & shift my weight for changing its height, pull another lever placed on the right side of the chair for tilting its back forward or reclining it, in addition to freely tilting the chair or locking it at any angle I want.
New & Innovative Materials
One of the features that make Secretlab Evo stand out is the new "pebble seat" design with a smooth incline.
This feature guides your body to the middle of the chair in order to provide the greatest level of support, offering a super comfortable sitting experience.
Read More: https://thegamercollective.com/secretlab-omega-review/
5-year Extended Warranty
Just like the secret lab omega gaming chair, Secretlab Titan Evo gaming chair comes with a 3-year warranty, but if you are wishing to extend this 3 years to 5 years, all you need to do is to post a picture of your share on Facebook, Twitter or Instagram, and tag Secretlab.
Pros
Amazing build quality
Soft and delightfully supple
Extremely comfortable gaming chair
Easy to put together
No creaks or groans
tons of different color schemes & styles
Smooth hydraulics
Cons
The Magnetic head pillow can get nudged off
Expensive
Not super breathable
Also, check the comparison between Secretlab titan and Secretlab omega.
FAQ about Secretlab Titan Review
Is the Secretlab Titan Good?
Secretlab chairs are the best gaming chairs on the market for the time being. While neuechair is the best office chair, Omega chair is the best for smaller users, Titan Chair is the best for larger users.
Titan Evo offers a wide range of styles, 2 Upholstery options, and 3 sizes to meet your satisfaction and need whatever they are.
That's not everything. Titan Evo offers long-lasting stability, durability & comfort, premium materials, ergonomic features, and a generous 5-year warranty, making this chair a great choice to make.
Is Secretlab Titan or Omega better?
Both Secretlab chairs are excellent, Omega chair comes in one size, tons of schemes & styles, and 3 Upholstery options, which are: NAPA leather, SoftWeave fabric, and 2.0 PU leather.
On the other hand, Secretlab Titan chair comes in 3 sizes: small, regular, and titan xl, a wide variety of designs and 2 Upholstery options:  Titan SoftWeave Plus fabric and NEO Hybrid Leatherette. Making Titan Evo a better option.
Is Secretlab Titan good for posture?
Secretlab Titan is excellent when it comes to ergonomics, it is a very comfortable chair that helps you maintain a good posture even in long gaming sessions, this is because its bucket is designed to hold your entire body. It also allows for plenty of adjustments that blend to offer you the comfort you need.
It is worth mentioning that secret lab titan Evo is available in 3 sizes which also has more posture benefits.
Are Secretlab chairs comfortable?
Absolutely, yes.
Omega, titan, and neuechair are almost the most comfortable chairs on the market now for all the right reasons.
Because they are full of high-quality padding, yet are firm enough to support your body's posture without getting sunk down or delivering any slipping feelings.
Furthermore, they offer a few upholstery options and different sizes as well as ergonomic features including; lumbar pillows and 4d armrests, which provide you with a perfectly comfortable sitting experience.
Final thoughts
To sum up, Secretlab Titan Evo 2022 is a class-leading gaming chair. It doesn't only offer long-lasting comfort but also long-lasting durability, kudos to the premium materials and generous 5-year warranty.
Titan Evo is available in 3 sizes while keeping its outstanding selection of great upgrades and luxury edition styles & designs.
In terms of price, it is a costly chair and doesn't fit every gamer's budget, but if you are keen on getting yourself a gaming chair with top-class materials, ergonomic features, and a long warranty, this chair is worth your hard-earned money.