Secretlab Vs. Herman Miller
Whether you're looking to buy a new gaming chair or your current one isn't working out for you, we will cover you. We will look at two of the top gaming chairs available today, the Secretlab vs the Herman Miller. Here's some information about both of these brands; similarities, differences, and which one suits your needs to make your choice easier.
Secretlab & Herman Miller Companies' History
A hint About Secretlab
Secretlab is one of the best top ten gaming chairs available today, and they are one of the leading companies in the eSports scene. In 2014, Alaric Choo and Ian Ang founded the company in Singapore. They needed a gaming chair that met all their requirements and couldn't find one. So, they decided to create a chair they had always wanted, and the final result was the Secretlab brand.
The award-winning game chair company partnered with esports organizations, UX specialists, material science experts, engineers, and more to create the best gaming chairs for gamers. With its success in the US, Canada, the UK, Europe, Australia, and Southeast Asia, the brand has become one of the most popular brands in these regions.
These gaming chairs are famous for having breathable fabric, sturdy frames, and excellent back support.
A hint About Herman Miller
Herman Miller is an iconic American company based in New Zealand, Michigan, and the US, famous for office furniture. It was founded in 1905, more than 100 years before Secretlab was created.
Herman Miller might not be known for its office chairs. Still, the company was into making comfortable, stylish, and ergonomically designed furniture when it was first introduced as Star Furniture Company.
After four years, Dirk Jan De Pee became a clerk at Star furniture company. Then, he became the company's president in 1919 and renamed the company Michigan Star Furnishings Company. His ownership was split 50/50 between himself and his father-in-law, Herman Miller.
As a result of Miller's involvement, the firm became Herman Miller Furniture Co. In the 1960s, Herman Miller turned to focus on office furniture. Office furniture manufacturing started to increase in the 1970s when Bill Stumpf and Don Chadwick joined the company.
The two creative designers designed the Equa chair, which was later followed by the Aeron, the best-selling chair in America in 2010, and The Museum of Modern Art in New York City has an Aeron as one of its permanent collections.
Secretlab & Herman Miller Gaming Chair Models
Secretlab has been producing gaming chairs for years, starting back in 2018. Their newest and most recent model available is the Titan 2022 Evo. The Secretlab Throne V1 was the company's first version in the market, but that line has been discontinued.
The company's website sells the newer versions; the Titan chair, the Omega chair, and the Neue Chair; the brand is mainly focused on selling these chairs. (Here are the best Secretlab gaming chair models ever made) .
Herman Miller still produces the same types of chairs that made it famous decades ago, like the Aeron and the EQA.
Read more , How to Use Secret Lab Lumbar Pillow?
Herman Miller's other office chairs are as follows:
Cosm
Embody
Mirra 2
Celle
Sayl
Lino
Verus
Eames
Caper
Keyn
Setu
Herman Miller has more extensive gaming/office chair offerings than Secretlab.
Secretlab & Herman Miller Chair Material
Secretlab Chair Materials
You will find chairs in a variety of materials to choose from:
The Secretlab NEO Hybrid Leather isn't made out of genuine leather, but this version lets you save some money.
The Secretlab Premium Napa Leather will cost you more than $400.
The Secretlab PU Leather looks less natural than even the leatheret­te but is very cost-efficient.
The Secretlab SoftWeave Plus fabric, which features interlocking yarn fibers, has a technical feel.
Herman Miller Chair Materials
They offer different types of chairs materials depending on which one you choose:
The Aeron mesh office chair uses Herman Miller's 8Z Pellicle suspension material. That material is designed to be used around the chair's edges to make them tight, but at the same time, it's more flexible in the middle of the seat, so it supports your posture throughout the day.
The Embody, similar to Secretlab's Soft weave fabric, is a comfortable upholstered chair. There are two series of Embody seats, Sync and Medley, made from polyester materials.
Read also, How To Clean Secret Lab Chair? Easy 7 Steps
Secretlab & Herman Miller Build Quality
As far as the two companies' build quality goes, there are a few differences between Secretlab and HM. Without a doubt, Secretlab gaming chairs are made from high-quality materials. They're robust, high-quality chairs with attention to detail that other brands often miss.
For example, Secret Lab chairs feature oversized polyurethane casings, four-dimensional metal armrests, and comfortable pebble seats. Inside the center is an innovative mixture of cold-curing polyurethane foam that provides maximum comfort.
Herman Miller chairs are better built than most other chairs. From the Embody's built-in spine to its ergonomic back support, it's clear that Herman Miller puts a lot of effort into making each of its office chairs better than the last one.
The latest Secretlab Chair, the Evo 2022, has a new similar feature called 4-way L-ADAPT lumbar support. It allows for four-way pelvis stability through latticed hinges, giving you greater freedom of movement. It's been available for a long time at Herman Miller, but Secretlab is just catching on to it.
Secretlab & Herman Miller Comfort Features
Both Secretlab and Herman Miller chairs are very comfortable to use.
Comfort is essential when choosing office furniture. Herman Miller has an excellent reputation for ergonomic design. The PostureFit SLSL backrest with adjustable support only scratches the surface of what it can do for you.
Herman Miller chairs feature motion-mimicking spines built into some models (like the Embody), ergonomic design fabrics (like the 8Z Pelle­lice mesh in the Aeron), and breathable multi-layer seating.
Some Herman Miller chairs aren't available in multiple sizes, but the Aerons are:
Size A is for people who weigh up to 120 lbs and are between 4'8″ and 5'1″.
Size B chairs are suitable for users weighing up to 250 pounds between 5'10" and 6'7″ tall.
If your weight is up to 350 pounds and your height is between six feet, five inches, and six feet, seven inches, size C should fit you.
What makes a chair comfortable is how good you feel when sitting in it. There are three sizes of Secretlab chairs.
The small chair is intended for people weighing less than 200 pounds and between 4'11" to 5'6″.
The regular chair is designed for users weighing less than 220 pounds between 5'7″ and 6'2″ tall.
XL is recommended if your weight is 175 to 400 pounds and your height is between five feet eleven inches to six feet nine inches tall.
Read more, Secret Lab Cyberpunk Chair Review
Secretlab & Herman Miller Adjustment Systems
Herman Miller office chairs offer a lot in terms of adjustments, but this may be an area where they could be improved. Most of their chairs claim that the arms are flexible, yet Herman Miller doesn't offer 4D Arms.
That's not to mean that Herman Miller chairs don't offer enough adjustment options. You can adjust them however you want. Thanks to features like the Natural Glide system, you'll recline more smoothly in Herman Miller chairs. You can change the recline position to support your posture, either by adjusting the angle of recline or by adjusting the seat depth.
As a gaming chair manufacturer, you can expect 4-D armrests to be included with any Secretlab chair you purchase. You'll be happy that you can adjust the headrest position, tilt up to 165 degrees, raise and lower this seat, and use hydraulic power to do so.
Secretlab & Herman Miller Aesthetics
You may prefer Secretlab or Herman Miller office chairs! It depends on your personal preferences. The sleek and high-quality gaming chairs skins offered by Secretlab are highly desirable for gamers. They know that a gaming chair with a skinned finish will get them significant attention if they start streaming again.
A Herman Miller chair will be a good choice if you want a comfortable, classic chair with a timeless design that will retain its value over time.
Secretlab & Herman Miller Cost
Despite countable build quality differences' between Secretlab and Herman Miller, there is a clear difference in cost between them.
The average cost of a Secretlab chair is about $450. Even the most expensive models of 2022 are less than $500. Adding Napa leather seating can double the cost of the chair. A base price of less than $500 is quite reasonable.
Herman Miller chairs cost two times as much as a Secretlab chair. It's unlikely that you'll find a chair from this brand that costs less than $1,000, though some may cost up to $1,500 before you change anything else about the chair, such as adding casters or upgrading its wheels.
So, which one is better, A Secretlab or A Herman Miller?
These companies have something unique that sets them aside from their competitors. Both chairs come with a unique design and are made from high-quality materials, providing excellent comfort and back support.
That is why, We chose to compare some of their top-selling gaming chairs, as comparing the two companies side by side would be difficult.
Also check, Secretlab Titan Softweave Vs Pu Leather| The Ultimate Comparison Guide
Secretlab Omega vs. Herman Miller Aeron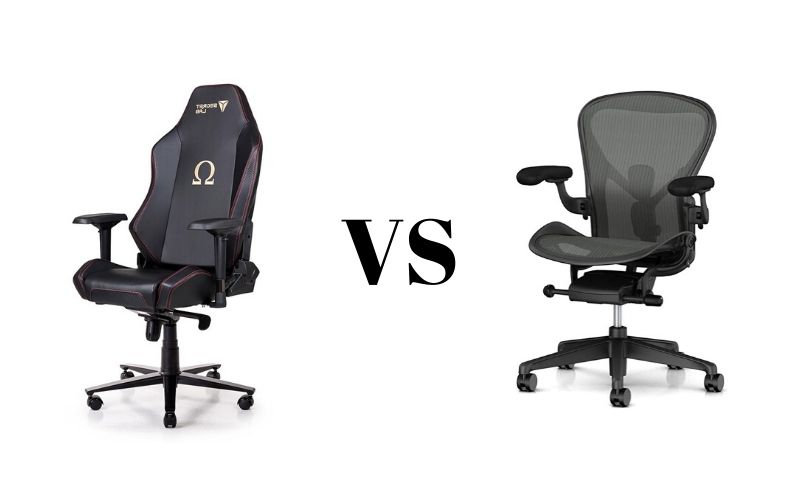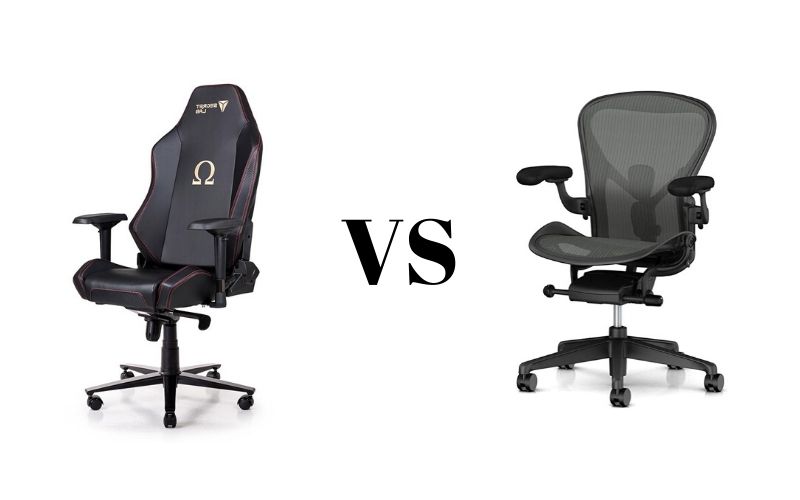 The OMEGA series by Secretlab is their most famous gaming chair model that supports long hours of gameplay. It features a simple, clean design, high-end construction quality, and a comfortable gaming experience.
The Herman Miller Aeron chair is one of the most famous ergonomic office chairs ever created. It has some of the best features, adjustability, comfort, and ergonomics, making it ideal for anyone looking for a quality gaming chair or office chair.
Secretlab Omega
It isn't as famous as the Titan, but it's a quality seat nonetheless. The 2020 Series version comes in PRIME 2.1 PU leather (with no leatherette option), soft weave, or pure Napaletleather.
This chair will suit you under 240 pounds and is shorter than 5'11".
The Omega comes with adjustable armrests, including sliding, shifting up or down, going backward or forward, angling left or right, or shifting left or right. The arm has PU (polyurethanes) foam padding and a hollowed-out section for your comfort.
Memory foam technology features conform to your body and support your lower back and neck. It features a cooling gel layer inside the neck pillow for maintaining your body temperature at an ideal level.
The chair allows you to adjust the angle from 0 to 165 degrees with its reclining function.
Feel confident rolling with XL casters. The robust ADC12 wheelbase makes this chair very durable, while its Class 4 hydraulic suspension allows for easy reclining and adjusting of the seat. All the chair features range from 350$ to 750$ dollars (for the Napa Leather).
Herman Miller Aeron
These chairs are challenging to copy. It features an 8Z Pellicle suspension material that's comfortable and easy to use.
Ergonomic features include PostureFit SL back cushions that help you keep your spine straight The Aeron is meant to help you sit up straighter by angling your pelvis slightly forward while keeping your shoulders back and your chest open. This is what proper seated posture feels like!
With Balanced Tilt, you can gently recline or lie utterly flat without feeling uncomfortable.
You can also adjust the settings for this feature armrest angle, distance from the seat, and height. Yes, the Aerons don't have 4D arms, but neither do they stay in one place.
The Aeron comes in three sizes: Sizes A through Size C, to fit various users.
Its cost starts from $1,495, a prohibitive price. It's rare to find an Aeron at a reasonable price, but it's well worth it.
Secretlab Titan vs. Herman Miller Embody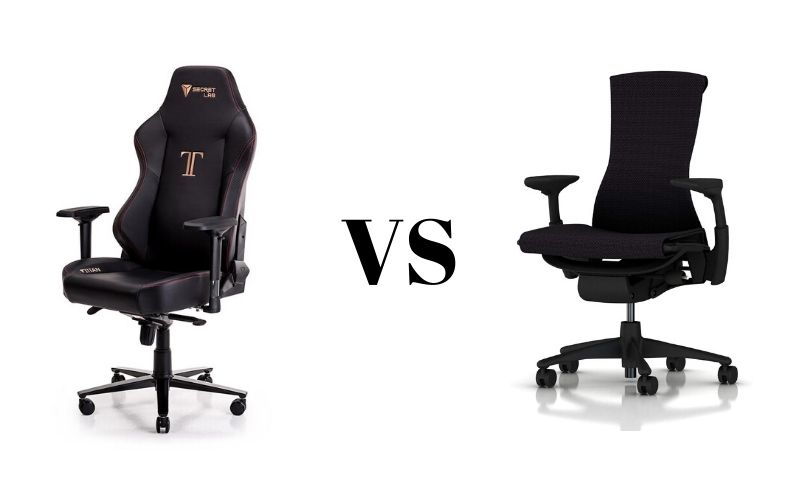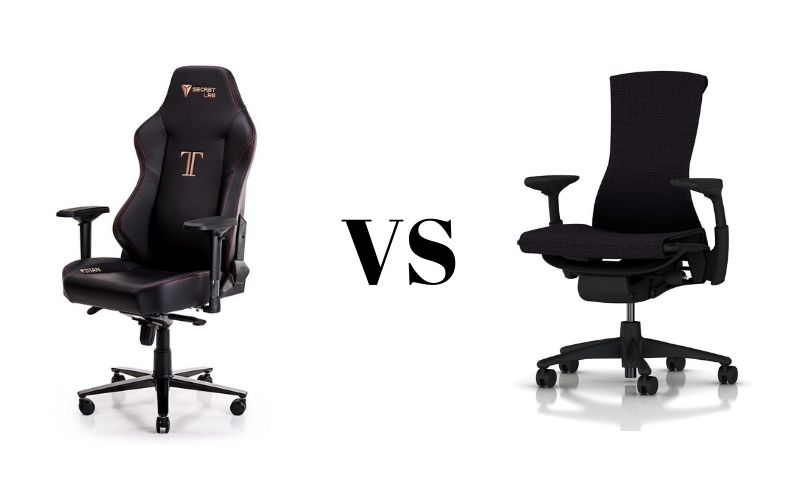 Secretlab Titan
They're premium gaming chairs that offer high-quality craftsmanship, adjustable features, comfortable design, multiple styles, and various sizes.
The Secretlab Titan Evo 2022 Chair is the newest, most comfortable, and best Secretlab chair in 3 sizes (Small, Regular, and XL). You can choose from either pure Napa leather, NEO Hybrid Leather, or SoftWeave Fabric for your seat cover.
Titan's latest version features the cold-cure foams that Secretlab has made famous for its gaming chairs. This patented foam provides medium-level support for your backside without feeling too soft or hard.
The curved sculpted seat base curves gently to its edges, flaring slightly. This chair promotes good posture while you're sitting.
The 4D arms feature CloudSwap, which allows you to change the material of the arm.
The real star of Titan's Evo 2022 is its Adaptive Lumbar Support (L-ADAPT) system. You can move this around as well as up and down. The latticed hinges emulate a natural spine so that they can support whatever activities you perform in the Titan.
The other features include an integrated memory foam head cushion, multi-tilt quality (up to a maximum of 165°), Class 4 adjustable headrest, and a new and improved head pillow. The pillow has a memory foam backrest that doesn't shift, even when you're under the most pressure.
The cost of a Titan Evo 2022 Series chair starts at $450.
Herman Miller Embody
They started the trend of adding a spine to the office or gaming chairs. They're made out of flexible plastic. The micro-movement of the Embody helps your body move better throughout the day.
It has many adjustments, from a tilt limiter to a tilt tension control and a Backfit adjustor knob for back support. You can adjust the seat depth, seat width, seat height, and arms, but they're still not 4-dimensional.
The fancy seating includes four different material layers to control body temperature, allow air to flow, and offer greater comfort.
You'll feel like you're floating when using Pixelated Support. Here's what's going on: The dynamic pixel array is moving to match the movements of your body to distribute its weight evenly. You'll feel less pressure and better circulation when you use this technique. You could even focus better on your work tasks.
The Herman Miller Embodied chair starts at $1,600, making it one of the most expensive Herman Miller chairs. Given that a team of medical professionals from all fields worked on it, including Herman Miller's designers who designed the chairs, the price is easier to justify.
Read also, Secretlab Softweave Review: is it better for your comfort?
FAQ'S
What is CloudSwap?
Secretlab has invented a new way to change the components of their armrests. They call this feature CloudSwap (or cloud-swapping). It's a magnetic armrest system that lets you switch between different materials.
Is the Herman Miller Aeron Good for Gaming?
The original Herman Miller Aeron chair was designed specifically for work but can also be used to play games. The PostureFit Backrest will help prevent back pain, while the 8z Mesh Seat will allow sweat to pass through the fabric and send air towards you during gaming.
If you need to make adjustments during gameplay, Harmonics tilt keeps you from having to stop the game from making them. If you find that the original Herman Miller Aeron chair isn't quite what you're looking for, Herman Miller also produces a game version of the same design. It's still a bit more expensive than its original counterpart.
Why Is the Herman Miller Aeron So Expensive?
The Herman Miller Aeron is a costly product because it is made in America with the highest quality materials available. Furthermore, Herman Miller chairs can be expensive because a company makes them with a well-known brand name. Herman Miller has been around for over 100 years, and the Aeron is one of the most famous office chairs in history.
What is pellicle mesh?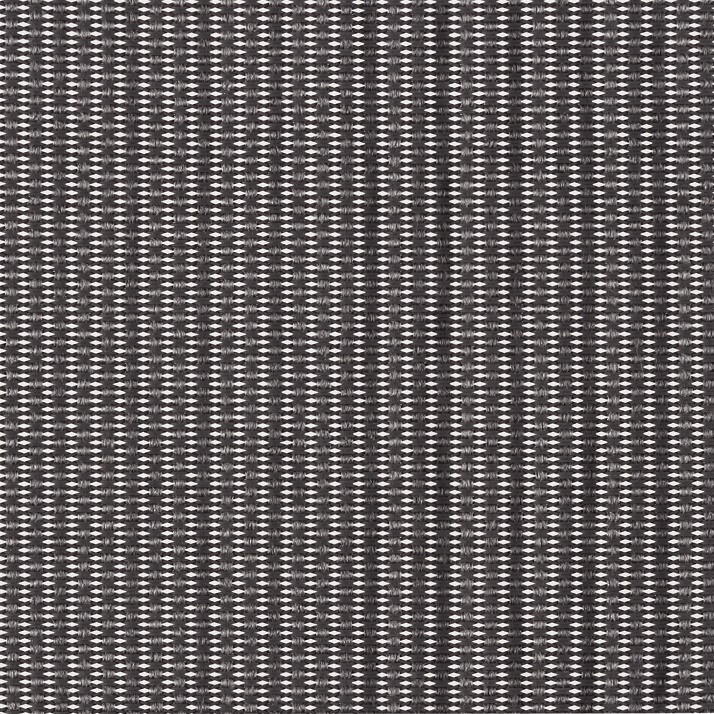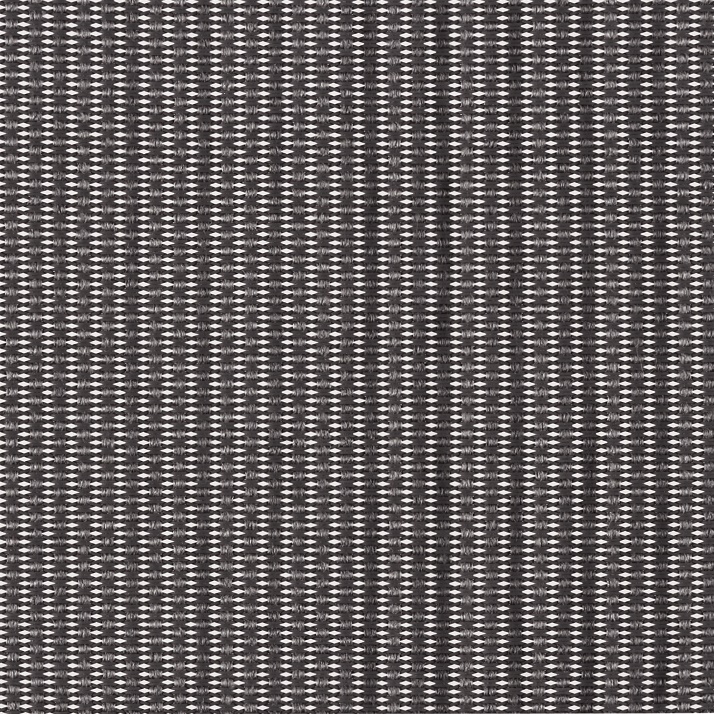 A pellicle is a breathable membrane. It's a unique fabric developed and patented by Herman Miller. It's made from a synthetic material called Hytrel, which is woven into a straight and consistent pattern. It looks similar to wicker or netting but is much stronger than either.
What is an 8Z pellicle?
Aeron's 8z Pellicleeliminates pressure points across eight latitudinal zones of varying tension. It tightens up most at the edges and becomes less tense when your body meets the seat. Play better by playing more ergonomically and more comfortably in Aeron.
What is the meaning of 4-way L-ADAPT Lumbar Support?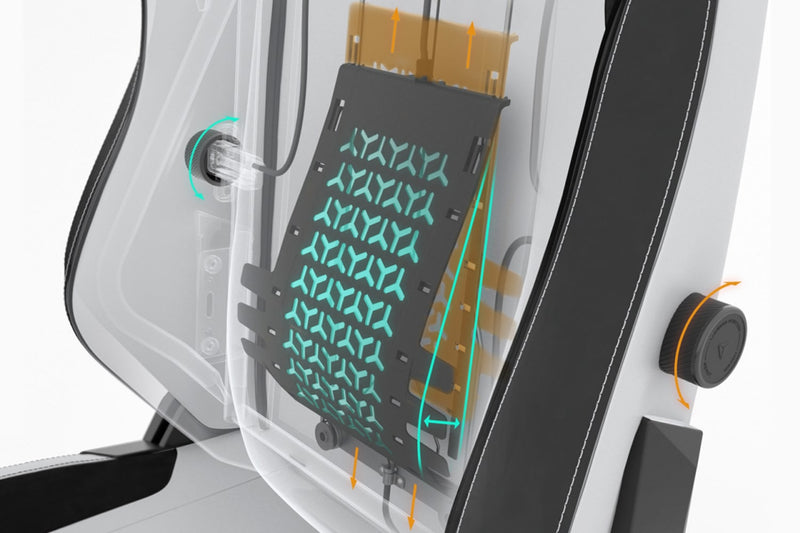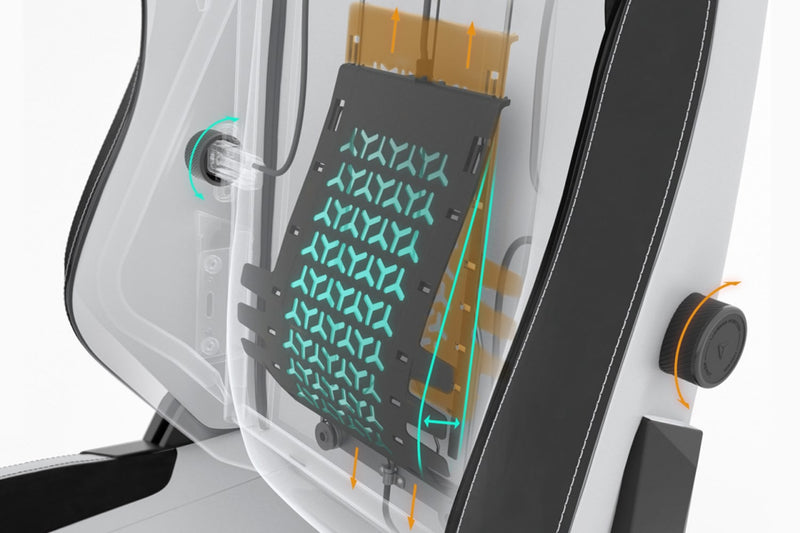 It would be helpful to watch this video that shows precisely the mechanism of L-ADAPT
We've developed the most advanced lumbar support system for a gaming chair. It's a natural fit for your body, moving up and down and in and out as you move. Our proprietary lattice system allows our products to move freely and adapt to your body's natural movements.
Conclusion
Herman Miller has the edge over Secretlab when it comes to chairs. Herman Miller has been using their office chairs for years, but they've recently begun adding features that Secretlab chairs have only just started including.
Herman Miller continues to develop products that help people sit better for more extended periods. There's one downside to this product: It's expensive.