Best gaming chair under 200$ for your fun and comfort
PUBG, CrossFire, Minecraft, I am ALREADY EXCITED about this! As y'all know, gaming is the most fun of all, but how can you have fun when you can't move swiftly or have your back sore? Even when you look for comfort, you'll tiptoe about the price. Don't you worry, we got you!
In search of the best gaming chairs for under 200$, we didn't just look around boringly or even google them. No, this fun is serious to us just as it is to you. We asked real gamers!
Gaming chairs Under 200$! sounds promising yeah? I can already feel you smiling. we have got the best gaming chairs under 200$ just for you.
Read More: https://thegamercollective.com/best-gaming-chair/
Here are our top 13 picks
Best Gaming chair under 200$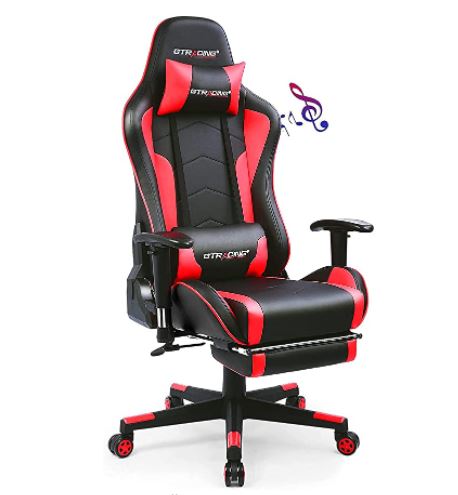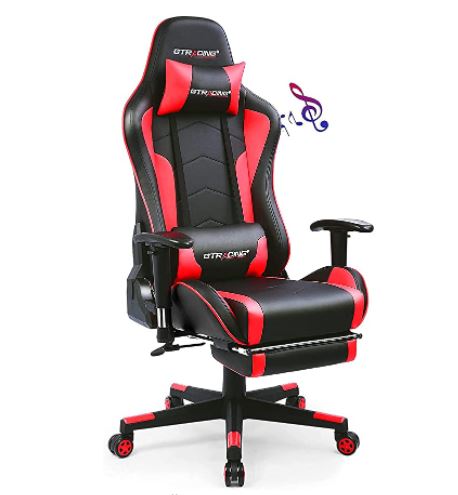 Let's talk technicalities; this chair is a good deal for you. Here are the features that'll interest you:
2 Bluetooth speakers with a Surrounding sound system for the maximum fun experience
Easily connected to smartphones, tablets, or any other device that enables Bluetooth
For your posture, it's designed with a strong metal frame of its ergonomic design to provide your back with a comfortable seat
GTRACING 890MF is the cheapest gaming chair with these features packed in, and that's why it's our top pick.
The PU leather with the foam padding seating cushion gives your body the comfort it needs, plus the metal heavy frame supports you with security. So, you are safe and sound for long hours. You can adjust the headrest, the lumbar support cushion, and the armrest. In addition to being adjustable, the headrest and the lumbar support cushions are removable, so if you don't need them, don't keep them.
The caster wheels roll smoothly a full 360 degrees. The high back of the seat comforts your back, neck, head, and shoulders. The speakers near the headrest give you the full gaming experience, you can connect them via Bluetooth, they are powered by a rechargeable pack of 6 hours lifespan. You can't have your body comfortable unless your feet are comfortable, the footrest is reachable and now, fun and comfort mood is on!
For your artistic taste, you can pick your favorite color out of the five color options.
Pros & Cons
Pros
Key feature: Audio in the chair
Full 360-degree swivel
170-degree recline
High-quality PU leather
High build quality
Height adjustable
Lumbar support
Ergonomic design
Economic
Cons
Needs Bluetooth adapter to connect to a PC/PS4/Switch/Bluetooth 5.0 device
Final Verdict
If you are looking for the perfect experience with a gaming chair for under 200$, this is the one for you.
Read also , Best gaming chairs under 500$ (Elite Collection)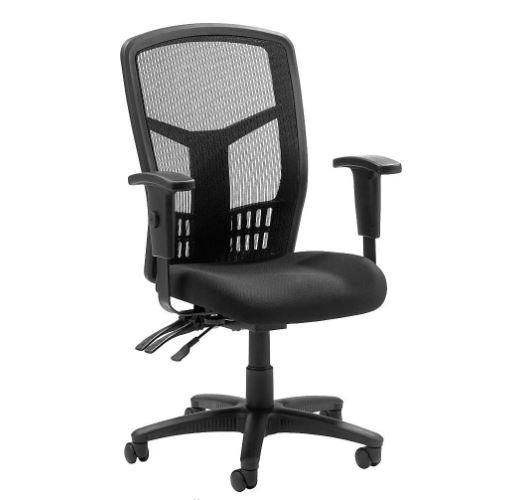 Its features that will interest you
Grid comfortable back
Ergonomic design
Carries till 250 lbs
6 feet high capacity
Looks like an office chair? yes, it is, it's used for both. You can have it in your office and in your personal room. The grid flat wide back sounds like a bummer? Believe me, it is not. This grid back is supported with high-quality nylon to make it up for you.
Thanks to the reasonable amount of nylon, the chair is durable. For its price, the amount of comfort this gaming chair offers will amaze you! Just imagine a chair of this price with this firmness and comfort! Well, that's the DEAL that we're talking about!
Pros & Cons
Pros
Excellent back support
Firm and durable
Excellent price
Ergonomic gaming chair
Adjustable armrests (limited)


Cons
Not the coziest armrest
Makes noise when adjusted
Doesn't have a lumbar or neck cushion


Final Verdict
If you are looking for a two-in-one, then this is the one for you.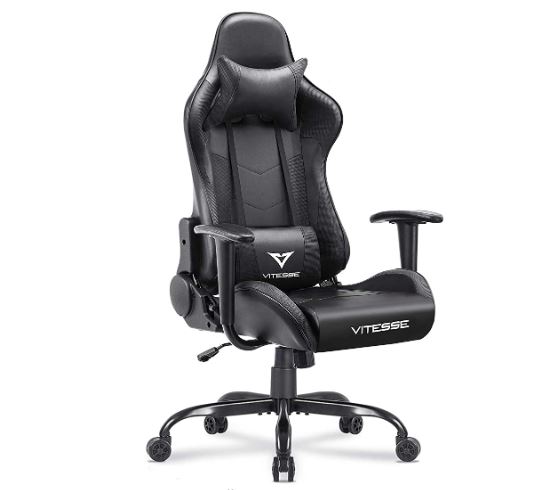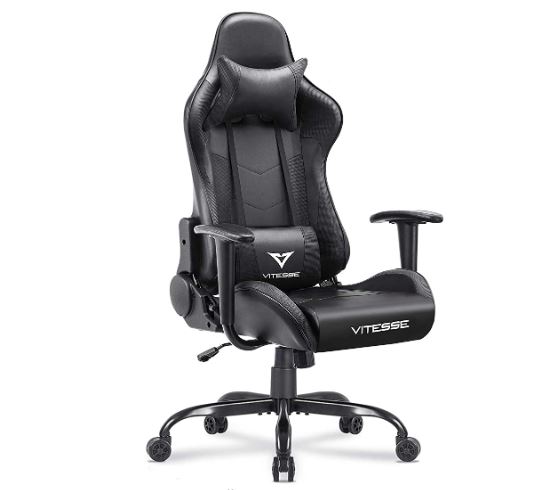 Features that will interest you
Tilts back up to 180 degrees
You can adjust its height
Metal frame
This Vitesse is absolutely an ergonomic gaming chair, now get ready to imagine a huge amount of comfort… Be careful of falling asleep! It's a deep and wide chair of high back racing design which will support your neck, head, and shoulder. And get this, you can recline 180 degrees so you can lie flat for a pause, DO YOU FEEL THAT?
The ergonomic chair comes with a class-3 gas lift so it takes up to 300 lbs.
There are six color options for this chair including all-black ones.
Pros & Cons
Pros
Can be tilted flat
Adjustable
Durable
Reasonable price
Easy to clean leather



Cons
Not the thickest seat cushion
Final Verdict
If your comfort is a priority to you, then this is the one.
Read also, Best Gaming Chairs for Every Gamer: The Ultimate List for 2022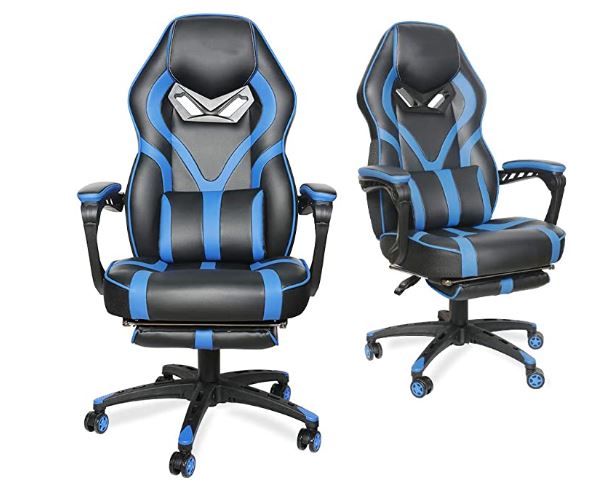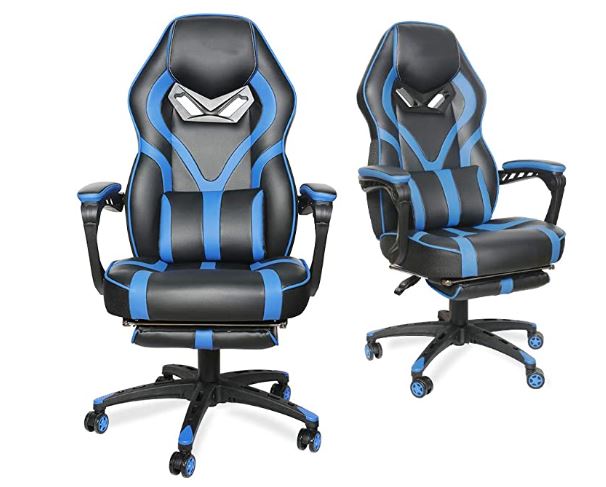 Features that interest you
Carries up to 360 pounds
You can remove the headset and lumbar cushion
Not heavy
It won't be a lot to ask for a chair that suits your taste. This LUCKWIND video game chair is the one for you.
When it comes t design, this chair comes in a two-color segment design with high-quality PU leather upholstery. With its 4-inch multi-layer memory foam you can't resist temptation. The bucket seat provides ergonomic support to maintain support.
The Gamestation setup of this chair has a cool addition, the Built-in headrest and removable lumbar cushion are what you didn't know that you need.
The fact that the chair's upholstery material is durable and tear-free blinds eyes that it might make a creaky sound when first used.
Read More: https://thegamercollective.com/best-blue-gaming-chairs-calm-and-deep/
Pros & Cons
Pros
Built-in headrest
Removable lumbar cushion
Retractable footrest
Glossy leather appearance
4-inch multi-layer memory foam cushion


Cons
A creaky sound in the beginning
Final Verdict
If the style is side by side with comfort t you, then this is the one.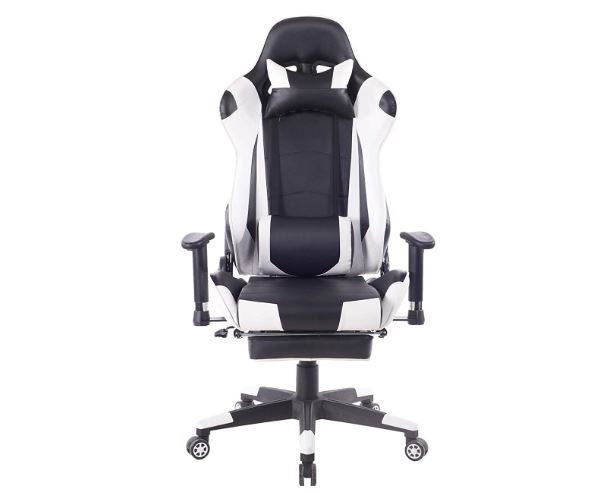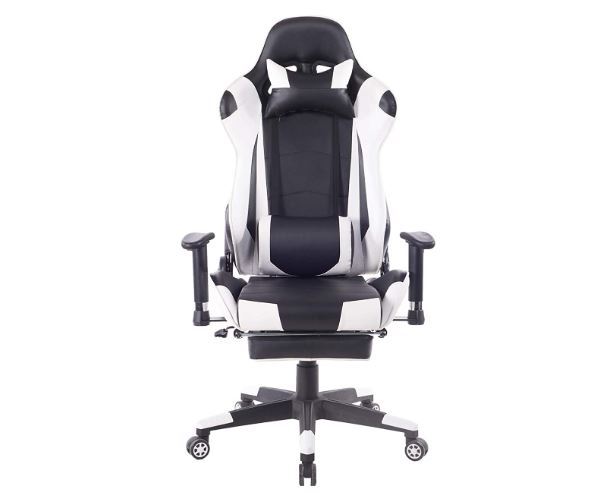 Features that interest you
Ergonomic comfort
Flixable adjustability
Premium treatment
Massaging? Yeah! you read that right. This racing–game chair provides you with great comfort and luxury no matter how long you stay.
So get this, the headrest and lumbar cushion are removable, reclining 90-155 degrees. The footrest is adjustable and the armrests are smooth. FULL 360 degrees rotation for dynamic movement. I know this sounds ideal.
The integrated metal frame is of high-density sponge and PU leather which can be easily cleaned. The ergonomic high back comforts your back, neck, and shoulders. The thick padding seat makes the whole experience as coziest as ever.
Nevertheless, the vibrating massage function which is USB powered and has a rechargeable bank relieves the pain in your lower back.
Pros & Cons
Pros
Massage function in lumbar support
Weight capacity of 350 lbs
Full 360 degree swivel
155 degree recline (although there are reports of it reclining the full 180 degrees)
Metal frame
Rocking function
Ergonomic design
Large size
15 different design and color choices


Cons
The massage vibrator isn't the strongest.
Final verdict
If luxury and massage gaming are what you are looking for, then this is the one for you.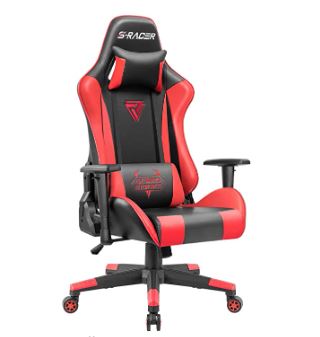 Features that interest you
It carries till 330 lbs
Racing type chair
Ergonomic conforming design
This Homall gaming chair cares about you. It comes in a conforming design which supports your neck and back so well. However, the armrests aren't padded and are solid, so your elbows might hurt if you binge playing for long hours.
But don't worry, it has a great compensation for that, you can totally lie flat thanks to the recline feature. It reclines till a FULL 180 degrees.
Since the neck and lumbar cushions show care, this racing gaming chair doesn't annoy you with any kind of noise. It is protected by rubber casters.
And last but not least, the metal frame is hardy enough to carry till 330 lbs. So here you go, race like an avenger!
Also, check the best gaming chairs on the market.
Pros & Cons
Pros
You can lie flat on it
Sturdy
Has neck and lumbar cushion
Doesn't make noise while movement
Premium polyurethane leather seat



Cons
Solid armrest
You can smell the material


Final Verdict
If you are looking for a powerful racing chair, then this is the one for you.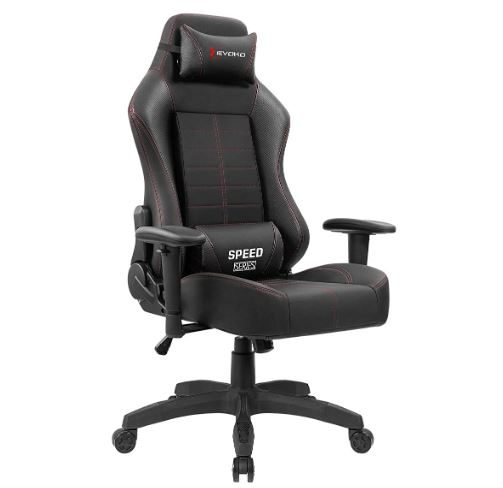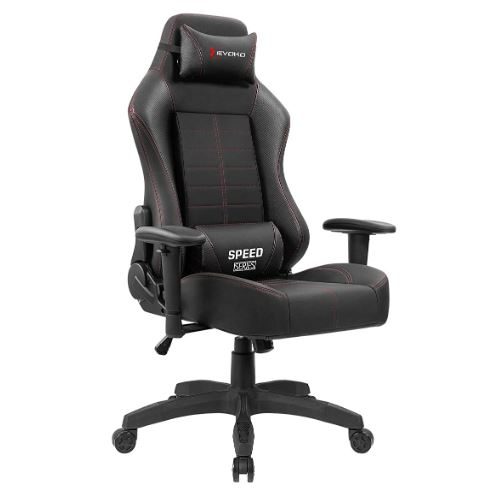 Features that interest you
Carries till 350 lbs
Multiple color options
Racing type chair
This devoko ergonomic chair will amaze you. When it comes to the seat, it's no kidding, this computer chair comes in polyurethane padded leather. Also the back is breathable and your back will be in touch with some air.
Although the armrests are padded, they are still comfortable as they are concave in a way that fits most arm sizes. The chair has a thickened memory foam.
For your posture, the chair has neck and lumbar support. And if you want to lie back for a pause it reclines up to 180 degrees. This gaming chair is naturally civilized, the high-quality mute crasters prevent any kind of scratch on the floor.
Pros & Cons
Pros
Really affordable
Red, blue, white, gray, black color options
Concave armrests
Reclines fully
Lumbar and neck support
Breathable back


Cons
You can smell the material
Armrests aren't padded
Final Verdict
If you are looking for a gaming companion, then this is the one for you.
Read also, Why Are Gaming Chairs So Expensive? 9 Factors Involved!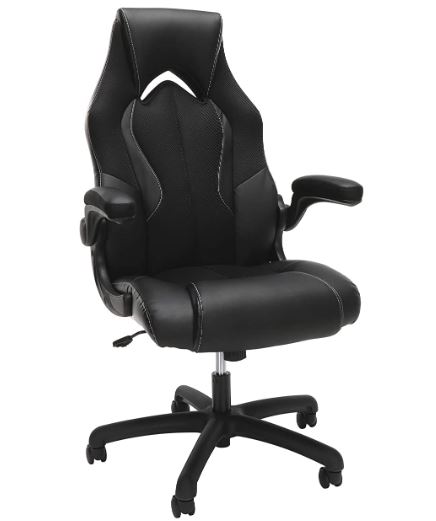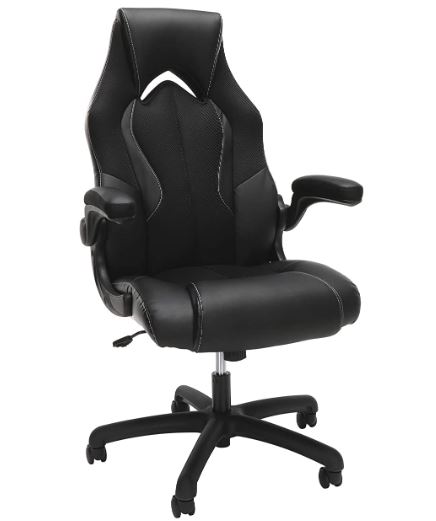 Features that interest you
Flip-up armrests
360 degrees swivel
Adjustable height
Cushioned armrests
It carries till 270 lbs
If you don't know about OFM collection, then you will be surprised. This OFM gaming office chair provides you with luxury and comfort.
It comes with padded adjustable armrests. What's amazing about these armrests is that you can flip them up to stay cross legged, I am in love with this feature.
The fabric areas of the seat are breathable and the headrest and lumbar support are unremovable. There are five color options for your taste and some of them are above 100$, but believe me, this is one of the best budget gaming chairs.
Pros & Cons
Pros
Multiple color options
Flip-up armrest
Padded armrests
Budget suitable
Highly comfortable
Adjustable height and comfortable headrest


Cons
You can't remove the headrest or the lumbar support
Final Verdict
If you are looking for a casual sitting and super comfortable chair, then this is the one for you.
Also, read the best gaming chairs under 300 USD.
Main Features
Flip-up Arms
Adjustable Height
Available in two colors, white & black
Product Dimensions19.7″D x 19.7″W x 21.3″H
Item Weight 24.7 pounds
Max Capacity 250lbs
Office, Study Room
Material Breathable Mesh
About Hbada Office Task Desk Chair
Armrests can be adjusted to allow you to slide a chair underneath a low-height desk, increase your side space when necessary, or place oversized items on the chair's seat. Armrests, in particular, are good, but not if they don't fit. Hbada handles these situations. It has a net weight of just twenty-five pounds, making it easy to carry around. It's a chair that you can move from one place to another without any problem.
The Hbada is not as comfortable as a Herman Miller chair, but it'll probably be fine for most people who aren't sitting for eight hours straight. In other words, you won't get a robust reclining feature on a Homall or similar gaming chair, but the Hbada has a maximum tilt angle of 30 degrees if you enjoy wagging your chair. Even though you cannot stop the seatback angle at a certain degree, there is a seatback tension control lever that you can easily use to adjust the force required to wag the backrest. It might help ease back pain caused by prolonged sitting.
The seat height range of between 16″ – 19.75″ makes it one of the most suitable gaming chairs for shorter users on this list. It is a perfect chair; the only problem you can face while using it is that you can not adjust the armrests' height 27.75″ to suit most standard desks' tall, 29″.
Pros & Cons
Pros
It is easy to carry around
Armrests and height that can be adjusted
Ergonomic design
Breathable mesh seat
Seat height is excellent for shorter users
Cons
Backrests only wag, no recline
Not the perfect choice for taller users
Armrest height is less than standard desk height– only goes up to 27.75."
Read also , Best Pink and White Gaming Chairs (Cute and Durable)
Main Features
Dimensions 21.65 x 27.55 x 50.39 inches
Item Weight 48.4 pounds
Height Adjustable Headrest
A seat with Lumbar Support
Adjustable up and down Armrest
155° backrest recline
Easy to assemble
Also check, Why Are Gaming Chairs So Expensive? 9 Factors Involved!
About Hbada Gaming E-Sports Swivel Chair
Hbada strives to create the best gaming chairs to provide you with a perfect game experience. This gaming chair will be an excellent addition to your computer/gaming room; why? It comes with a thick backrest and seat cushion to make you feel comfier. Adjustable headrests and lumbar pillows can help you get better support for your neck and back when playing games or working for long periods.
This Racing Style Gaming Chair comes with a whole adjustable system which is perfect for your needs
Chair Back Can Be Locked At Any Angle Between 90°-155°
Chair Shake range 20°
Adjustable Armrest Height 2.75"
Adjustable Seat Height 3.15"
Chair Wheels With 360° Rotation
Last but not least, the chair is manufactured from durable materials for your safety, a solid metal frame, a sturdy Naylon base is which can endure up to 300 pounds, a Native Sponge, and SGS Certified 4-Level Cylinder.
Pros & Cons
Pros
Ergonomic design
Multi-function
High-quality material
Durable metal base
Easy to assemble
Cons
Expensive compared to other models
It may not suit users over 6ft in height
Main Features
Adjustable Swivel Chair
Fully Reclining Back
Dimensions 29″D x 29″W x 48″H
Item Weight 52 pounds
Weight Capacity 275 lbs
Also check, Best gaming chairs under 500$ (Elite Collection)
About Flash Furniture X20 Gaming Chair
Get a better gaming experience on this fully-reclining gaming chair with a soft and durable leather lining. The height of the armrest can be adjusted for your comfort. X20 Gaming Chair back has a highly customizable design. You can adjust the angle of the seat's back as it reclines between 87° and 145°, the position of the backrest, and the height of the headrest.
The seat comes with a set of two handles. One of them is for adjusting the back angle, while the other under the seat adjusts the seat height and locks it upright. With this ergonomic game chair, you'll be able to play your favorite video games for more extended periods without feeling uncomfortable.
Pros & Cons
Pros
Adjustable Features
Ergonomic Back
Heavy-duty Base and Wheels
Cons
Not Easy to assemble, bolts are short and require a lot of force/pressure to affix.
Main Features
Dimensions 30.5″D x 28.25″W x 44.5″H
High-Back
Racing Style
Up to 275 pounds
Adjustable racing chair
Item Weight 37 pounds
An ergonomic racing car style chair provides upscale comfort whether you're playing games or working long hours at your desk. The soft, flexible material used for the seat cushions gives them a luxury look, while the customizable options allow for personal comforts all day long.
This Racing Style Gaming Chair comes with a whole adjustable system which is perfect for your needs
Height adjustment
Flip-up armrest or swivel out of the place if needed
Recline Function
360 degrees of swivel
Pros & Cons
Pros
Comfortable
Easy to assemble
Good price
Great Quality
Cons
The mechanism pops loudly as you shift your weight in the chair to lean back and forth.
The material is very cheap. The faux "leather" damages quickly, and the cushions are pretty thin.
While the chair should lean backward and forward, a considerable side-to-side wobble makes for a volatile feeling.
Read more, Best Black and Red Gaming Chairs (Fierce and Cool!)
Main Features
High-Back
Adjustable Headrest
Lumbar Support
12 months product warranty
Multifunction
Item Weight 34.5 pounds
Dimensions 33 x 24 x 49.2 inches
Up to 250 pounds
Soontrans' products have a unique anti-counterfeit label on their outer packaging so their 2D barcodes can identify them. This game chair provides the best experience for both office and gaming and doubles your efficiency!
Soontrans Gamer Chair features an ergonomic car-seat design that includes thigh support side pads and waist and shoulder pads that look similar to a racing seat. This high-quality office chair is made from high-grade carbon fiber, which offers excellent wear resistance. It has cushioned armrests for maximum comfort. At the same time, the seat comes with wide and thick padding or cushion for a comfortable sitting experience.
It comes with a 90° to 160° reclining backrest, height adjustment, headrest, massage lumbar pillow support, and 360 degrees swiveling and rolling silently with the mute caster.
Pros & Cons
Pros
Good price
Easy to assemble
Multifunction
Cons
Makes loud noises
The quality is not good
Not for bigger people
Read more, Best gaming chairs under 300$
FAQs
What is the difference between an office chair and a gaming chair?
The office chair cannot be used for gaming in most cases, but a gaming chair can be used for multiple purposes.
Also, read how to choose the best gaming chairs.
Is a Gaming chair good for long sitting?
Yes, and we have got the best ones for you.
Can I use a gaming chair for work?
Of course, check our list and you'll find the most suitable one for you.
Why are gaming chairs uncomfortable?
Well, this one is no longer a problem after you purchase one of our recommendations, but it is important to take care of your posture habits.
Can gaming chairs explode?
Although it is so rare to happen due to the strict instructions of manufacturing, the gas cylinder that allows height adjustment might explode. That's why we advise you to keep the warranty and guarantee with you.
Are gaming chairs worth it?
Gaming chairs are worth it! You'll spend lots of time sitting down playing games, so owning a comfortable gaming chair will make things much more enjoyable. Also, gaming chairs help you stay healthy because of how much you sit down playing games. But if you already own an ergonomic office chair, you've got everything you need to get a good gaming experience.
Are gaming chairs good for your posture?
Gaming chairs are great for your body because they help you improve your posture and keep you healthy. Some gaming chairs also come with lumbar supports, 4D armrests, and sculpted seats and backs.
Does every gaming chair fit every body type?
You should always get an extra-large size because most people are overweight. Gaming chairs are usually made for big guys who want to sit comfortably during long hours of playing games. Some companies offer different sizes depending on your height and weight. Before buying a new gaming chair, you should always measure yourself first. Consult the specs of your chairs before purchasing them.
Should I buy a leather or fabric gaming chair?
Gaming chairs are essential because they help gamers relax after long hours of playing games. Leather and fabric are both excellent materials for gaming chairs. But, if you want to choose a specific type of material, then go ahead and do it! You shouldn't be pressured into buying something without knowing why you want it.
Make sure you like the looks of your gaming chair before you buy it. Fake or Pu leather is cheap, but the price increases when you go up the scale. Fabric finishes are cheaper than leather, but they aren't as lovely. The top of the scale is leather, and it costs a lot. It's very soft, but it is expensive too. Fabric tends to be more breathable than leather and therefore is good at keeping you cool. However, they aren't as smooth or as classy as leather. That said, leather is still better if you're looking for a truly comfortable seat. In any case, ethical concerns about leather are important to consider when choosing your next gaming chair.
What is the best gaming chair for back pain?
Gaming chairs are often made of plastic or metal, and they usually aren't very comfortable. However, some gaming chairs offer excellent comfort and excellent back support during your gaming session. This Razer Iskur Razer is one of them. It features an ergonomically shaped backrest that easily adjusts with a simple lever.
The Iskur Black edition comes with a black finish, and it is perfect for those who want a stylish yet functional chair. The Razer Iskur is a very comfortable gaming chair that provides excellent support for your back. This ergonomic chair is shaped with a comfortable backrest that easily adjusts with a simple lever. What are floor gaming chairs, and are they any good?
Gaming chairs are designed for comfort and relaxation, especially during a long gaming session. They are usually made of leather or other soft material. Their backs are generally curved, making them comfortable for long periods. They also come with armrests and sometimes footstools.
They may have wheels or smooth-rolling casters to make moving around easier. Some models include speakers and lights. These chairs are usually used by people who play games online or offline. A gaming chair should support your body correctly. It would be best if you enjoyed playing games comfortably. We've found some great gaming chairs that work well for sitting and standing. We recommend these gaming chairs for your gaming needs.
How do I know which gaming chair is bad?
Poor quality chairs are generally made of cheap materials. They do not include any cushioning or backrests. You should avoid them if possible.
Final word
Tell us which one is your favorite? Share your experience in the comment below!