Pink Bunny Gaming Chair From AutoFull: Is it Too Cute to Pass Up?
One of the most unique and girl-centric gaming accessories to ever exist is the AutoFull Pink Bunny Gaming Chair. Decked out in a sweet pink and white colour scheme and adorned with the cuteness-overload bunny ears and fluffy white tail… this chair has egirl written all over it. But does the chair itself match the ridiculous cuteness the seat exudes?
AutoFull Pink Bunny Chair Review
Most gamers, male or female, get a gaming chair based on the look. After all, that's the primary distinction between a gaming chair and a standard office chair. But, as with anything, it's important to make sure the overall quality of the item justifies the price no matter how cute or awesome it may look.
That's why in this review we're going to go over the details of AutoFull's insanely adorable pink gamer chair with bunny ears. We're going to discuss the build quality, features of the chair, comfort, price, and more. So buckle in, because down below you'll find out if this seat is the right one to compliment your ultra girl-themed gaming setup.
Build
The infamous bunny ear gaming chair rose in popularity due to several Twitch streamers and YouTube female gamer channels have been utilizing the chair while playing their favorite games streaming or recording. The chair comes from a company called AutoFull.
Despite the fact that the chair mostly got popular due to its absurdly cute looks and bunny theme, it's actually a well-made gaming chair, too. Equipped with a sturdy steel frame, hefty gas lift, and sturdy base – it has all the components to not only look cute but stand the test of time with superb durability.
The PU leather covering, high-density foam seat, armrests, and all are made with quality materials as well. So it not only boasts good looks and comfort, but it's a chair that'll keep up with daily use and extended gaming sessions.
Features
Obviously, the features of this chair that stand out the most are its pink and white colour palette, cute bunny ears that attach to the headrest of the gaming chair, and a fluffy, white bunny tail fixed to the backend of the seat.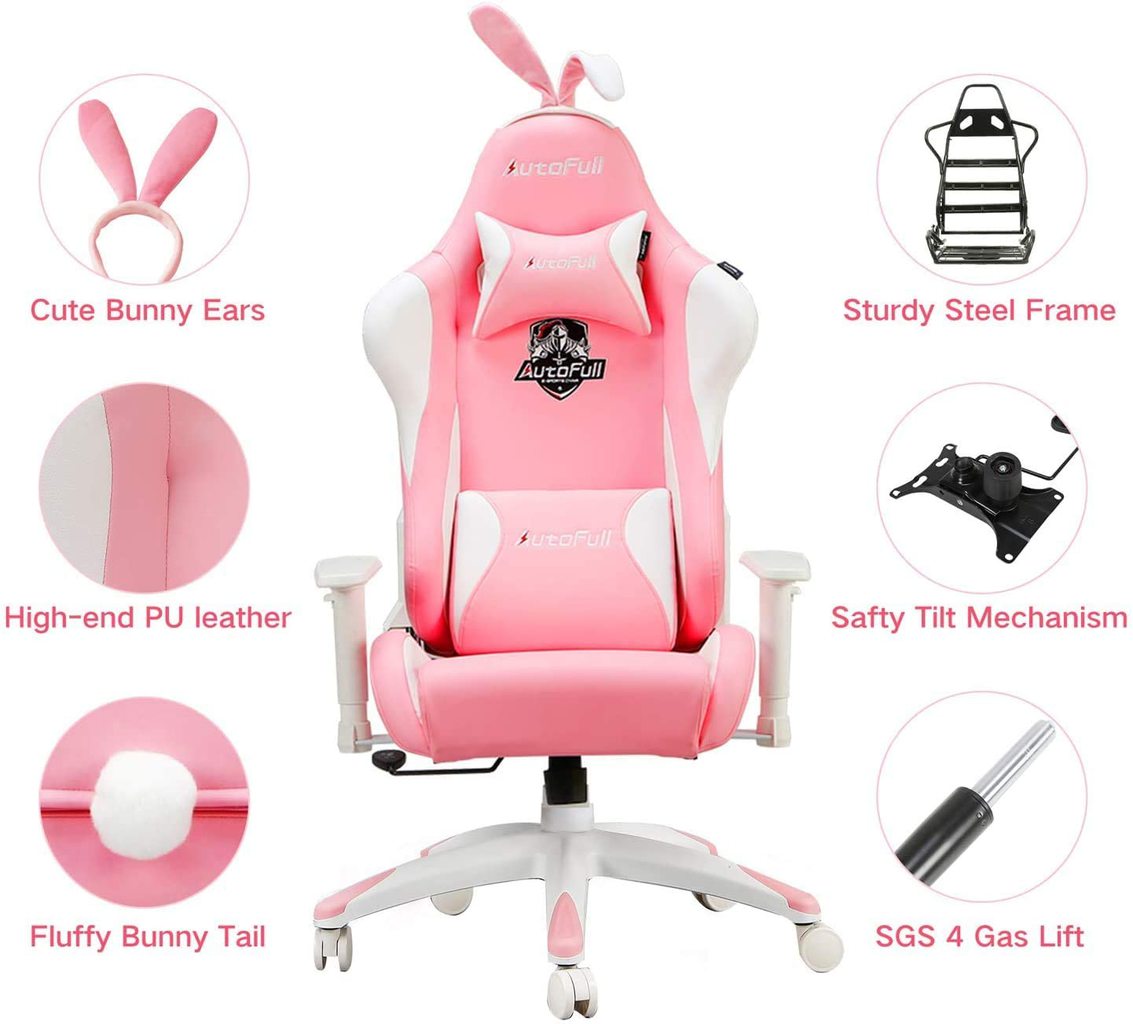 But… when we talk about features of gamer chairs we're talking about the most common aspects. The Autofull pink gaming chair with bunny ears is equipped with a comfortable headrest, a lumbar support pillow to keep your back in check, adjustable seat height, comfortably padded armrests, smooth-rolling caster wheels, and multi-stage, locking recline functionality as well.
As far as pink gaming chairs go – it's pretty well-rounded in looks and features.
Comfort
If you want to look cute and feel great doing it – this is definitely an excellent choice of the chair! The high-density foam coupled with the cushy headrest and lumbar pillows, plus the reclining abilities make this a chair you're going to love sitting in.
The chair is made for gaming, but it's also great for relaxing, working at the computer, reading a book, lounging around, and more. It's super comfy and super cute – a beautiful combination and an absolute stunner for any girl gamer.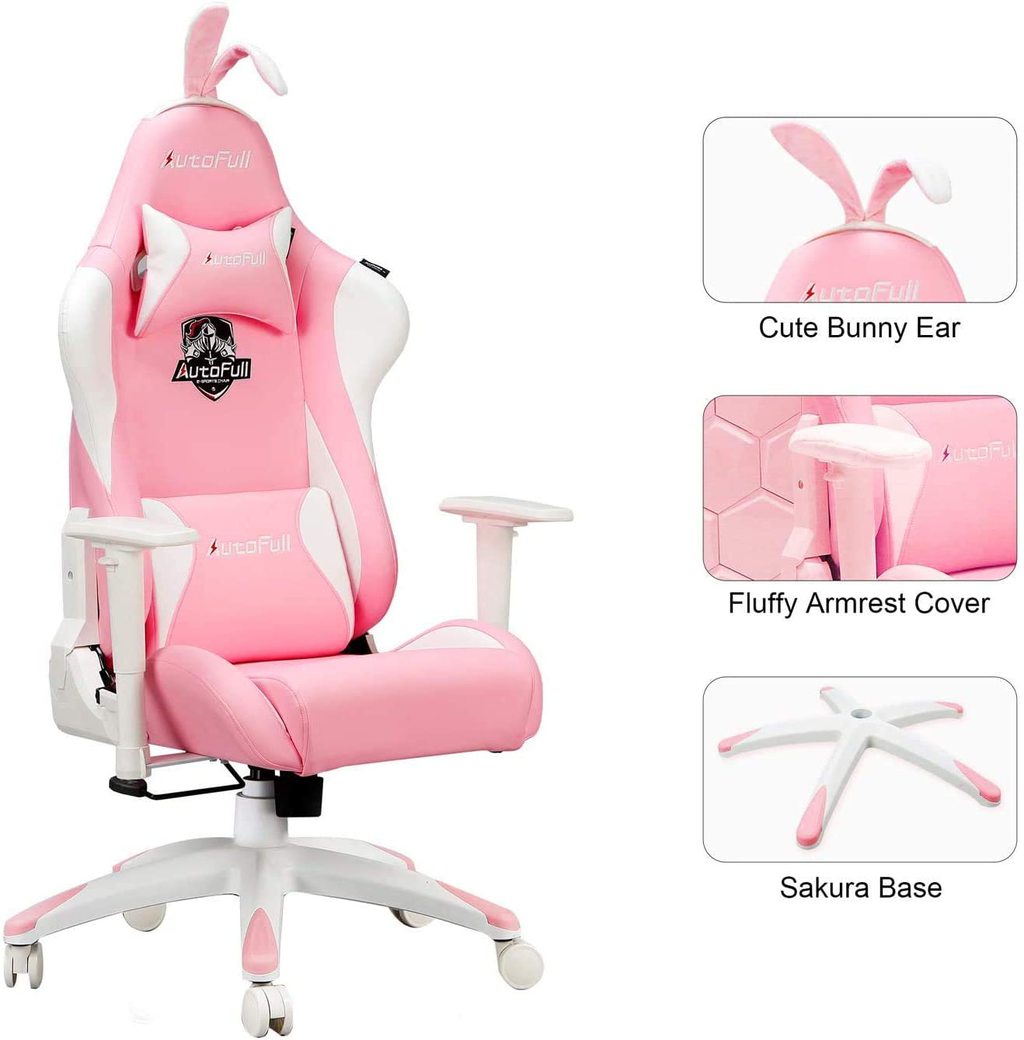 Price
This chair isn't the cheapest on the market, but it's certainly not overpriced, either. This pink bunny-themed gamer chair is usually available for around $275 to $300 depending on where you get it and if it's on sale at the time.
Look
This Autofull gaming chair is definitely stylish. The rabbit ears, little tail, and pink colouring make it one of the most girl-focused gamer chairs there is. It looks fantastic and makes for an excellent gift for the aspiring egirl that you know and love.
Video Overview
Want to get a quick look at exactly how this pink bunny gaming chair looks in an actual room with a themed gaming setup? Check out the video below to see the chair in all its glory!
Final Verdict
While it's not quite on par with the quality of SecretLab chairs, Mavix gaming chairs, or Nokaxus… the Autofull bunny ear gaming chair is an awesome value. It's priced right, durable, adorable as can be, and comfortable. It's the whole package and perfect for girl gamers.
Also, check our list of the best gaming chairs ever.