Want to have a prolific and girl-power-screaming setup, but don't know where to start? Today, we're going to take a look at some of the absolute must-have pieces you'll want to grab for the ultimate pink girly gaming setup to make the aesthetic pink pc setup you've always been dreaming of!
Pink Girly Gaming Setup Necessities
Women are absolutely dominating the gaming industry these days. As you'd expect, most of the major companies producing the essentials and accessories for gamers worldwide are taking notice and making incredible pieces of equipment for female gamers now.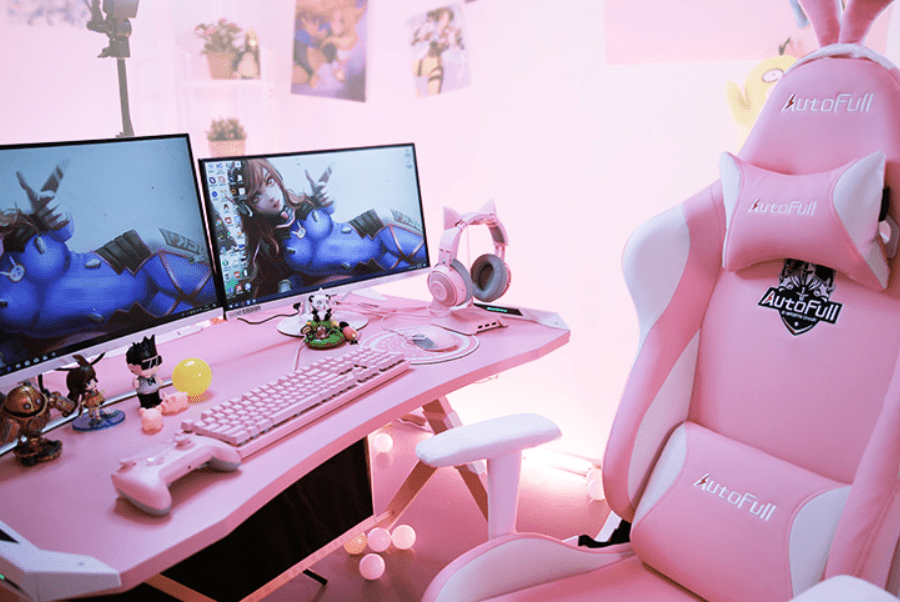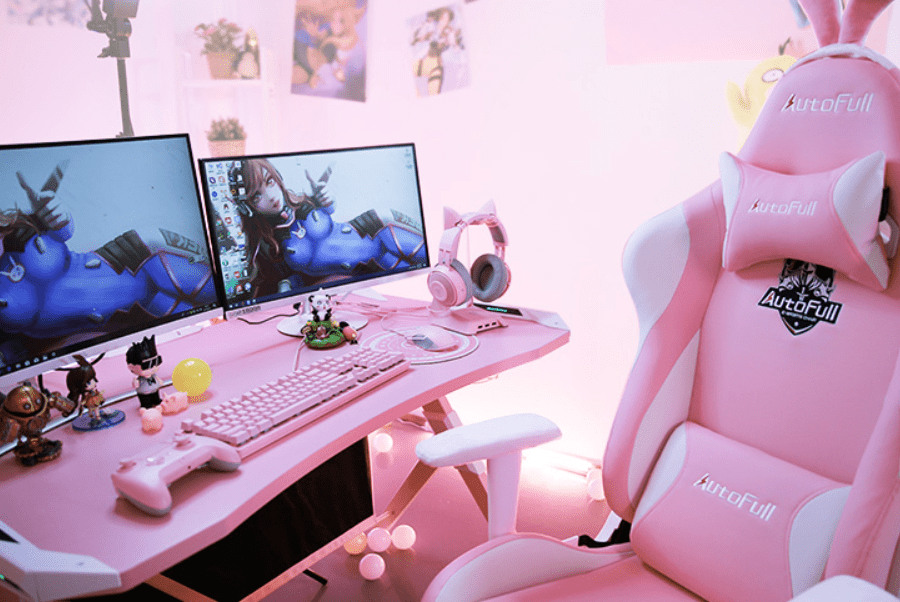 There are a LOT of things you might be considering for your ultimate woman-cave / girl-gaming paradise such as an awesome girly gaming desk, a comfortable gaming chair, headsets, accent pieces to make your gaming setup truly your own, and so much more.
Today, we're going to take a look at all of the basic and must-have components of a gaming setup, but with a unique twist – EVERYTHING is going to be girly and pink, baby! Let's jump straight into it…
Pink Girly Gaming Setup Checklist
Down below we've compiled a massive checklist of the best gaming setup ever. We do, however, make the assumption you've already got your actual gaming PC picked out or complete, period. While there are some great cases made in screamin' pink designs, the majority of the actual girly gaming PC isn't as customizable as the rest of your overall setup.
So, our list below focuses on the other items that should be on your pink gaming setup checklist. Everything that connects to or is essential to your overall syndicate gaming setup- decked out in powerful pink color schemes, of course – can be found below!
Pink Gaming Desk
Obviously, a cornerstone piece of any pink gamer girl setup (female or otherwise) is a desk. After all, where else are you gonna put your PC, monitor, keyboard, streaming equipment, and so on?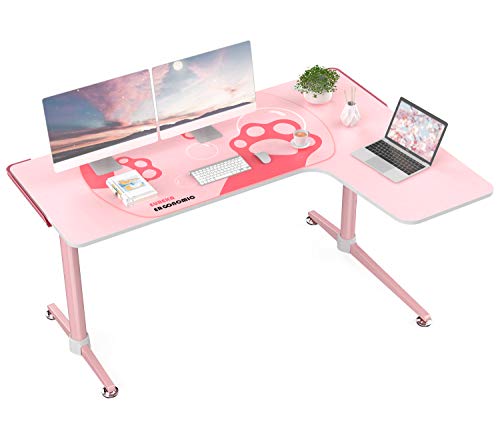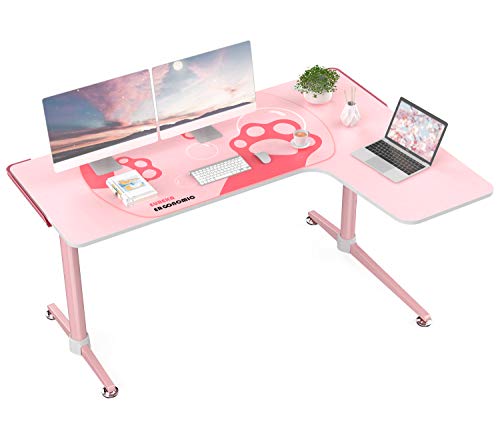 Desks can be especially tricky to nail down since everyone has different needs and different spaces to work with. Finding a cute gaming desk that not only fits your pink gaming room criteria, but is also pink-themed can be ridiculously challenging. We've taken the guesswork out of it for you and found the most awesome pink gaming desks around to save you a bit of time.
Eureka Ergonomic L60 Corner Gaming Desk
Available in a left or right-side configuration, this desk from Eureka is a great option for any female gamer wanting to get their female gaming setup going strong with a sturdy, cute, and versatile desk.
It's_Organized 47 Inch Pink Gaming Desk
Another superb choice is this 47-inch gamer girl desk setup decked out in pink from It's_Organized. It's incredibly strong, durable, has a fully-covering mouse pad built into the top, and so much more.
Cozuhause Large K-Shaped Pink Gaming Desk
Next up is this awesome desk from Cozuhause. This desk is not only full-on pink prowess incarnate, but it's also equipped with a USB charging port, removable monitor stand, headphone hook, and a cup-holder for incredible functionality.
MOTPK 40″ Gaming Desk with Monitor Shelf
Last, but not least, is this MOTPK desk. This is a very budget-friendly and highly-rated desk that's coated with luscious pink and even sports a full carbon-fiber top. The desk is available in larger sizes, but – for pricing purposes – we chose the 40″ model to round out our list.
Pink Gaming Chair
Considering the vast majority of your time gaming will be spent sitting down (unless you're rocking VR and getting up and moving) – you're definitely going to want a quality chair for your cute gaming setup, too.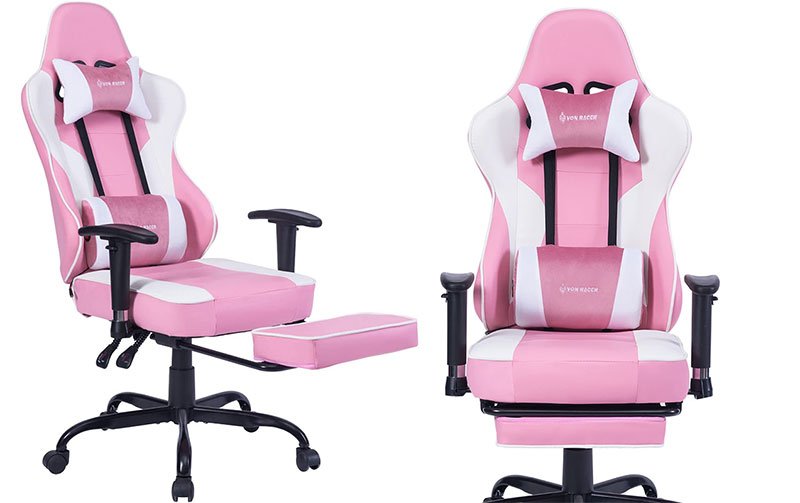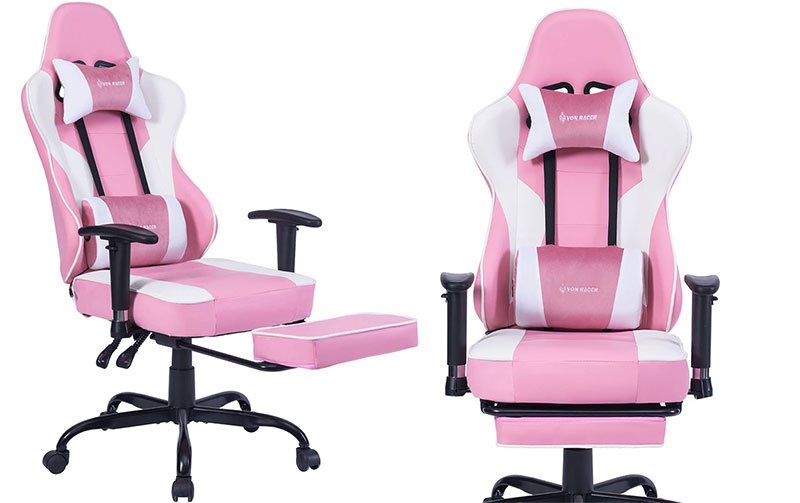 We've reviewed TONS of chairs already. A lot of them come in pink color schemes, too. Perhaps one of the most awesome and notable is the pink bunny gaming chair from AutoFull – a top-notch seat that we highly recommend for any girl gamer that wants a cute pink gaming chair, by the way.
Nevertheless, there are MANY other options to consider, too. Heck, we compiled a list of the 7 best pink gaming chair models earlier this year that we still stand by, but just for the sake of giving a bit of variety, we've nailed down a few more awesome ones below that will compliment any pink girly gaming setup beautifully.
Read more:
https://thegamercollective.com/pink-bunny-gaming-chair/
https://thegamercollective.com/best-gaming-chair/
Homall High-Back Gaming Chair in Pink
Homall is a well-known brand in the gaming world nowadays. Their chairs have received a lot of praise for comfort, affordability, and their construction. This pink variation of one of their most popular models is no exception.
AJS Pink PU Leather Computer Gaming Chair
If you're looking to keep with the pink style and want to get the most bang for your buck, you definitely can't go wrong with this faux-leather pink gamer chair from AJS. It looks great, is undeniably comfy, and comes with a lot of staple bells and whistles every gamer wants.
Matrix Gaming Pink Chair with Lumbar Support
This model from Matrix Gaming is mostly black with pink accents. It has quite the premium appearance and we selected it for this list simply to add a little more variety to the choices. If you're not looking for a chair that's fully pink, this one might suit your needs well.
Muzii Pink Gaming Chair with Footrest
Finally, we come to this awesome model from Muzii which blends luxury and comfort seamlessly. The chair has a great pink design, is plush as can be, comes with a footrest so you can kick back when you're not going hard on your favorite game, and it's reasonably priced, too.
Pink Gaming Keyboard
RGB keyboards are all the rage these days, but finding one that can pump out the powerful pink ambience that'll best match the cuteness and attitude overload of your other pink gaming decor can be a tough task.
Luckily, regardless of what your style or color preferences may be, there are loads of options for getting an awesome pink gaming keyboard, too. Some are solid pink, others are pink and white, a lot of them have full RGB lightning capabilities – the possibilities are nearly endless here.
Below, we've taken the liberty of highlighting some of the absolute best pink gaming keyboard models you can get today.
Pink Gaming Headset
The rest of your pink girl gaming setup wouldn't be complete without having a headset to match the intensity and cuteness of all your other pink gaming accessories. There are an insane number of gaming headsets available now from a number of different companies. Nearly every major brand from Razer to Sades now offer at least one headset model in some sort of pink configuration.
There are literally hundreds to pick from, but we've listed our top picks below to make things a little easier on you.
Read more : https://thegamercollective.com/ps4-compatible-headsets/
Pink Gaming Mouse
Can't match up literally every other aspect of your cute pink gaming setup without having your mouse in-suit, too! And just because you want to have a stylish, cute mouse to compliment the color-scheme of the rest of your gamer girl set up shouldn't mean having to sacrifice quality. That's why we've only picked out top-notch mice that meet the criteria of both sticking to the pink palette AND being well-designed mice for gaming setup girl purposes.
Below, you'll find our top 4 picks for awesome pink gaming mice.
Read more: https://thegamercollective.com/best-gaming-mouse-for-big-hands/
Final Thoughts
Now you know the best pink gaming setup accessories and gaming setup essentials available on the market we recommend checking out our list of the best pink gaming mice and Autofull Pink Bunny Gaming Chair to see more girl gaming accessories that take your pink gamer setup to a whole new level.
Read More: https://thegamercollective.com/gaming-accessories/page/2/