Glass Vs Plastic Chair Mats| The Ultimate Comparison Guide
Purchasing a chair mat that protects your hardwood floor or carpeted flooring doesn't sound like a big deal, but this is only if you have no problem spending money on a new chair mat every year! how many tempered glass chair mats, polycarbonate chair mats, or bamboo chair mats have you bought in the last 5 years?!
The point is, that not every chair mat on the market is meant to be durable, and speaking of durability there are two teams, one team saying that glass chair mats are the most long-lasting and another one who believes that plastic mats are the most durable of all time.
That's why I have created "Glass Vs Plastic Chair Mats | The Ultimate Comparison Guide" to help you find out more about the most common chair mat materials on the market, which are PVC vinyl (plastic), polycarbonate (plastic), and tempered glass.
Read More:
https://thegamercollective.com/gaming-chair-mat/
https://thegamercollective.com/bamboo-vs-vinyl-vs-glass-chair-mats/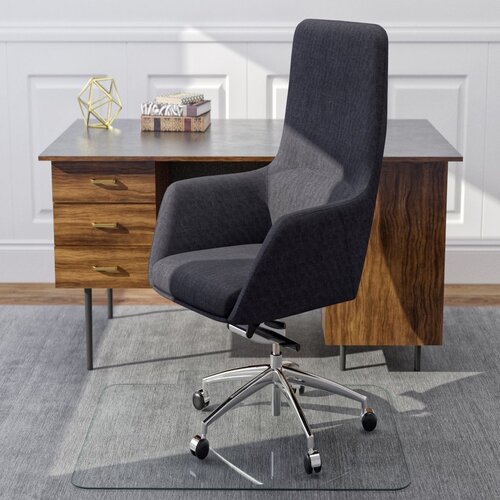 Before getting in-depth into the comparison, you need to know about each chair material separately in detail.
Read more, 6 Best Chair Mat for Tile Floors
Plastic Chair Mats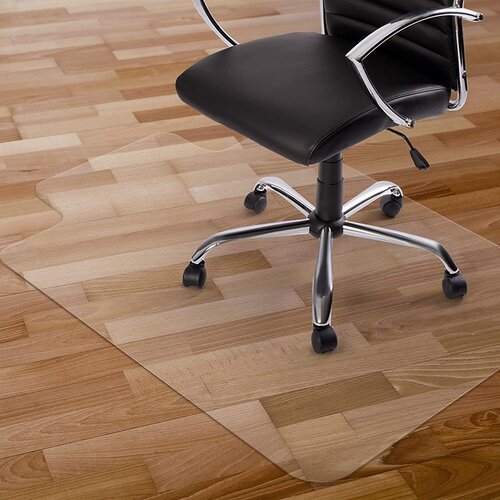 Durability
In terms of durability and longevity, you shouldn't expect PVC vinyl and polycarbonate chair mats to protect your floor surfaces for many years to come, the reason is they are simply too pliable, which means that they are prone to warping, folding, and bubbling with moderate use.
But the fact is, polycarbonate chair mats can serve you for a longer time than vinyl mats, and they can also provide a much more rigid surface for your chair to glide on.
So if you decided to buy a plastic mat and wondering which plastic material to get, we recommend going for polycarbonate. Thanks to its rigid nature, it won't fold or bubble-like vinyl.
But its major drawback is cracking. A polycarbonate plastic mat is more prone to cracking because of its rigidity.
Read more , Best Gaming Mouse Under 30$
Chair Movement
Rolling pc chairs tend to glide much easier on polycarbonate chair mats than vinyl, because vinyl mats are pliable, and develop divots where your chair wheels tend to rest over time, making it harder for your best gaming chair to move around the gaming setup or workspace.
On the other hand, polycarbonate mats will stay rigid for a longer time, offering a hard surface for chairs to move with ease.
Aesthetics
Plastic mats come in a wide variety of shapes and sizes that matches every gaming setup or workstation. You can even customize mats according to your preferences.
Compatible Floor Surfaces
Plastic office chair mats are made to protect 3 main types of carpeted floors; medium pile carpets, high-pile carpets, and low-pile carpets.
But you can also find some mats for the hard floor type. We always recommend getting plastic mats that have studs on the underside, to grip the floor and reduce the chances of skidding and falling over.
Price
polycarbonate and vinyl mats are much more affordable than regular glass floor mats.
With only $40, you will be able to get yourself a decent plastic mat.
Safety
Plastic mats are usually made from chemicals, which bring bad odors and hazardous emissions to the work environment.
We recommend buying plastic floor mats that are BPA, lead, polyethylene, and toxins-free.
Pros and cons of plastic mats
Pros
Cheapest option on the market
Decent chair glide
Available in a wide variety of shapes and size options
Limited variety of chair mat sizes
Here is one of the best plastic mats you will come across in the market
Glass Mats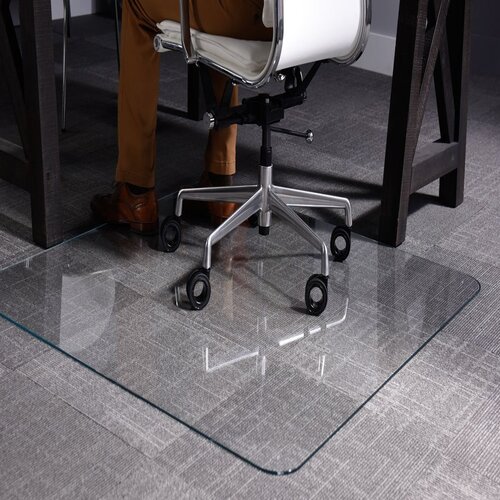 Durability
Tempered glass chair mats are engineered to offer protection for a wide variety of flooring types against scratches, gouges, indentations and wear caused by the friction between the floor surfaces and the office chair wheels casters.
It is clear that glass chair mats are so much firmer than any other type of chair mats like plastic and bamboo chair mats, yet able to provide a smooth surface for easy office chair movements, which won't warp, bend or crack easily even in heavy usage.
Also check , Best Gaming Mouse For PUBG
Ergonomic
In terms of comfort and ergonomics, glass mats are the favorite for many gamers who spend long hours on their console gaming chair, the reason is they do work better on their bodies. Here is how it works.
The even nature of the office chair wheel casters on the glass's firm surface gives your joints rest as they won't need to work harder for initiating movement, which makes glass chair mats such a super ergonomic option.
But for those having health issues, we recommend anti-fatigue foam mats, they will better serve them.
Moreover, glass chair mats are compatible with any body type, which means that heavier users can use them with ease, or even users who are using heavier chairs and seeking solid support as well as extra protection against the damage caused by chair legs and wheels casters.
Chair Movement
Average plastic chair mat options can easily skid and slip, especially on hardwood type floors, increasing the chances of falling over and slipping with your chair, on the other hand, glass mats protect you from that, credits go to their heavy, weighted texture that keeps the mat in place.
Read More:
https://thegamercollective.com/best-chair-mat-for-laminate-floor/
https://thegamercollective.com/chair-mats/
Aesthetics
A glass mat makes such an elegant addition to your setup terms of aesthetics, although, glass office chair mats are not available in a wide variety of color options, they have crystal clear surfaces, which display your hard or carpeted floors beautifully. What makes glass office chair mat options stand out is that they don't tend to lose surface clarity over time.
Compatible Floor Surfaces
Glass floor mats are suitable for any flooring type, including medium pile carpets, low pile carpeting, and plush carpet as well as hardwood floors, vinyl, tile floor, laminate floor, and concrete.
Read More: https://thegamercollective.com/best-chair-mat-for-berber-carpet/
Price
Because of their durability and aesthetically pleasing appearance, glass mats are the most expensive types of mats when compared with the other chair mat prices on the market.
But in fact, their sturdiness and longevity make them worth it.
Safety
One of the most important advantages of glass chair mats is that they are green-conscious and eco-friendly. They have fewer hazardous chemicals and don't emit dangerous odors, making them absolutely safe for your indoor environment especially if you own pets.
Pros & Cons of Glass Mats
Pros
Attractive
Durable and long-lasting
Withstands heavyweight
For both carpeted and hard floors
Eco friendly and safe to the indoor environment
Allows you to move the chair with ease
Here is one of the best glass mats on the market.
Made from non-toxic & odorless special material
47inch x 35inch x 0.2inch (L x W x H)
Chair mat thickness: 0.2 inches, weighing about 14 pounds & can withstand 1200lb of pressure.
Suitable for carpet and hard floor
1-year warranty & lifetime technical support
Cannot be folded or curled
As clear as crystal, the underlying floor or carpet pattern can be clearly seen through
Now it is time to know the difference between both mats in terms of appearance, customization, cost, and functionality.
Glass Vs Plastic Chair Mats: Appearance
In terms of aesthetics, glass mats are the winner, credits go to their sleek & sophisticated appearance that makes the workstation look more refined.
Although a glass office chair mat gets dirty easily, cleaning and maintaining it is so effortless, all you need is just a basic glass cleaner.
On the other side, plastic office chair mats are prone to getting scuffs and dirt the longer they are used. Although they can still be cleaned with no need to be exchanged, the cleaning process might be a little more challenging.
Glass Vs Plastic Chair Mats: Customization
A plastic or glass chair mat material can be highly customized for matching any workplace or gaming setup. But what makes glass options one step ahead is that they can be digitally printed with any design.
This print can emulate anything like; wood, stone, grass, or even a sports surface.
Glass Vs Plastic Chair Mats: Price
When it comes to price, plastic chair mats are much cheaper than glass chair mat options; however, they are way less durable than their glass counterparts.
As they get damaged much quicker, they need to be exchanged more frequently. on the other hand, glass mats can theoretically last for many years to come, while keeping them fresh-looking through all years of use.
In fact, the price tag of buying a new plastic mat every once in a while, might not be a deal-breaker for a small company that has a few employees, while for a larger one, these costs can add up quickly.
This means that a glass floor mat makes a much better long-term investment.
Also read, Best Gaming Chair Mats for EVERY Floor Type
Glass Vs Plastic Chair Mats: Functionality
A plastic desk chair mat can become dented and less attractive over time, Just as importantly, rolling a desk chair over a dented surface creates friction that will make the chair movement hard and uncomfortable, which might lead to health issues in the long term, like leg strain and body fatigue.
Furthermore, when it comes to placing a floor mat on different types of floors, like carpet & wood, plastic mats are not actually a one-size-fits-all solution, which means that you will need to buy mats of various thicknesses for ensuring that the underlying surface is highly protected.
On the other hand, a glass mat can withstand much more weight capacity without being impacted.
as a matter of fact, M3's glass mats can support weights of up to 1,000 pounds. without any functionality compromising. And they can be used over any thickness on any surface without damaging it too.
FAQ on Glass Vs Plastic Chair Mats
Can you use polycarbonate chair mats on carpet?
Yes, of course, you can!
Most polycarbonate office chair mats are designed to protect 3 main types of flooring types; medium pile carpets, high-pile carpets, and low-pile carpets. and sometimes (but not much) you will find some cases for a hard floor type.
So, you need to make sure that you get the right office mats, for your carpeted floors. You can even snag a polycarbonate plastic mat that will work on a thick, shag, or plush carpet.
On the other hand, a chair mat for hardwood floors usually doesn't come with small dimples on the bottom to grip the carpet, so make sure you never install a mat with dimples or spikes on hardwood flooring types.
Read More:
https://thegamercollective.com/do-i-need-a-chair-mat-on-carpet/
https://thegamercollective.com/best-chair-mat-for-tile-floors/
Is a glass chair mat worth it?
Yes, they are definitely worth it.
Glass mats perfectly protect the underlying floor from the damage caused by the wheel casters, they are made from durable materials that are eco-friendly and guaranteed to serve you for many years to come.
But the major drawback of these mats is that they are expensive, but if you can afford them, you will get the protection that lasts for years to come