Bamboo Vs Vinyl Vs Glass Chair Mats | The Ultimate Comparison Guide
Getting a chair mat that protects your hardwood floor from scratches, gauges, and unwanted marks, or your expensive carpeted floor from silly indentations that last forever is not rocket science. As most of the chair mats on the market provide your floor type with protection from the damage caused by the gaming chair or office chair wheels.
But, is this protection long-lasting? Most probably it is not. And that's what makes getting the chair mat that is durable enough to provide hardwood floors and carpeted floors with long-lasting protection a hard task.
So, when you are in the market for a high-quality, durable chair mat, you will be wondering which mats are the best, bamboo chair mats, plastic mats, vinyl mats, or glass mats? And that is exactly the reason why I created this ultimate comparison guide!
Read More: https://thegamercollective.com/best-chair-mat-for-tile-floors/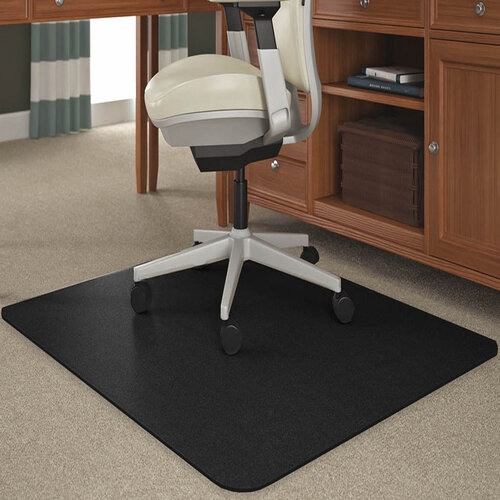 Bamboo Vs Vinyl Vs Glass Chair Mats
Before I get into the comparison, you need to know that there are a few factors that you should take into consideration when purchasing a floor mat.
Read More: https://thegamercollective.com/glass-vs-plastic-chair-mats/
Factors to consider when purchasing
Durability
A Durable chair mat is made from durable materials that will withstand heavy use and serve you for a long time without showing scratches, wear and gauges on its surface.
Ergonomics
If you spend long hours sitting on your office chair or gaming chair, then you better look for anti-fatigue mats. These mats are made from anti-fatigue support foam to take the strain off your legs and reduce physical fatigue.
Cost
You should always go for the mat that is worth the money you pay for it because sometimes you might find an expensive glass chair mat to be less durable than a cheaper plastic chair mat.
Read more , Best Gaming Mouse Under 30$
Aesthetics
the last factor you should consider when purchasing chair mats for chairs is aesthetics. Floor mats are available in a wide range of shapes and sizes to perfectly match your cool gaming setup or office space.
If you don't want to hide the beautiful flooring surfaces, you should consider basic mat shapes which are glass mats or transparent plastic mats,
On the other hand, if you want to make a stylish addition to your gaming setup, gaming chair mats are the best choice to go for.
Bamboo Vs Vinyl Vs Glass Chair Mats
Bamboo mats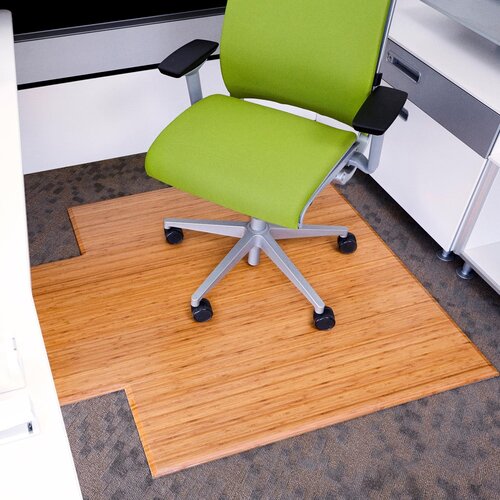 Durability
This type of office chair mat is constructed from bamboo trees, making them more renewable compared to vinyl mats and glass mats, as well as making them less prone to dents than vinyl mats, which results in an ergonomic, easy-glide rolling surface.
But when comparing bamboo mats with glass mats, glass mats are the winners, because they are more durable than bamboo.
Aesthetics
Moreover, vinyl is not transparent as plastic mats or glass mats, which makes it the least favorite option for those who want to make a stylish addition to their living space.
Compatible Floor Surfaces
You already know that the first thing to consider before purchasing a new floor chair mat is your type of flooring. (Also check: How to choose a chair mat?)
So, who should go for bamboo chair mats? If you have hardwood floors or flat-low pile carpet, bamboo mats will make good floor protection and allow for
Bamboo chair mats will work best for hardwood floors and some carpets with effortless rolling.
Price
The price of bamboo mats varies, but usually, they are more expensive than vinyl chair mats and less expensive than glass mats.
Pros and Cons of Bamboo Mats
Pros
Affordable
Durable
Ergonomic
Ideal for both hardwood floors and carpeted flooring
A smooth surface allows for easy chair movement
Cons
Not aesthetically pleasing
Here is one of the best bamboo mats on the market.
Also check , Best Gaming Mouse For PUBG
100% Percent Moso bamboo, harvested in its native habitat in the Anji Mountains of China
Natural Fibers
Rounded edges for easy access on & off the mat
Premium UV-cured coating for providing ultimate protection
2-Inch wide slats
Mat thickness: 5mm
Ideal for low pile-commercial carpets up to 1/4″ thick, no carpet pad & hard surfaces
Extremely durable and warp resistant
Felt backing with non-slip gripper dots
Kiln-dried to the optimum moisture content for minimizing cracking and warping
Available in four sizes and 4 colors: Natural, Dark Cherry, or Walnut stain
Vinyl mats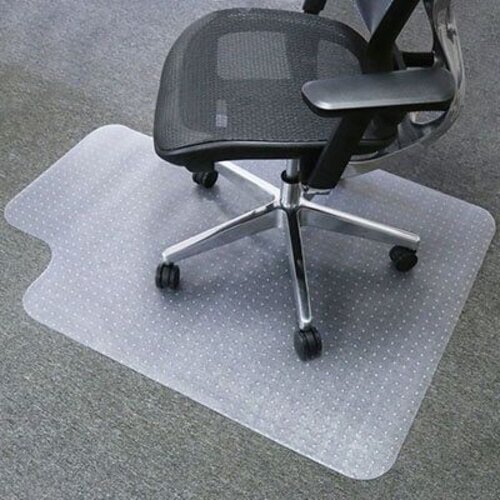 Durability
In fact, vinyl mats are the least durable when compared with plastic mats, bamboo mats, and glass mats. So, if you are planning to get a vinyl one, you should expect that you will be changing it sooner than any other option.
What makes them less durable is that they crack sooner and show more discoloration faster than glass and bamboo, especially if you sit on your desk chair for a long time daily, and sadly, there is nothing you can do about prolonging their lifetime or protecting them from warping.
Aesthetics
In terms of aesthetics, vinyl chair mats are not the best choice to make if you are looking for a decorative addition to your cool gaming setup or office space, as they don't come in stylish designs and usually aren't crystal clear transparent because of the underside of the stud.
Compatible Floor Surfaces
Vinyl mats are usually known to be mats for carpets since they contain studs on the underside. We don't recommend you use them on hardwood flooring as that will scratch the floor over time.
Pros and Cons of Vinyl Mats
Cons
Not durable
Not attractive
Suitable for carpets only
If you are willing to buy a vinyl mat, this is the highest quality vinyl mat on the market as of now.
Ideal protection for hardwood, laminate, vinyl, stone, tile, and concrete
Transparent, heavy-duty construction
Pet-friendly plastic
Smooth glide surface with enough space for easy chair rolling
Dimensions: 47 x 35 inches
Needs up to 72 hours for to revert to a full flattened state
Rectangular chair mat with smooth edges & rounded corners for extra safety
Slip and scuff resistant
BPA, phthalate, cadmium, tin and lead content Free
Glass Mats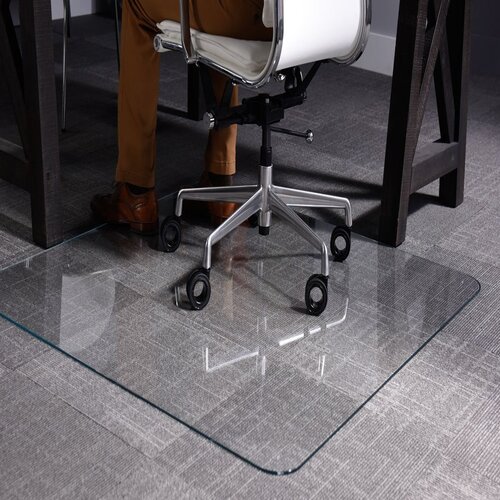 Durability
glass chair mats are designed to protect various types of floors from damage caused by the daily friction between them and the office chair casters.
Obviously, a glass floor mat is way stronger than a decent vinyl PVC chair mat or a bamboo mat, while providing a smooth surface for easy chair movement, that is not going to warp, bend or crack even after a long time of use.
Ergonomic
What makes glass mats preferred by users who spend long hours on their office chairs or best gaming chairs is that they work better on their bodies, let me tell you how.
The even nature of the gaming or office chair casters on the firm surface of the glass means that the joints don't need to work hard in order to initiate movement, making them a great option as well as anti-fatigue foam mats in terms of ergonomics.
Furthermore, glass mats are suitable for almost all body types, even heavier users or those using a heavier chair mat and searching for solid support and extra protection against the damage by chair legs and casters.
Standard floor style polycarbonate chair mats and plastic ones tend to skid and slip, especially on hardwood surfaces, which increases the risks of falling and slipping with your chair. Glass floor models keep you far away from that, due to their heavy, weighted texture of tempered glass, that keeps the unit in place.
Also read, Best Gaming Chair Mats for EVERY Floor Type
Aesthetics
Glass makes an awesome chair mat in terms of aesthetics, although, these chair mat options are not available in a wide variety of color options, they come with crystal clear surfaces that won't hide the beauty of your flooring surface.
Unlike plastic mats that lose their Clarity over time, glass options remain their clarity even after years of use.
Compatible Floor Surfaces
Glass floor mats are suitable for any flooring type, including medium pile carpets, low pile carpeting, and plush carpet as well as hardwood floors, vinyl, tile floor, laminate floor, and concrete.
Price
With all these impressive features, no one will be expecting a cheap price, right?
Actually, the sturdiness, durability, and aesthetics of glass floor mats make them worth the extra cost.
Eco-friendly
One more special thing about glass floor mats is that they are green conscious. Buying a glass floor mat is much more environmentally than standard plastic & polycarbonate chair mats.
Being eco-friendly means that they have fewer chemicals, which makes them safe for your indoor environment especially if you have pets.
Pros & Cons of Glass Mats
Pros
Attractive
Durable and long-lasting
Withstands heavyweight
For both carpeted and hard floors
Eco friendly and safe for the indoor environment
Here is the best Glass floor mat you can purchase.
Material: Rapidly Renewable Natural Silica Sand
Weight capacity: Can hold up to 1000 lbs.
Beveled edges to allow for an easy on & off-rolling
Exclusive patented beveled-edge design
Ergonomic: Reduces back & joint stress
Fully transparent to complement your floor surface
Come in 6 sizes
Compatible with both carpets and hard floors
Eco-friendly Odorless, BPA-Free, and Phthalate-Free
Limited lifetime warranty
Read more, Best Chair Mat for Tile Floors
Final Thoughts
From this detailed comparison guide, you can see that glass chair mats are the best option for the workplace environment (or the gaming setup if you aren't willing to make a fancy addition in terms of aesthetics and looks).
They are designed to provide your place with style, long-lasting durability, ambiance, comfort, and sustainability.
But if you are on a tight budget and can't afford a high-quality glass chair mat, you might consider bamboo mats, they will protect your floor from damage, but you should keep in mind that you will need to purchase another one in a couple of years.
Read More: https://thegamercollective.com/chair-mats/