There is nothing more annoying than the continuous sliding of the floor mat on hardwood flooring, isn't it? Let's face it, no one can concentrate on work knowing that there is a high chance of accidents. That's why making the gaming or office rolling chair mat fixed in a particular place is a must.
In these next few lines, you will get to know a wide variety of methods that will help you stop your office chair mat from sliding on any type of flooring.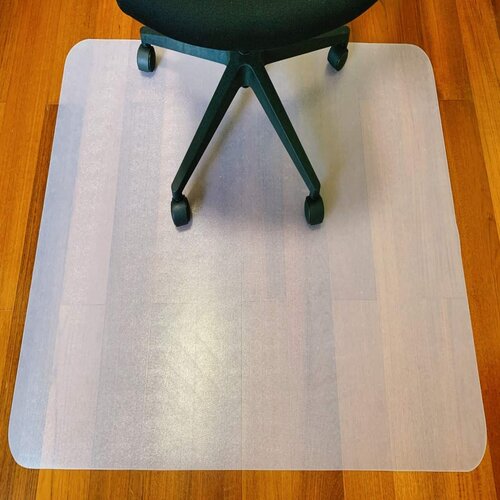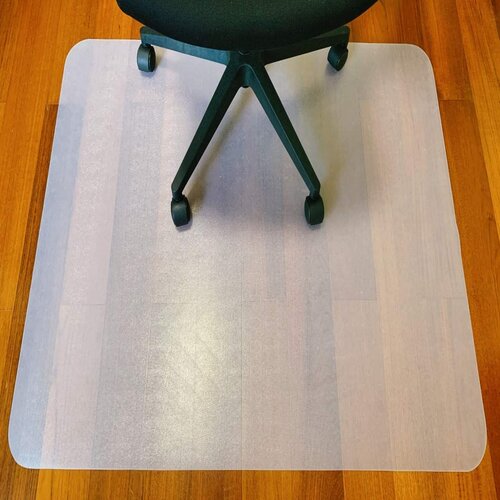 How To Keep Chair Mat from Sliding on Hardwood Floors?
First method, Using Double-Sided Tape
Our first recommended method is using double-sided carpet tape because it is almost the cheapest and easiest method out there. But make sure you don't confuse the regular double-sided tape with the double-sided carpet tape that is made especially for carpets and mats.
You can simply find this kind of tape at any craft store, or you can even purchase it from Amazon, and here is one of the best carpets tapes found there.
Heavy-duty outdoor rug tape that provides super strong grip to office chair mats on delicate laminate, tiles, vinyl, and wood flooring
Can also be used for rugs over carpets, rugs on rugs, carpets to carpets or carpets to hardwood floor applications.
Strong adhesion that can last up to six months
Easy to install, doesn't ruin scissors
This 2" by 30-yards tape double sided is excellent for long hallway runners, runner pads & stair treads
Silicone adhesive to ensure easy removal and prevent any residues
All you need to do is to cut the tape accordingly, preferably 5". Then attach the pieces to each corner of your office chair mat. However, if you are using a bigger floor mat, it is highly recommended to attach a piece of tape at the middle point of each side of the mat, for extra protection.
Second Method, Using Claw Backing or Gripper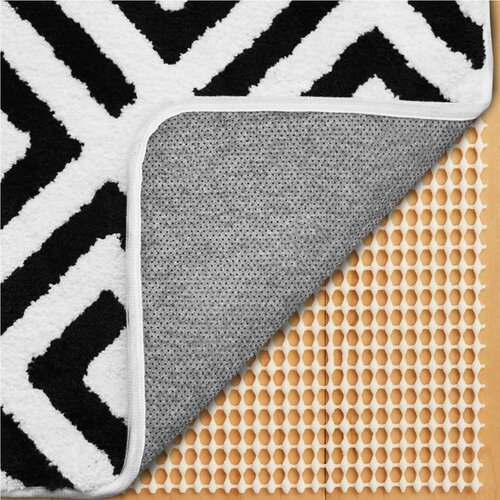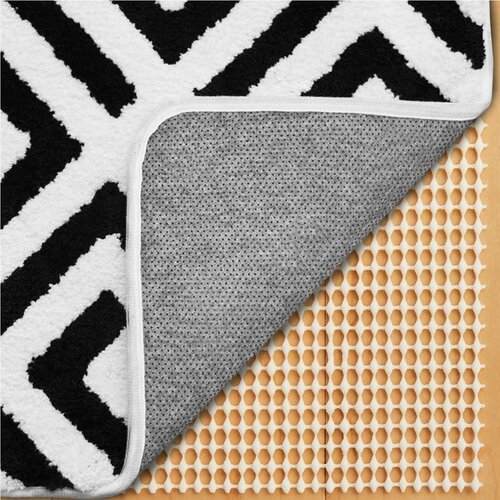 If you need some other way that is more practical, you can use carpet grippers. A claw backing or an anti-slip gripper are actually guaranteed to perfectly hold the floor mat in your preferred spot, preventing it from moving and slipping around.
There are various types of grippers and claw backing out there, but you need to make sure that you get a high-quality product because if it isn't so, there will be high chances of damaging your hardwood flooring.
Third Method, Using Rubber Backing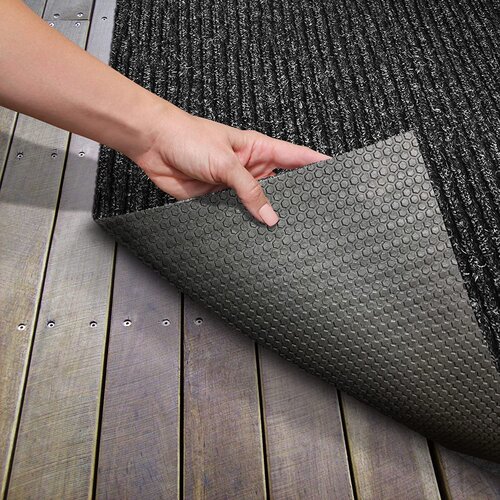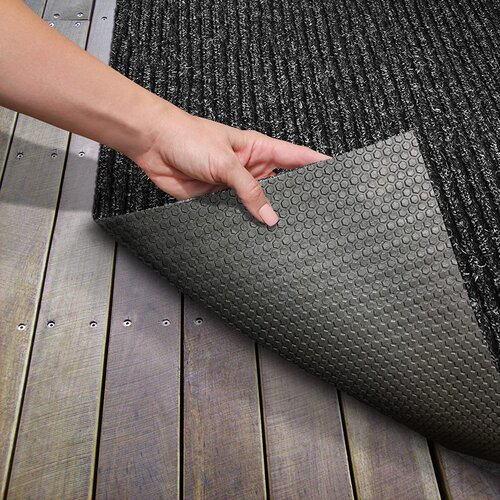 Rubber backing works just like the claw backing, it holds your mat firmly to stop it from slipping. For this, you just need to get rubber non-slip backing that fits underneath the mat, or if you couldn't find the exact size of your mat, you can get a larger one and resize it accordingly.
Fourth Method, Using Non-Slip Rug Pads
A rubber rug pad can be easily put underneath the gaming chair mat or the office chair mat, in order to keep it from skidding and moving around. Many users actually use these pads as an excellent alternative to gripper pads.
To apply it, just cut it accordingly to fit your mat's size, in case you can't find its exact same size.
The main advantage of Non-Slip Rug Pads is that they can be conveniently picked up together with the rug pad, making the clean-up process for your setup so effortless.
Before you purchase a rubber rug pad, you need to check carefully its materials, as the wrong materials can possibly damage vinyl floors. let me tell you how;
Some cheaply made pads featuring waffle pattern use rubber and has a chemical intended, for keeping the backing from getting brittle & crumbling overuse. Sadly, that type of chemical is able to permanently stain vinyl type of floor.
Moreover, some Non-Slip Rug Pads are sprayed with an adhesive, which can be transferred to vinyl flooring and damage it.
So, it is always recommended to use a recycled felt rug pad or a natural rubber one, as natural rubber material is very safe for all types of flooring and won't transfer anything to its surface since it has no adhesive.
Here is one of the highest quality pads on the market now.
Can easily be glued under any mat
An anti-curling gripper of less than 1/10-inch thick. Inconspicuous after installing
Convenient to wash
Adds extra comfort underfoot
The package has 4 pieces
1-YEAR Money Back
Leaves no marks or damage to the office floor
Applying the grippers is so hassle free. you will just need to apply them like to each corner of the floor mat.
Fifth Method, Using Hook and Loop Gripper
A Hook and Loop Gripper is a very efficient method to prevent the floor mat from sliding. It is quite similar to the anti-slip rug grippers, the only difference between them is that hook and loop are parts not one.
The first part applies to the backing of the mat, while the other adheres to the hardwood floor surface. You can also use Velcro tape as an alternative.

The best thing about the hook and loop method is that they will serve you for a longer time than grippers, furthermore, they allow you to pull the chair mat up to vacuum or clean under it.
The main drawback of this method is that it might leave residue on the floor.
Sixth Method, Anti-Slip Spray
Anti-slip sprays work exactly as they sound, they help to fix the mats for hardwood floors to prevent the rolling desk chair from moving around while carrying out daily tasks.
All you need to do is to spray the back of your mat. You will need more than an application to get the best result.
Don't try to place the mat on wooden floors till the sprays completely dries, to avoid having residue.
One more advantage of these sprays is that they can be used for a non-slip backing or a non-slip floor mat that lost its traction over time.
How Can a Chair Mat Ruin Hardwood Floors?
There is more than a way, chair mats can damage the aesthetics of your hardwood floors, here are the most common among them;
When the hardwood surface is perfectly cleaned, and some dirt or tiny hard particles get stuck between the mat and the floor surface, the floor will get scratched.
When the floor mat gets older, the continuous friction of the swivel chair legs or standard chair casters can lead to hampering your chair mat, creating holes in it. Even if these holes are too small, they can still attract dirt and leave marks on the floor.
Small floor mats can let the executive chairs drift away from the chair mat. And again, floor mats with no lips do not cover the area underneath the table, resulting in the mat falling off and pressurizing the floor, causing damage
FAQ about How to Keep Chair Mat from Sliding on Hardwood Floors?
Why Use a Chair Mat on Hardwood Floors?
A chair mat come in handy when you need to protect your hardwood floor against the gauges, scratches, and wear caused by a chair with chair wheels or legs, which in turn increases the durability of the wood flooring.
Can I use a rug as a chair mat?
Yes, of course, you can.
Rugs won't only protect your floors from the damage that can be caused by office chair casters, but also make an aesthetically pleasing addition to your gaming setup or office space.