Do I Need a Chair Mat on Carpet? | The 5 Reasons Why!
As a gaming enthusiast who is fond of almost everything that has something to do with gaming from gaming setups and pc accessories to gaming chair mats, there is a single question that I see almost every gamer or everyone working from home ask, which is:" Do I Need a Chair Mat on Carpet?"
This question is mainly asked by rolling chairs' users, and I will tell you the reason why in a minute.
Now, it is time to finally answer this question, for everyone wondering whether he needs an office chair mat on his carpeted floor, the answer is YES, you definitely need a mat for your carpeted surface or even wood surface.
Chair mats don't are not only built to make a beautiful addition to your gaming setup or workstation, but they are also significantly crucial to your floor type, in addition to protecting your own body and health in the long extended working and gaming sessions
In the next few lines, I will be telling you in detail the reason why you should be using carpet chair mats right now.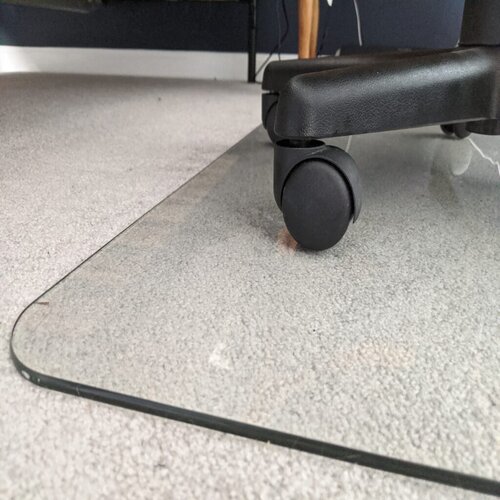 Read more, 6 Best Chair Mat for Tile Floors
5 Reasons Why You Need a Chair Mat on Your Carpet
First, Expanding the Lifespan of Your Carpet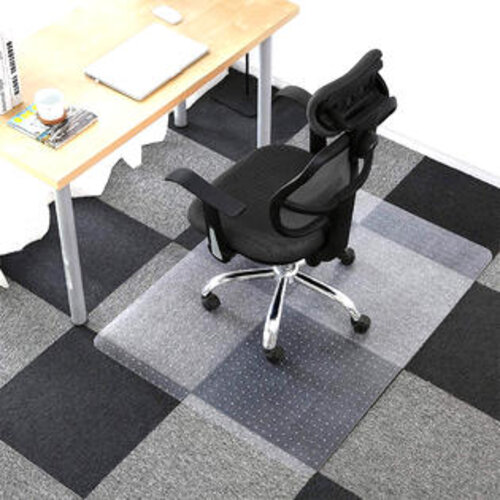 Okay, we all are fully aware that there is no pile carpet that lives forever, but what most of us don't know is that using a rolling chair right over your plush carpeting will reduce its lifespan to half of the period it was going to serve you.
Say that the lifespan of a high-pile carpet or a low-pile carpet is something around 5 years, and with proper care and maintenance it can live quite longer, but with traditional office chair wheels rubbing against it back and forth, you can't expect it to live more than 3 years.
The reason is when you work for seven to eight hours on a regular basis on a desk, the desk chair legs or plastic wheels will leave indentations and marks on the carpet over time.
Here comes the major role of chair floor mats for carpets. they allow for extra protection for your carpeted floor, preventing any type of unwanted marks that might damage the beauty of almost every flooring surface, especially if you are a heavier person or using heavier gaming chairs or wheeled office chairs.
Read more , Best Gaming Mouse Under 30$
Second, Easy Chair Movements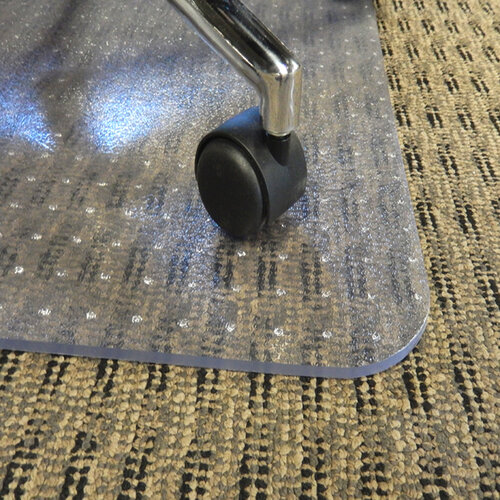 How many times were you about to fall over while trying to move with your rolling chair over carpeted floors or hardwood floors? a lot, right? don't worry a chair mat will literally have your back!
Rolling over a hard surface like office carpets or any carpet tile makes you have higher chances of skidding, slipping, or falling over. Chair floor mats for carpeting provide a stable base for your chair which is usually nonslip, protecting your chair from slipping and you from falling over.
Furthermore, they allow for smoother and easier glide and rolling chair movements.
Read More:
https://thegamercollective.com/best-chair-mat-for-berber-carpet/
https://thegamercollective.com/best-chair-mat-for-vinyl-plank-flooring/
Third, Ergonomics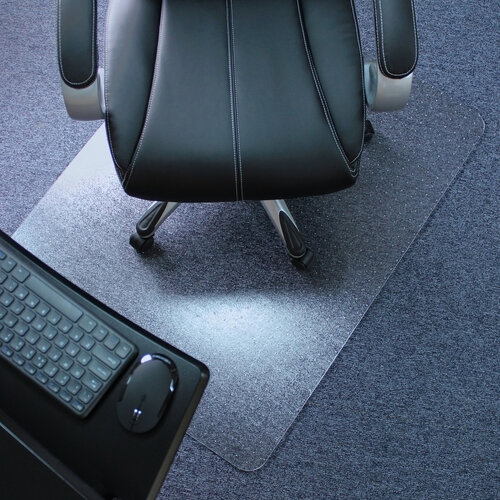 When we are working on an important project or having our teeth into a Fortnite battle or a cyberpunk 2077 game, we lose track of time, and this is the reason why we get an ergonomic office chair or gaming chair, that makes our long gaming sessions or working sessions like breeze.
But the efficiency of a rolling best gaming chair reduces a lot without having the best gaming chair mat underneath it, and the user will start to have leg strain, back pain, and muscle fatigue in the long term.
The reason is that rolling on office carpets is not at all smooth, you will be using your legs more often to move the chair from here to there, plus you will be resting your legs on a tough surface, which increases the chances of health risks.
Chair mats for carpeting have ergonomic health benefits, they provide you with smooth surfaces to rest your feet on during the long gaming and working sessions as well as allowing for easy glide and rolling.
It is worth mentioning that there are some high quality plastic chair mats designed to be anti-fatigue mats. These mats feature an anti-fatigue portion that is made of ergonomic foam, to take the strain off your legs, reducing the health issues and increasing the productivity of your work & the joy of your gaming experience.
Here is the most amazing chair mat for carpeted flooring types in terms of ergonomics
Also check , Best Gaming Mouse For PUBG
Ergonomic sit-standing mat
Uses your own body weight to apply the perfect feedback
Anti fatigue comfort mat while protecting your type of floor
Relieves pressure & reduces fatigue
Phthalate free and heavy metals free
Easy to clean & maintain PU Leather
Scratch & tear resistant surface
Mat thickness: 0.06 inch (1.5mm)
Chair mat sizes: of 54 inches x 36 inches
No rough edged like mats of cheaper materials
Budget-minded floor protection
Covered by a lifetime warranty
Fourth, Enhancing the Aesthetics
A beautiful floor mat can take the aesthetics of your office space or gaming setup or study room to the next level.
While some users refuse to get a chair mat because they think it will ruin the aesthetics of their gaming or office setups, others buy mats especially to make a stylish addition to their spaces.
For those who think that chair floor mats will ruin the beauty of their flooring types or hide the aesthetics of their nice carpet pile, glass chair mats or transparent polycarbonate chair mats are the best choice they can make, otherwise, the plastic office chair wheels will ruin their carpet and entire setup look.
Here is one of the best tempered glass chair mats on the market.
Engineered to protect both carpet floors and hardwood floors
Available in two types of glass: Luminoso low iron ultra clear glass & Chairo standard clear glass
Allows for easy & smooth chair movement
Promised to never dent
Strong enough to support up to 1000 lbs.
Furniture-grade polished edges
Nano coating resists fine scratches
Mini beveled edges for easy rolling off & onto the desk chair mat
Made in the USA
Lifetime transferable warranty
On the other hand, for those who want to make a super stylish and stunning addition to their gaming setups, attractive gaming chair mats will serve them so well, as they are available in a wide variety of materials as well as a wide variety of shapes.
Some of them are even customizable, allowing you to design a custom chair mat or choose a theme that matches your cool setup.
You might like to take a look at our list of The Best gaming chair mats.
read More:
https://thegamercollective.com/gaming-chair-mat/
https://thegamercollective.com/glass-vs-plastic-chair-mats/
Fifth, Carpet Protection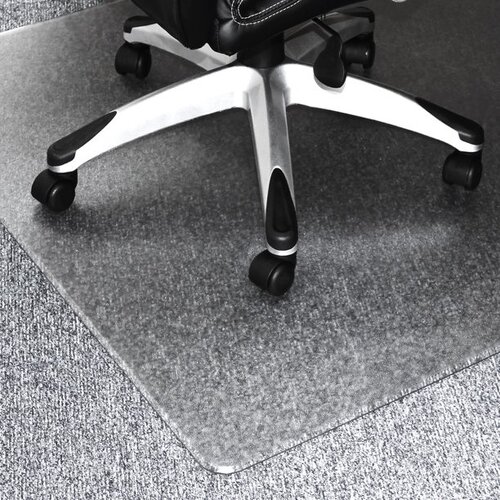 Last but not least, a durable chair mat doesn't only offer your carpet ultimate protection against damage from chair wheels, but also from the daily food and drink spills.
You might like to check our list of the best chair mat alternatives.
FAQ on Do I Need a Chair Mat on Carpet?
How To Choose a Chair Mat Size?
To choose the best chair mat thickness to get the best protection for your precious carpets against the daily wear of the chair wheel casters. you need to do the following steps, and choose the mat according to the results you get.
straighten one end of a paper clip, then through the backing of the carpet, start to sink the clip into it till it completely reaches the floor surface.
The next step is grabbing the clip where it is flush with your carpeting, but you need to ensure that you don't matt down your carpet with your hands.
Lastly, measure the distance found between the clip's end & your finger.
If you found out that your carpet's thickness measures ¼-inch thick or less (low-pile carpet), then you should buy a chair mat of 1/8″ thickness.
In case you found it with a 3/4″ or less thickness (medium pile carpet), you need to purchase a mat of up to 3/16″ thickness.
And finally, if it is above 3/4″ thick (plush pile), you will need a chair mat of up to 3/16″ or thicker.
Also read, Best Gaming Chair Mats for EVERY Floor Type
Do chair mats damage carpet?
Sometimes!
In fact, sometimes a heavy chair mat can break down the fibers of your carpet over time, which reduces its longevity.
Read More: https://thegamercollective.com/chair-mats/