Best Red Gaming Chairs | Match Your Game-Rage
AutoFull Conquer Gaming Chair Office Chair Red
RESPAWN RSP-900 Racing Style, Reclining Gaming Chair
Soontrans Red Gaming Chair with Footrest
Best Red Gaming Chairs (Match Your Game-Rage!)
Red has always been linked with emotion and enthusiasm, but it is also connected with power, excitement, and daring. Red is a terrific bold tone if you want to create an impression. If you enjoy multiplayer action games, a red gaming chair may be a great pick. Game on!
While a dramatic color scheme is vital, especially when trying to frighten your enemies, any excellent gaming chair should also be comfy, flexible, and designed with the most up-to-date ergonomic functions and technologies, like speakers and Bluetooth connectivity.
Check that your chair has the appropriate amount of features for your needs. Most gaming chairs are modifiable in height and offer some degree of recline. However, if you work long periods at a desk, you may benefit from detachable back pillows, neck supports, and customizable armrests. Some gaming chairs include swivel and rocking capabilities as well.
Here is our list of the best red gaming chairs:
Best Red Gaming Chairs (Match Your Game-Rage!)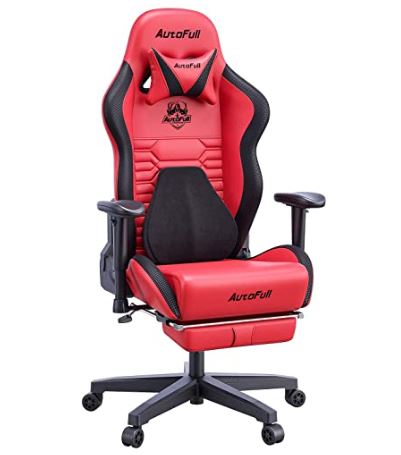 Autofull is one of the most well-known gaming chair manufacturers in the world. Since 2016, the firm has collaborated with many of China's leading esports teams and competitions. Autofull began serving markets in the United States, Europe, and the United Kingdom in 2020. Autofull presently has a huge assortment of immersive gaming seats in the west, around 2022.
The latest offering from Autofull is a footrest gaming chair set with some aesthetic tweaks. The chairs are available in a wide range of different PU leather colors including our passionate red shade.
Each piece has a cyberpunk patterned backrest, carbon fiber wing details, and a heart-shaped memory foam lumbar cushion. Each model also includes a foldable footrest.
Key Features:
PU leather and resilience foam padding
2D armrests
Up to 170 degrees recline
Integrated footrest
The AutoFull Conquer Series (MSRP €219.99) has a racing seat-style gaming chair with an extendable footrest. All are coated in a high-quality PU synthetic leather that the firm claims are four times more lasting than traditional imitation leather.
The comfortable gaming chair also has "3D Bionic Lumbar Support," which provides a solid and comfortable form to the backrest. It conforms to the shape of the lower spine and provides more extensive waist comfort for those incredible gaming sessions.
In addition, there is a comfy anti-collapse high-density foam seat padding. The thickness is 50% more than the typical foam used in the standard gaming chair in the industry.
The Conquer Series has fully movable neck and lumbar support pillows as well as a Class 4 gas lift. The whole chair can hold weights of up to 350 pounds.
After a tough match, the backrest, which is endlessly flexible up to 170°, provides you with an optimum resting area. You may lie down fully strain-free while viewing your favorite videos or having a power sleep thanks to the adjustable footrest and adjustable height.
Pros & Cons
Pros
3-years warranty
Great comfort
Premium ergonomic design
Read more , Best Blue Gaming Chairs. (Calm and Deep!)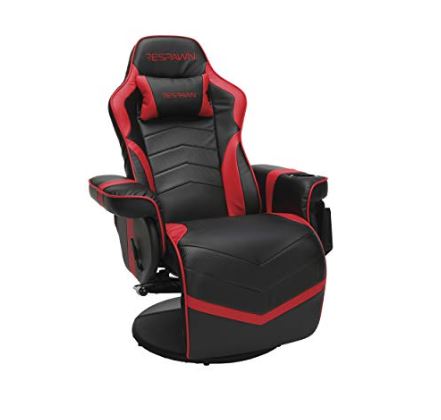 With their first "console gaming chair," the recline-able Respawn 900, Respawn has taken the form of the original racing-style gaming chair and modified it for the lounge room.
With the Respawn-900 Gaming Recliner, Respawn dares and challenges nearly all other gaming chairs, since it features a non-wheeled base meant to be positioned in a stationary location-unlike the others. With a cup holder and a flip-up footrest, this is one of the first ergonomic gaming chairs that are also suitable as a piece of furniture for the living room.
The lower portion of the chair distinguishes the Respawn-900 from its competitors. Because this is a console comfortable chair, it is intended for use in a living room or dorm room.
That is, rather than the discreet, fold-away footrest featured on some gaming chairs, the footrest merges in with the body of the chair, flowing in a way that is quite cozy under your knees. Most chairs stop suddenly around halfway through the upper sections of your legs, but the curve of the Respawn 900 seemed like a troop of cherubs holding your legs on a fluffy cloud.
Key Features:
135 degrees recline.
Faux leather
Removable headrest pillow
Footrest extension
The seat and back are designed similarly to other chairs on the market, but with the soft texture of the premium faux leather, and with the nicely cushioned curves woven into geometric patterns halfway between the base and the red accents.
The Respawn 900 has additional features that set it apart from the desk chair bundle. For starters, there's a removable pouch on the side that can hold a joystick or a remote. On the left side, there is also a cup holder sculpted into the armrest.
The armrests of the Respawn-900 are large chunks of cushioning covered in the very same faux leather as the seating and backrest, totally wrapping the sides of this ergonomic chair down to the seat's bottom. They are really nice and supportive during marathon gaming sessions.
The backrest has a lofty headrest supported by two wide wings to assist the shoulders. Two huge vents behind the headrest enable airflow as well as a point of connection for the rubber band on the supplied faux-leather neck cushion.
The Respawn 900 pivots 360 degrees with ease and is light enough to move if needed. It can be lowered to varying extents up to 135 degrees, and at its maximum recline position, it's practically parallel to the floor.
Pros & Cons
Pros
Innovative ergonomic design
Cup holder and pouch
Comfy and cozy
Read more , How Long Does Secretlab Chair Last?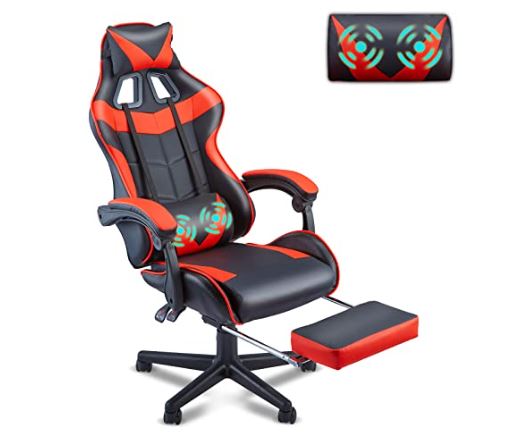 Soontrans' enthusiastic and devoted staff is always innovating with strong gaming chairs that provide our customers with an excellent gaming experience.
Among the comfiest chairs on the list is this Soontrans Racing budget gaming chair. However, if you just want a chair with a large weight capacity, this is not for you, because this one only takes up to 250 pounds.
Concerning its weight capacity, the height adjustment range is still quite decent. But the finest feature of this low-cost gaming chair is its coziness, keep in mind its built-in footrest, provided cushions in the package, and different customization settings, regarding itself as a very decent chair.
Soontrans also offers a 1-year guarantee with this chair, which is comparable to many other alternatives on the market. Plus, on the outside of every Soontrans seat is a distinctive anti-counterfeit tag. Scanning the 2D barcodes on the label allows customers to determine if it is the Soontrans brand.
Key Features:
150 degrees recline
Soft pad adjustable armrests
Carbon fiber and PU leather
Massage lumbar support pillow
This reclining chair can flatten all the way with a wide range of recline offered up to 150, providing the most pleasant sensation. whether applied at the work or at your game station, it can boost your performance.
The premium carbon fiber for greater damage resilience and soft texture makes it super easy to clean and resist stains. The padded armrests, they've fully padded all around for maximum comfort. In addition to the wide and thicker seat padding for a more relaxing seating feeling.
Soontrans PC Chair has a car seat shape with hip support side bolsters, and waist and shoulder cushions that mimic a racing seat. It has a removable and customizable headrest as well as a massage lumbar pillow for extra coziness during your gaming marathons.
Alongside the feature of height Adjustment, that can be considered a little limited, but it adds a great value to the chair as a whole.
Pros & Cons
Pros
Fair price
Wide range of adjustability
Check also,  Secretlab Vs. Herman Miller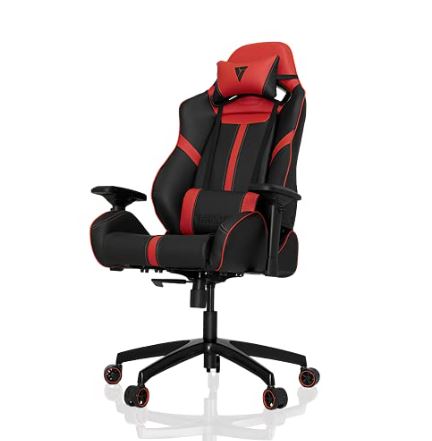 The Vertagear gaming seats are quite comfortable. Their goods actually provide excellent quality for the price, especially given the low price of the Vertagear seats.
They come in a variety of styles. There are two primary series, one of which may also be utilized in the office or business. Their chairs are absolutely unique in terms of style, with options such as LED illumination, superior materials, and racing-inspired ergonomic design.
Vertagear provides outstanding quality for price in many of its chairs, from the cushioning, which is constructed of a high-density mold-shaping foam (adapting to your own body form), to the armrests, headrest, and broad backrest. Every chair is extremely comfortable, as seen by the thousands of good ratings from console gamers.
The SL5000 is shaped to the curve of the arm and is customizable in four dimensions. It has an easy mechanical construction that takes only one person to install, as well as special racing stylish rollers (wheels) covered with PU for gentle and seamless sliding on various surfaces.
Key Features:
PU leather
140 degrees recline
Removable neck support and lumbar support cushion
Adjustable neck support and lumbar cushion
4D armrests
This chair's PU leather is both comfortable and long-lasting. It is available in various color schemes to fit almost any taste or setting. features superior foam cushioning and a strengthened metal structure to keep you comfy and sturdy.
It's good to see dual slits in the backrest in ventilated styles. The colorful stripes are extremely breathable, allowing you to stay fresh in the warmest conditions. These also guarantee that any air in the room, even if they're behind you, will help you.
The lumbar support and headrest cushions are customizable These may be removed totally if desired, however, because the backrest is straight, we definitely recommend that you use them. Another remarkable aspect is that the 4D armrests have divots in them, allowing your arms to glide straight in.
Automated locking rollers and 4D armrests that may be turned in or out. They lock up immediately you sit, ensuring that you never leave your computer at a critical time.
You may tilt or lean the chair to your liking (between 80 and 140°), and there are 5 locking configurations to select from.
Pros & Cons
Pros
Supported firmly
Very adjustable
Comfy
Also check, Secretlab Titan Softweave Vs Pu Leather| The Ultimate Comparison Guide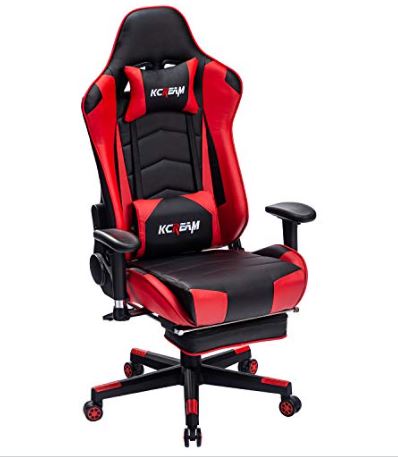 The KCream brand isn't a global superstar, and it appears to be a newcomer to the gaming chair industry. However, its mother firm is rather more well-known as the manufacturer of the Rainbow and Healgen lines of desk and gaming chairs. With more vivid colors and extras like a footrest and massaging lumbar cushions, the KCream range appears to attract a younger clientele.
The KCream's seat cushion thickness is exceptional. It's about 5″ thick and very comfy, giving a very comfortable experience. One of the most common concerns of customers who purchase inexpensive gaming chairs is that the seat padding is too flat. This means that after only a few weeks, you will begin to feel the steel frame beneath the padding as it sinks in. This is never happening on the KCream.
The sturdiness of the chair cannot be determined from the set of specs. This is a strong gaming chair that appears to be capable of supporting a large man. When I walk around in the chair, there is no creaking or squeaking, and all is nicely balanced.
Key Features:
2D armrests
Adjustable footrest
160 degrees recline with tilt lock
Massage lumbar support cushion
Removable neck support and lumbar support cushions
The 'relax' mode is just heavenly. It helps you to totally flatten your body, relaxing the muscles in your legs, spine, and head. The chair reclines practically horizontally and, amazingly, with the extendable footrest, it is properly supported in this mode.
The armrests may be adjusted to support your arms in a variety of settings. The KCream's armrests are also broader and significantly softer than those seen on most under $200 gaming seats. They rotate in and out but do not hold into position, which means they can alter places if you bump against them.
Despite being composed of PU leather, the fabric on the Kcream chair has a silky touch to it. Additionally, the lumbar support cushion has a vibrating massage feature, that's neither better nor worse than the average massage cushion on any chair.
Both the neck support pillow and the lumbar support pillow are adjustable. They serve as fundamental accessories to match your needs for an extra level of comfort.
Pros & Cons
Pros
Great for people of bigger builds
Amazing quality for the price
Wide Armrests
Cons
Seat height can be too much for short people
Read also, Secretlab Softweave Review: is it better for your comfort?
Frequently Asked Questions:
What is the most important feature of a gaming chair?
Your posture is extremely important both for your comfort and general health. A gaming chair, therefore, allows for perpendicular sitting to prevent back pain.
Similarly, the chair helps to align your arms with your screen or monitor. This is an important feature because it gets rid of unwarranted pressure on the chest. For this reason, even if you play for long hours, you won't suffer from chest and back pain.
What is special about a gamer chair?
The main secret with gaming chairs is that the backrest is much higher than regular ergonomic office chairs. We support the shoulders and back so you don't start feeling tired.
Why are gaming chairs shaped that way?
These ergonomics-focused chairs prioritize support, circulation, and body health overlooks. Instead of winged backs, the shapes mimic the body and allow for freer movement.
How long do gaming chairs last?
The best gaming chairs can last up to 5 years, with 2 to 3 years being the average. It depends on how often you use your chair and the quality of its materials.
Why are there holes in chairs?
The holes are for ventilation. They keep your back from sweating if you sit in there for a long time. You'll notice if you look that a few wooden chairs have solid backs. That's for the same reason.
Also read , How to Use Secret Lab Lumbar Pillow?
Final Verdict:
That's all for the most remarkable -almost budget-friendly- chairs on the market.
The Vertagear is a top brand, so it's not a surprise that the SL-5000 is our top pick. For it combines ergonomics with aesthetics in one beautiful top-of-the-line premium chair.
While our runner-up is a brand of the same quality. The Respawn also brings a lot to the table, so it does deserve a place of equal value for you to consider.
As it's widely known, the Autofull design is their strong suit. Their futuristic styles ensure a wide range of audiences for their products.
Lastly, the KCream is an honorable competitor. Maybe it has just joined the convo, but the entrance was FIRE. They offer great quality for a very fair price, which makes them a serious quality option.