Best Pink and White Gaming Chairs (Cute and Durable)
Gaming chairs can be a tough choice. You don't know whether to look for cute or durable. While the hunt may seem torturing, we did find the best pink and white gaming chairs that have BOTH the looks and the comfort! (eventually)
You think you'd have to pay a small fortune for such requirements since most durable gaming chairs are QUITE expensive. But luckily our beloved offered pink chairs are definitely budget-friendly. IMAGINE! You're saving money for being aesthetic. How cool!
Here is the list of the 6 best pink and white gaming chairs
ALEAVIC Pink Gaming Chair. (Best Choice)
Von Massage Racer pink gaming chair (Budget Choice)
SecretLab Titan Evo 2022 Pink Gaming Chair. (Best Overall)
Best Pink and White Gaming Chairs (Cute and Durable)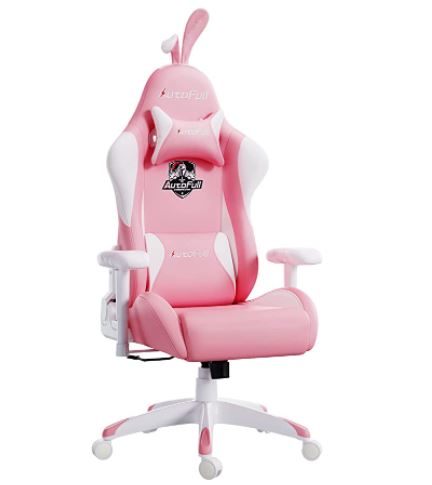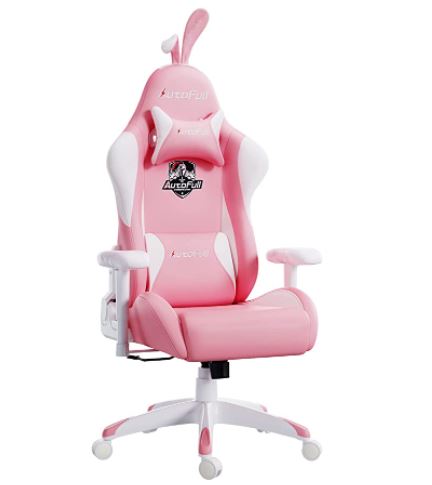 Its original design wins it a point. The assembly of the feminine pink and bold gaming sense is an aesthetic to many. And probably the main point of buying THIS chair.
For its price, the chair is pretty decent. It offers a fair quality alongside a fair price with a great design. It has a set of features to fit most people of different builds and needs. Admirable!
Key Features
Comfy lower back support
Neck and lumbar support
Soft coating
2D Fluffy and adjustable armrest
Rocking tension and 155° recline
The chair is really satisfying with its charismatic appearance. And does the job for your several gaming hours with beautiful bunny-themed additions and a stylish mat.
Looks aside, the Autofull offers good quality and decent features. The lumbar support pillows are padded with high-density foam as well as the neck pillows. The recline goes almost all the way to the back for extra comfort together with its rocking mechanism. They deliver a high level of comfort and support with their adjustable features and a maximum weight capacity of 300 pounds.
If this doesn't do it for you, then we're happy to tell you that there's more! Autofull provides a 3-year warranty with the chair to ensure that your needs are answered.
However, the chair needs close care. Its bright colors wear out with constant usage.
Read More: https://thegamercollective.com/gaming-chairs/
Pros & Cons
Pros
Attractive design
Generous tilt
Good Price
Reliable customer service
Good support and comfy
Cons
Difficult assembly
Stainable fabric
Needs regular maintenance
Read also, Best Gaming Chairs for Every Gamer: The Ultimate List for 2022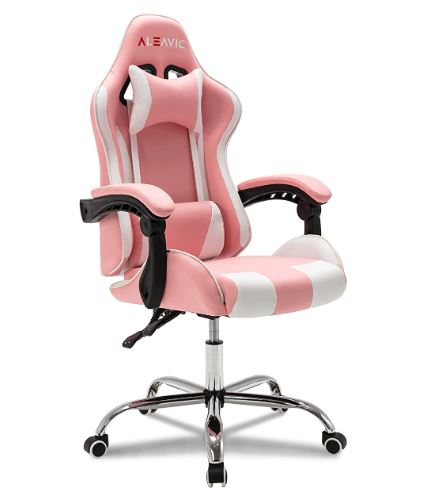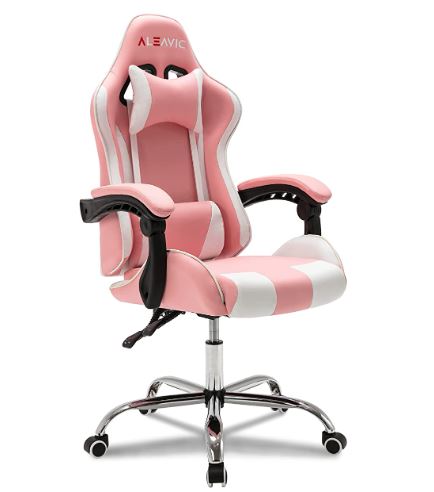 ALEAVIC provides an excellent gaming experience with THIS chair. It is a stylish and fun addition to your gaming station, study, or even workplace.
Its simple design pushes it to stand out among gaming chairs. Along with its highly-functional features.
The pink chair is of a suitable build for different types of bodies. It's a little tight for people with wider hips. But other than that, you're just fine to go for it. The features of this product are very satisfactory, to begin with.
Key Features
Strong build (for larger weights)
Adjustable seat height
Premium-padded lumbar pillow
PU leather
170 recline
ALEAVIC pink chair is a solid one. its steel frame and the high-quality sturdy base combine comfort with durability. Holding a 330-pound weight capacity with its ergonomic design. The padded armrests are also adjustable along with the height of the chair to fit you like a glove! The headrest pillow is removable so no problems there.
The high-quality PU leather is of a heavenly softness with amazing breathable and comfortable touch. Comes with a very generous recline for optimal comfort. The lumbar support cushion also provides a wide range of adjustability for the wellness of the female gamers for the love of their pink chairs.
Getting this chair WILL make you feel the comfort and get the vibes at the same time! With its distinctive color and simple design, it is a great piece in your comfort zone.
Read More: https://thegamercollective.com/best-black-and-white-gaming-chairs/
Pros & Cons
Pros
Reasonable price
Strong structure
Satisfying quality
Read more, The Best Gaming Chair Under 200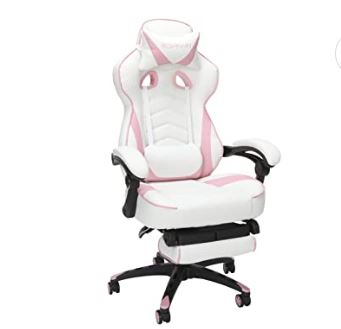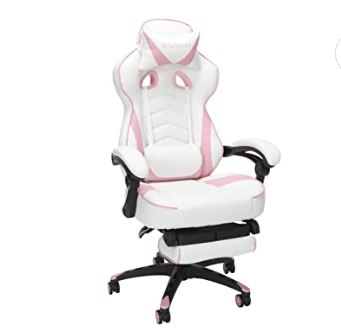 For the price? This chair is unbeatable. Set aside its beautiful pink color scheme, its basic features are just remarkable, with a very promising set of extra features as a bonus. Making the Respawn RSP-11 racing chair one of the best ergonomic chairs in the gaming chairs market. (that's too many chairs for one sentence)
The Respawn RSP-11 is not your standard gaming chair. Its aesthetic pink accent is best for those who just need a pop of color rather than going all out with their setup, all within this budget chair.
Key Features:
Adjustable padded armrests
Extendable footrest
Padded armrest
Adjustable lumbar pillow
Deep recline of 155
At a very competitive price, Respawn offers an incredible set of privileges with its chair. the extendable footrest works side by side with the deep recline to ensure a high comfort level for you among other ergonomic features. The lumbar and headrest cushions are all adjustable for additional comfort, and the padded armrests are of a curved design for even extra support.
Although the frame max weight capacity of only 275 pounds, the seat dimensions are vast and will give you room and freedom of space while moving.
Pros & Cons
Pros
Curved armrest
Great price
Comfy footrest
Cons
lower weight capacity than the competition
Also, check the best gaming chairs on the market.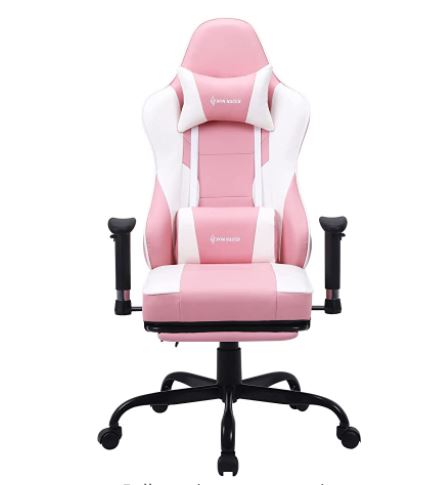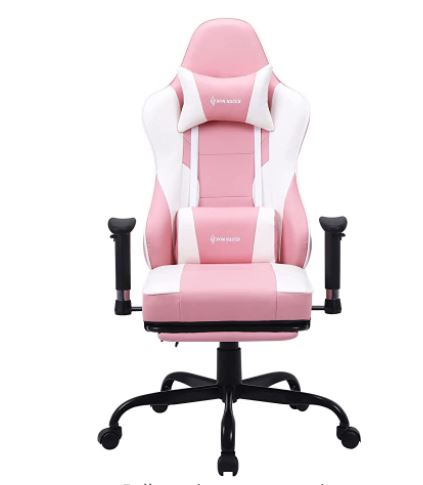 The VON Racer is fierce competition in the gaming chair market. It's issued at a very competitive price and a decent set of additional features. The VON is proof of good quality cheap gaming chairs, which is a hard equation to solve.
The premium material of the PU leather leaves no odor, providing a very smooth and comfy touch. The wheels move very smoothly with a 360 swivel.
Key Features
Massage feature
Extendable footrest
Breathable PU leather
Relaxing lumbar cushion
Premium seating
Racing games require a lot of attention and this chair helps you deal with the pain. The VON is highly supported with a wide set of things like its metal base, and its adjustability to provide you the relaxation you need to stay focused. All within a hefty price.
The premium PU leather is super easy to clean and of great quality for even greater stability and comfort while playing. Also, the retractable footrest works together with the massage cushion so you can achieve max level of comfort. Alongside up to135° recline, you can chill in your chair perfectly. And max weight capacity of 250 pounds.
For the offered features this chair is a hot deal. In addition, there's a 1-year warranty and great after-sales service. All in all, this is your best budget choice.
Pros & Cons
Pros
Massage feature
Great value
Very comfy
High quality for the price range
Cons
Low weight capacity
Fewer customization option
Read also, Pink Girly Gaming Setup Necessities for a Cute Gamer Girl Setup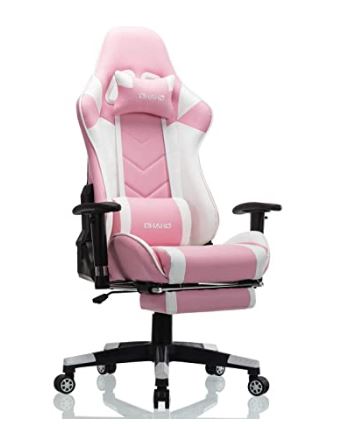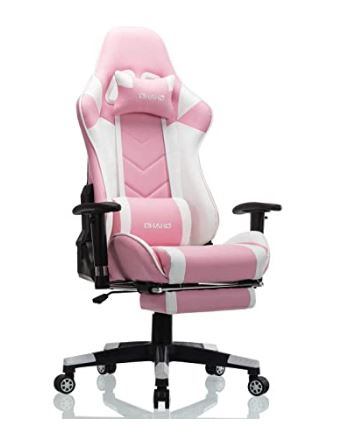 The OHAHO is an ergonomically built chair of great features, quality, and price. It's multifunctional, making it suitable for gaming, studying, and working, better than any of your average office chairs. It definitely fills the bill without breaking the bank. This high-quality gaming chair is of the racing-style chairs, for more focus and steadiness while gaming.
The OHAHO is one of the strongest gaming chairs brands aesthetically with its adorable design and marvelous color. But that's not just it, the OHAHO's looks are not its only strong suit. You can sit in this baby for hours and hours and not feel any strain on your back, neck, or whatever it is that can be strained. It IS worth it.
On the technical side, the chair is very functional. It's very easy to assemble, to begin with. It's also VERY adjustable and has a variety of features to enjoy.
Key Features
PU leather material
180° recline
Retractable footrest
Massage pillow
Rocking function
The OHAHO provides full comfort with its full back recline for relaxing breaks in between games (or studying) and extended footrest with very comfy padding and great upholstery, combined with the very satisfying rocking option to give the full sense of peacefulness.
The pinky vibes with the white accents on it and the PU leather are on ANOTHER level. It gives the design a great splash of color. Additionally, the material of the leather is superb, breathable, and of an amazing texture, for a greater gaming experience.
The massage pillow is not of cheap quality as you might expect for such a price, quite the opposite. This vibration might be the answer to your fatigue during the day.
Pros & Cons
Pros
Great quality for the price
Amazing lumbar support
USB chord
Cons
Smaller than other chairs
Also check, Pink Bunny Gaming Chair From AutoFull: Is it Too Cute to Pass Up?
6- SecretLab Titan Evo 2022 Pink Gaming Chair (4.9/5)
Secretlab are known for being a leading brand in gaming chairs. They offer a wide range of different chairs for different users to suit all needs and offer all kinds of comfort.
The Titan Evo 2022 is EXCEPTIONALLY comfortable. Almost all customer reviews about this chair praise its comfy structure from top to bottom. The features concerning this chair are just heavenly. The Titan offers premium quality at EVERYTHING. Providing the customer with the best of everything, it is literally the upgrade of the best chairs on the market.
Also, check this cute pinky gaming chair from secretlab.
Key Features
Ergonomic design
Fabric-coated (no squeaky leather)
Adjustable magnetic headrest and armrest
Soft pillows and firm build (your spine is saved!)
Adjustable lumbar support
The new Titan is the upgrade of the leading chairs in the gaming chairs market. It combines the best of the Titan and the OMEGA series with its various editions to customize your own adorable pink gaming chair.
Are you looking for a pure pink gaming chair, Here is the recommended list.
The lumbar cushion is 4-way adjustable. It can go up and down, in and out! The same thing with the headrest pillow, adjust it more easily -since it's magnetic- to your height. Making this, the best customizable chair we've ever seen!
For the easiest assembly ever, the armrests are completely magnetic. Easier placing AND replacing. The adjustability of the armrests also goes 4 ways for maximum comfort and a HUGE feeling of control.
The Titan is coated with soft weave fabric providing great comfort and easiness, but to be honest it also sends the price of this chair rocket high than the other coated with leather hybrids.
The Titan Evo 2022 premium chairs take all your concerns into consideration. Taking your long gaming/office hours to the NEXT level with a luxurious touch.
Pros & Cons
Pros
Premium designs
High-quality materials and structure
Durable
Comfy
Cons
Not available frequently
Long shipping periods
Read also , 7 Best Pink Gaming Chair Models
Frequently Asked Questions
Which brands make pink gaming chairs?
Thanks to the colorful nature of the gaming chair aesthetic, pink gaming chairs are easy to find online. There is a range of brands offering these seats, decked out in plenty of different designs. SecretLab's Titan range comes in several different pink variants, with designs available on the best in the business – the Titan Evo 2022. However, you'll also find pink gaming chairs from the likes of Respawn, Von Racer, and AK Racing as well.
How to remove the gas bar when replacing the gas bar of the gaming chair?
You can use a small hammer to gently beat the tray and five-star feet to separate them.
Is the pink gaming chair suitable for boys?
If a boy likes the color pink, then why not? Go ahead, my friend.
Is this comfortable for plus-size girls?
Oh heck yeah. 250lb 5'3 person using the chair wonderfully. Perfect just put the arms down to your height. Then you are good to go.
Final Verdict
The listed chairs are all of great quality. They are all very budget-friendly (except the Titan obviously). And they do the job perfectly of adding a little color to your station and giving you the needed comfort.
But, hands down, the Secretlab Titan Evo 2022 wins without competition (if you can get your hands on one). If not, then you should definitely go for the ALEAVIC Pink Gaming Chair.
For it does give you the most of both. It combines the best of chairs with a great set of features and even extra features too within an affordable price and great quality.