Gaming chairs have become somewhat of a norm in many households. Complete transparency – not just gamers, but also people who work from home usually use these chairs. This is due to the level of comfort that they offer. The Dowinx is another brand in this category that creates some of the most comfortable gaming chairs in the market. These chairs are sturdy, durable, stylish and a lifesaver for your back.
Dowinx Gaming Chair Review
Below, you'll find our full review of the DowinX LS-6689 gaming chair that will help you decide if this is the seat to help complete your ultimate gaming setup.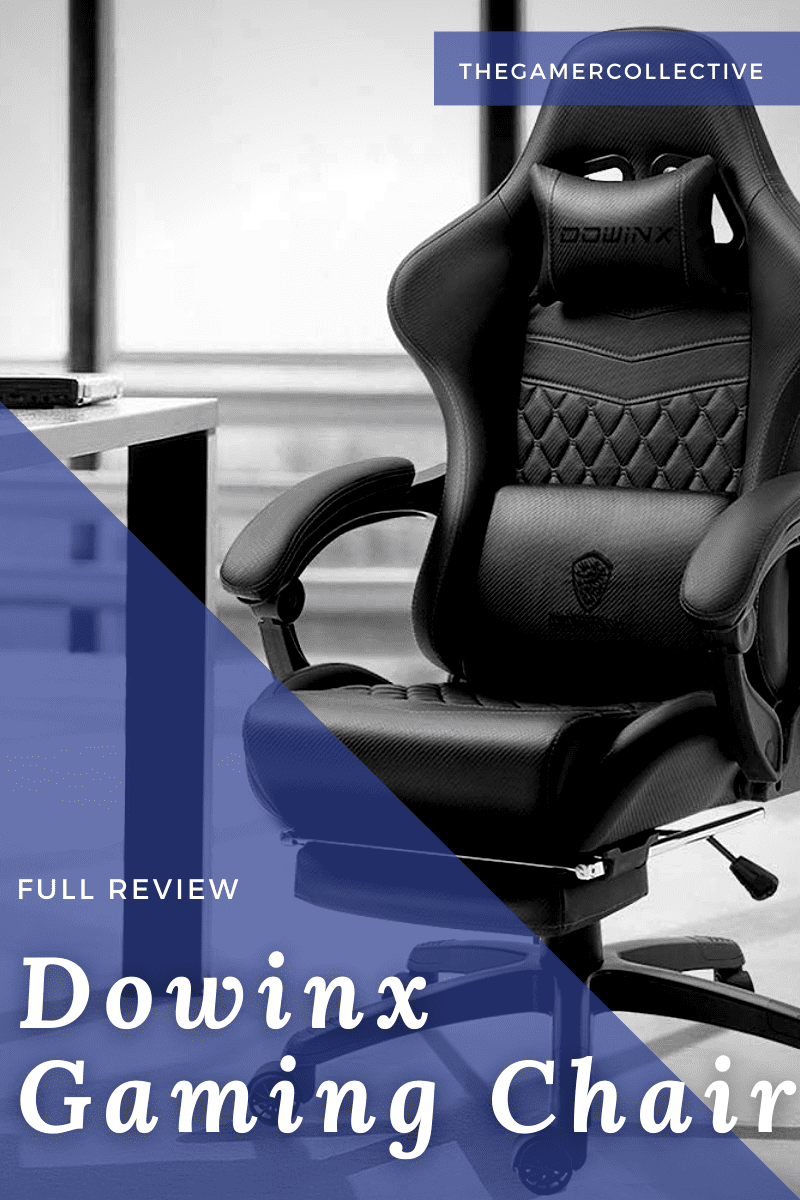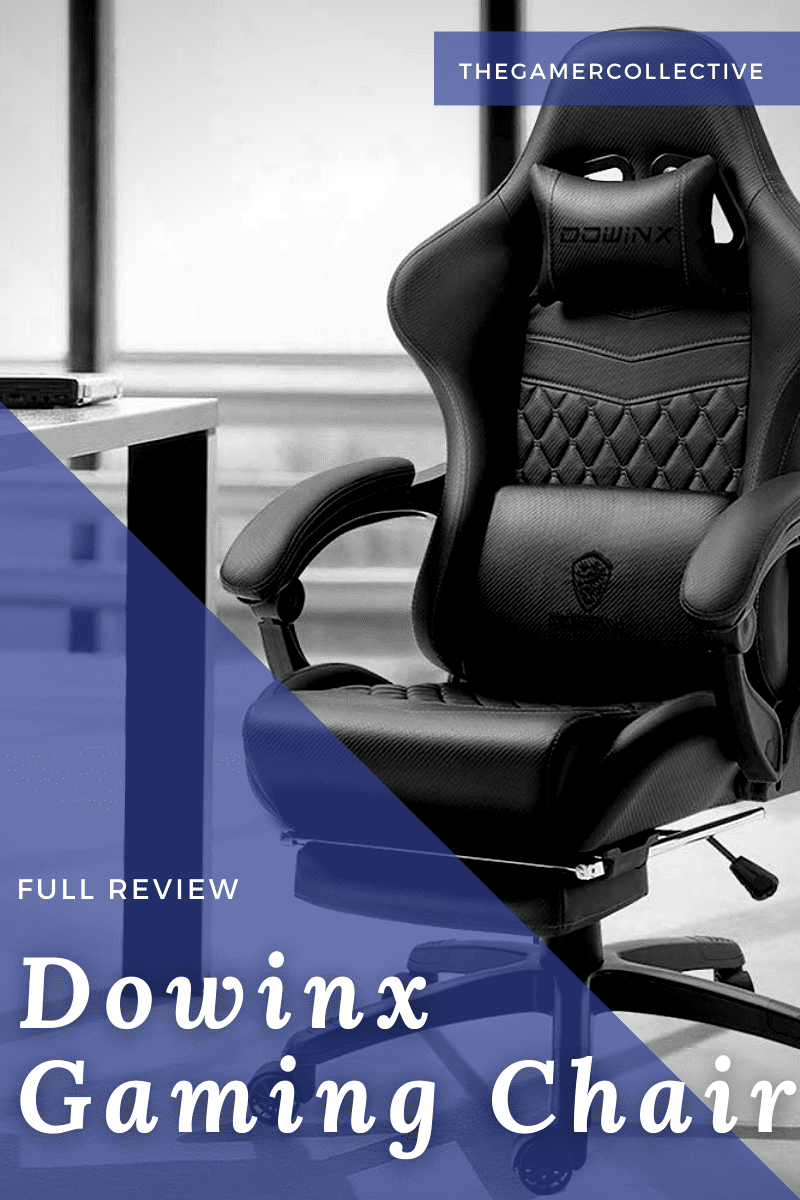 In this review we cover each individual feature of the chair to better educate you on its appearance, functionality, and practicality. Plus, we talk about how comfortable it is, the overall build quality of the chair, assembly notes, and more.
Best Features
Let's start off talking about the big one, the linkage USB cable back massager. This massager comes integrated into the Dowinx gaming chair and can be plugged on and off with a simple connection through a USB cable. I found this back massager to be extremely comfortable, especially during very long gaming sessions. This will definitely save your spine a world of pain.
The chair is said to have an ergonomic design, meaning that it aims for efficiency. For the most part, it delivers on these claims, as the chair has a great adjustability system. The height is completely adjustable within the confines of the chair, it comes with its very own gas lift which has 90 to 180 degrees reclining limit. This is great for gaming but also for work or even just relaxing with the massager on. The adjustable reclining that you can push to 180 degrees is super helpful for when you want to relax, especially in combination with the massager.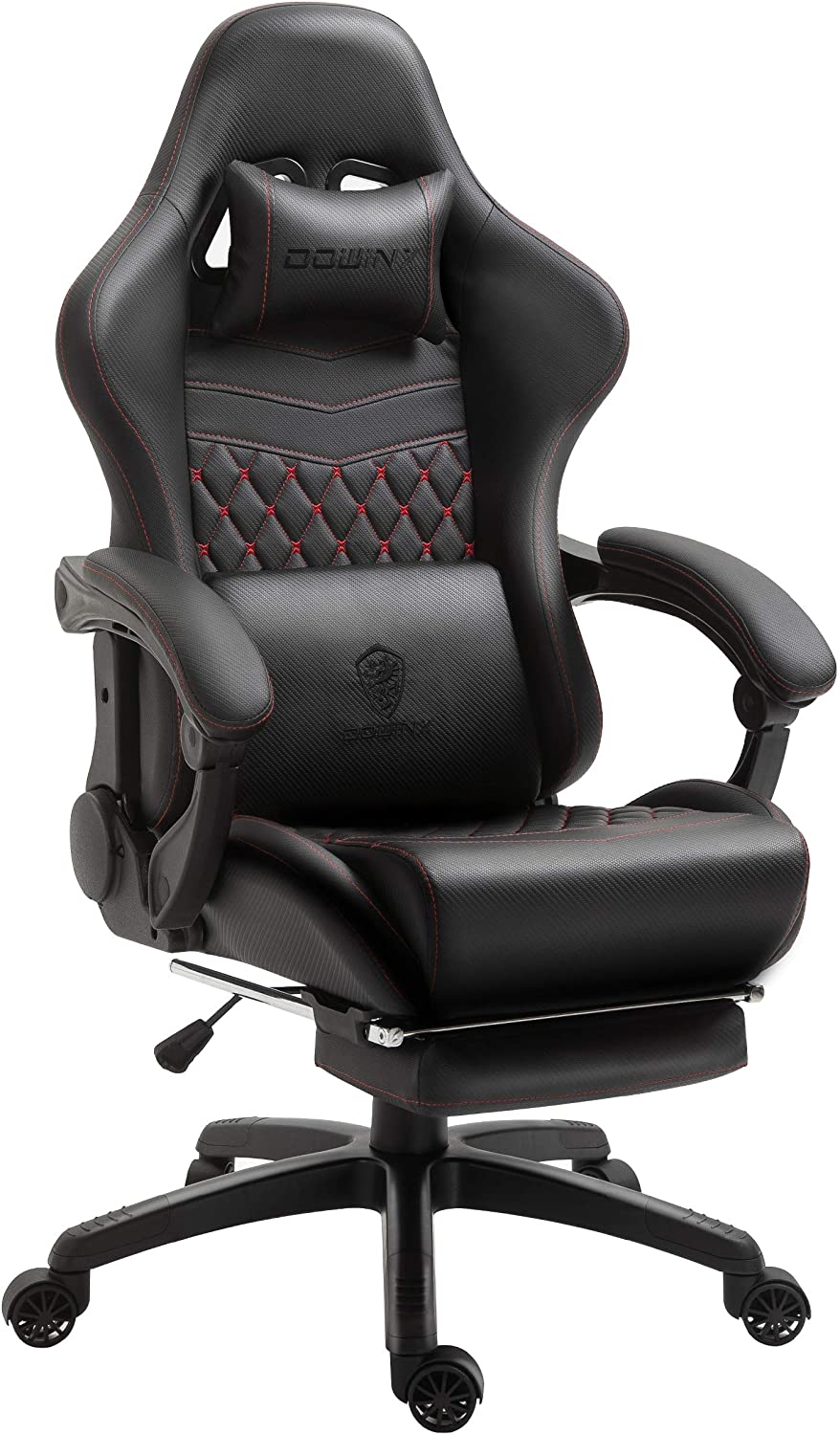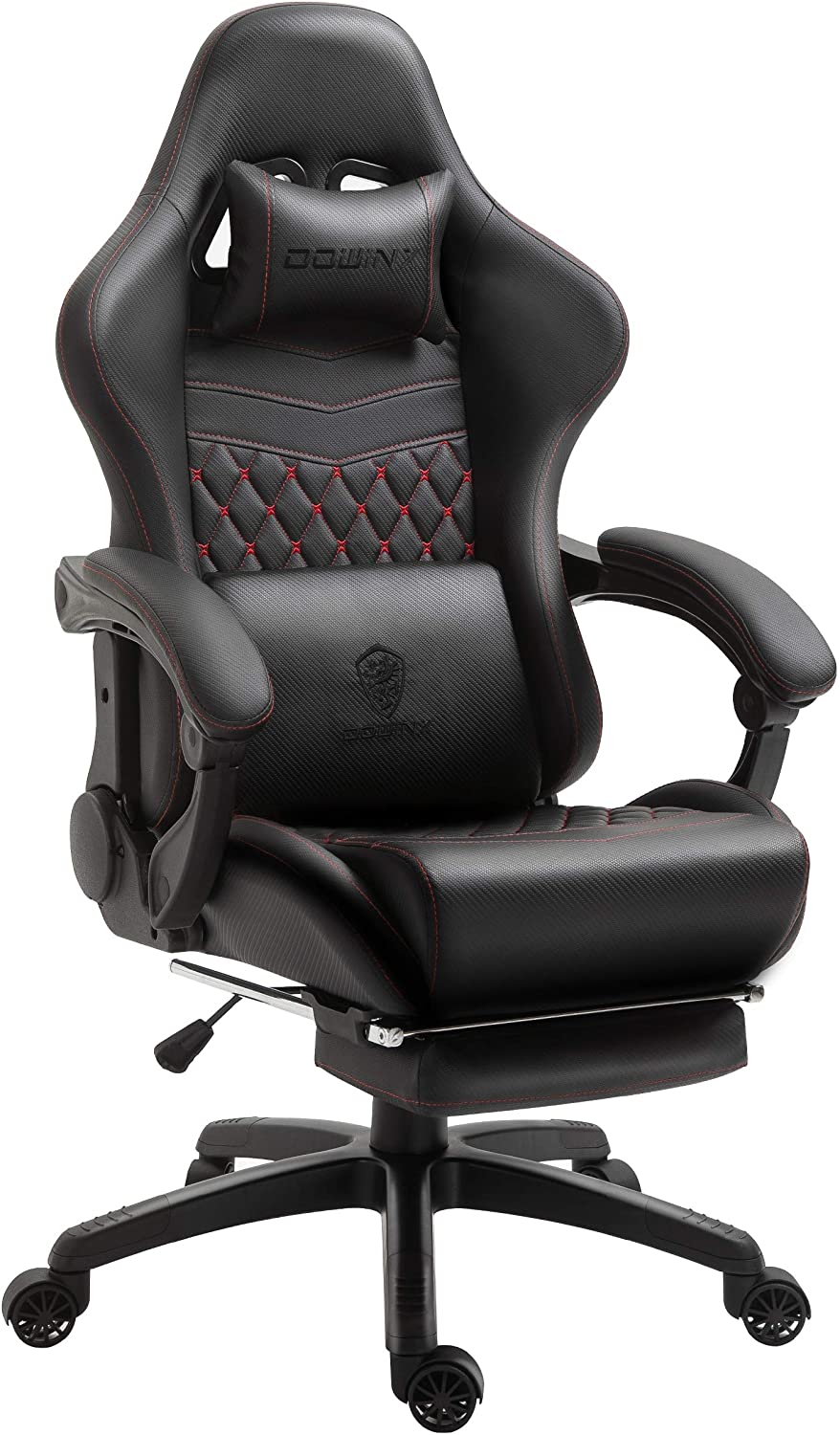 The chair comes with a headrest so that you don't injure your neck while leaning back. Not to mention, a waist-rest to help keep your posture in check. It also has linkage armrests which are just a must in any gaming or work chairs in the modern age. Another added feature in this chair is the retractable footrest. This footrest can be pulled out any time you want and helps in making this chair a super comfortable pick even more.
Also read, Why Are Gaming Chairs So Expensive?
Dowinx LS-6689 Gaming Chair Color Options
It comes in a stylish black color which has the Dowinx Prime Carbon fiber Leather. This is super durable leather and it has red threading all over it for the style.
The grey variant comes with beautiful golden threading. The leather used on this one is the Dowinx Prime Retro Leather. Which seems to be of inferior quality to the Carbon Fiber leather, but is still quite soft and comfortable.
The coffee-colored or Brown variant has the same golden threading as the grey variant, along with the same leather used on it. And as for the Ivory variant, it comes with beautiful golden threading and golden decals on it. It has the same leather as the grey and brown variants albeit a much cleaner-looking design.
Not too impressed with this chair? Read our Arozzi Milano gaming chair review to see if that model may be a better fit for your needs.
Durability of the Chair
The DowinX 6689 has an alloy frame, which is covered entirely with and 6 inches of high-density foam. This foam is then covered by high-quality hand-sown leather. The gas cylinder and the sturdy base of the chair along with racer rollers ensure that the chair's functionality remains intact through the test of time. The high-quality plastic simply makes sure that the wheels don't just snap off. The chair comes with a SUPER heavy base, ensuring that even if you're a heavier person that it can support your weight.
Got a chair already? Want it to sit properly and roll around with ease? Make sure you get a good gaming chair mat to compliment your stylish new seat.
Read More:
https://thegamercollective.com/pink-bunny-gaming-chair/
https://thegamercollective.com/best-gaming-chairs-under-300/
DowinX Gaming Chair Review: COMFORT
Next up in our Dowinx gaming chair review we're going to talk about the comfortability of the chair. As soon as I placed myself on the chair, I could not get out of it. This chair is definitely a life-saver in the comfort department. It can fully recline making your gaming sessions much more relaxed, the footrest is such a great addition to it.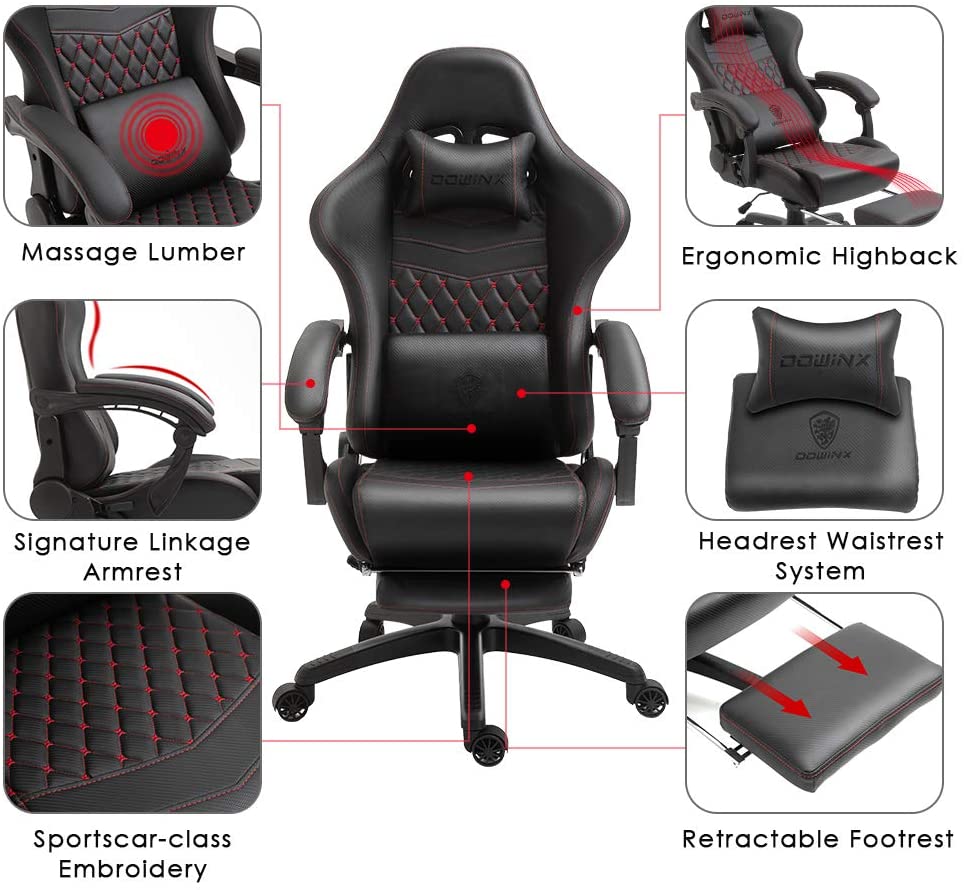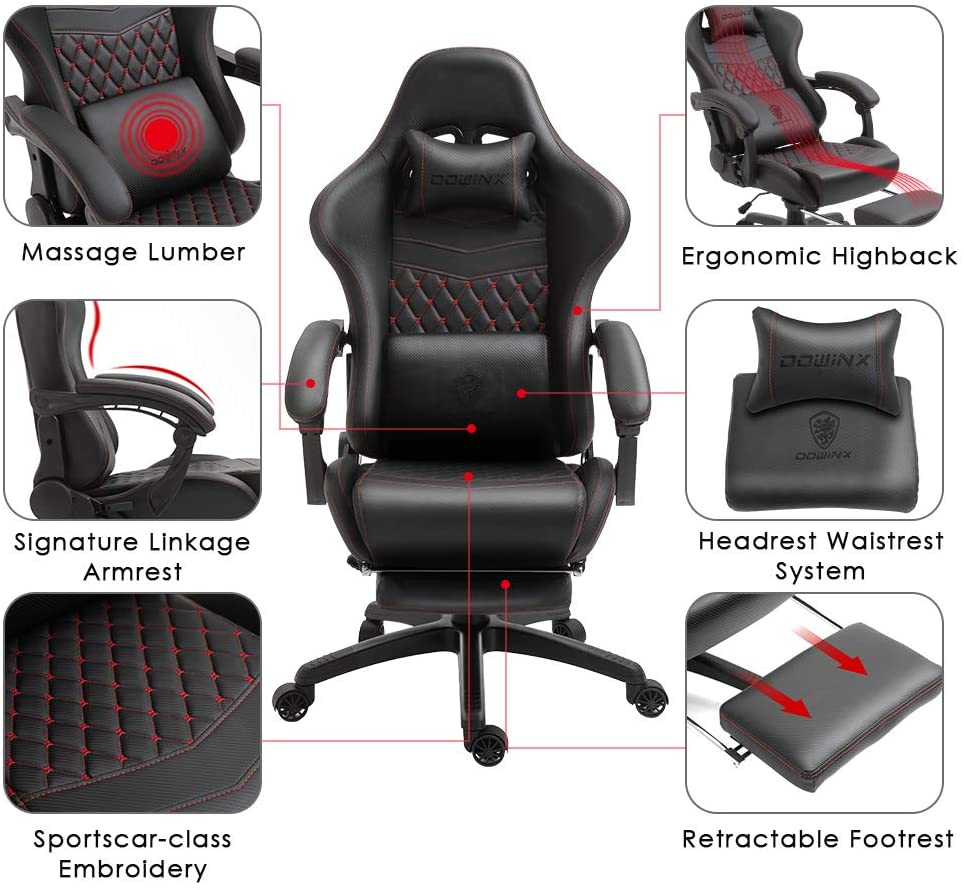 The chair is heavy and sturdy, and it handled my weight quite nicely and I fit perfectly into it. The best part about it is again the massager, which I connected as soon as I sat down for any gaming sessions. It truly helps in keeping you relaxed, even if I'm not gaming and just editing or writing this review, it is a perfectly comfortable chair for both my back and my neck.
Assembly
The chair comes in a giant box, and make no mistake that box is heavy as all hell. It requires a ton of space to put together, although the surprising thing was that the parts weren't too many. The quality of the materials was exquisite, I knew that as soon as I started to build the chair. It seemed as if it was built to last, the durability of the plastic was very viable.
Talking about the construction of the chair itself, the whole process took around 40 minutes, which is pretty decent timing compared to most chairs. The nut and bolt slippage will occasionally be bothersome, but aside from that, there was no hurdle in assembling this chair. The screws awkwardly slipping out is a problem that you'll face when assembling any chair, not just this one in particular.
Also Read: Best Pink Gaming Chair Models
Final Verdict: 9.5/10
To summarize our review of this gaming chair model from DowinX: this is a great gaming chair for both office workers and gamers alike. The chair boasts a ton of different features, such as the footrest, the 180 degrees reclining, and that charming integrated massager system. Along with that, the chair comes in four different color options, each one unique in its own way.
The durability of the materials and the comfort of the chair cannot be understated, the plastic is heavy and strong and the foam is thick and comfy. All in all, the Dowinx Gaming Chair is a must-have when looking for something that you're going to use for a long time. It's a relaxing, comfortable, and long-lasting gaming buddy that will save your body from a world of pain.
Read More: https://thegamercollective.com/best-alternatives-for-secretlab-chairs/