The best red and black gaming chairs are made with a color scheme that screams speed and courage.
While the vibrant color combination is vital, especially when striving to frighten your competitors, any good gaming chair should also be comfy, flexible, and packed with the most up-to-date ergonomic features and technologies, such as music and Bluetooth connectivity.
We've selected some of our top red and black gaming kings on the market for your comfort.
Here is the list of the best black and red gaming chairs
Best Black and Red Gaming Chairs (Fierce and Cool!)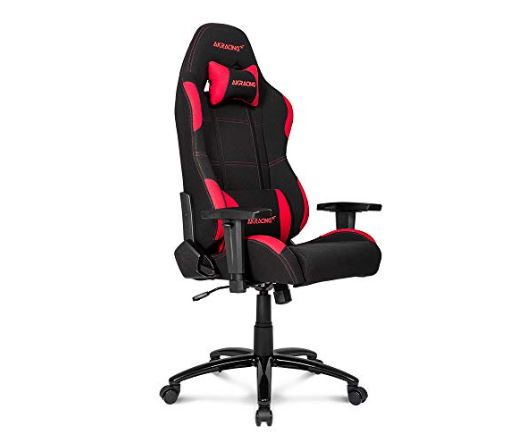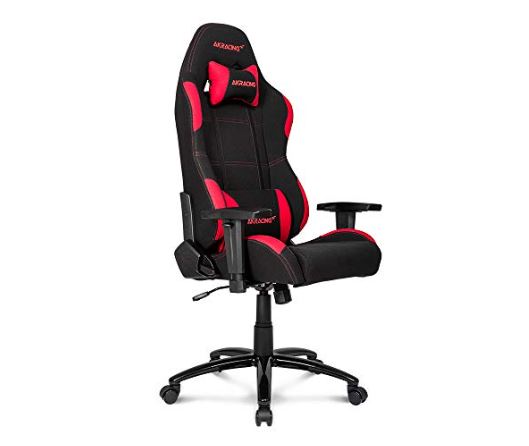 On our list, this elegant gaming chair earns the top place.
AKRacing is a well-known name in the gaming chair business. They've designed an EX-wide version of their No. 1 comfy gaming chair in red and black as part of their core line.
With gloomy black and bright red material upholstery that's especially flexible for marathon gaming sessions, it's a combination of practicality and visual beauty. It's made specifically for PC players.
Key Features
3D armrests
Full 180 degrees recline
PU wheels
Class 4 gas lift
Metal base
This perfect chair is highly adjustable. The 3D armrests allow you to adjust them in three different ways: up and down, left and right, or even turning to the sides for a more helpful angle for your PC gaming preferences.
The 5-star metal base features 2.5-inch PU wheels for a very easy glide on various surfaces, so you don't worry about the seat height fitting in your game space.
For this kind of extra kick of comfort, the incredible chair reclines to a full 180 degrees, which is more than most other gaming seats. PewDiePie, a well-known YouTuber, uses it.
The AKRacing Core Series also has a Class 4 Gas lift, which is presently the most innovative on the market and has a rated range of up to 330 lbs.
Even as the company's beginner edition, this chair claims certainty that it is the best overall, with a 5-year chair warranty and a 10-year frame warranty.
Are you searching for the best overall gaming chairs in the market, here is the list.
Pros & Cons
Pros
Durability
Adjustability
Long warranty
Cons
One of the more expensive options
Read more, Gaming Chairs: How to choose the Best Seat and What to Expect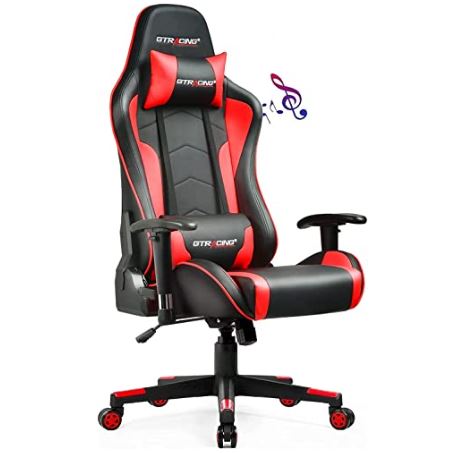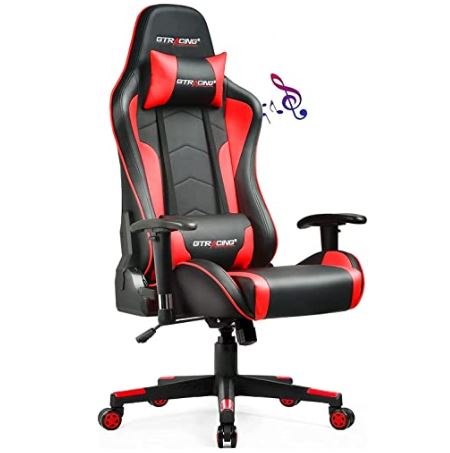 GTRacing is a well-known racing-style gaming chairs manufacturer that produces comfy and functional seats. Because of its cushion style and padding, many customizable settings, and stereo Bluetooth speakers, the GT890M flexible gaming chair is also very attractive when it comes to design.
The GTRacing ergonomic gaming chair is a bucket-type racing chair with a cool design. it mimics that of a race car's seat in several ways. To fully wrap and support your body, there are raised padded cushions on both sides of the seat and on each side of the back region.
It has a vibrant game feel to it. The logo may also be found on the top of the chair as well as on each support cushion.
Although it is not a luxury gaming chair, it is nonetheless of great quality. For aesthetics and general comfort, it'll cost less than $200.
Key Features
170 degrees recline
Lumbar support cushion
4D armrests
PU leather
The solid, high-quality foam is used for the seat and backrest. While it isn't authorized as memory foam, it works similarly, wrapping your body within the bucket racing shell and reverting to normal after you're done.
In fact, if you're used to a high-end gaming or office chair, you could find the chair's foam density and general stiffness a touch harsh. It was noted in several customer reviews.
However, if you're going to be gaming for a long time, you don't really need anything to put you to sleep.
PU leather is soft to the touch and holds it all in place. Even after intense gaming sessions, we had no issues with heat or dampness, and it appears that none of this material will smudge or wear out for a long time. offering a two-year warranty.
Between 90 and 170 degrees, the chair can be locked into position. This is ideal for taking pauses between games or for shaking things up and viewing some programs in style.
The armrests have the much-talked-about 4D adjustment. They adjust to your height by moving up and down, as well as turning left and right if you prefer more elbow support. The armrest cushioning is soft but firm, as it was designed to last.
In addition to including two removable cushions for extra comfort and to offset some of the chair's ruggedness. One is attached to the seat back and serves as a support for your lower back, while the other acts as a place to lay your head.
These appear to be constructed of softer padding than the chair itself, and they are genuinely comfy.
Pros & Cons
Pros
Bluetooth speakers
Detachable extra pillows
High-quality material
Affordable
Cons
Squeaky
Not for big build people
Also check, Why Are Gaming Chairs So Expensive?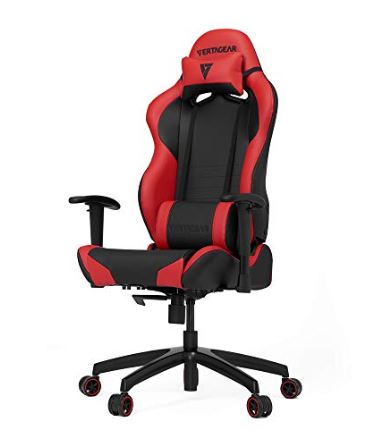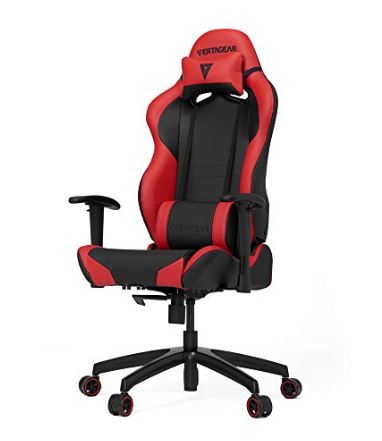 Vertagear is a new brand, so this is their debut gaming chair series, which will be sold in both Europe and America.
We initially assumed Vertagear was tied to AKRACING, a well-known gaming chair company accessible throughout Europe, but we quickly discovered they're just that good on their own!
The SL-2000 series is a blend of design and functionality that concentrates on comfort, style, and performance.
Developed with a broad range of adjustments to provide gamers with the most support and comfort in any gaming posture for long durations. The high backrest is intended to support the neck, shoulders, and lumbar region.
Key Features
Adjustable armrest
PVC leather upholstery
Soft glide wheels
High-dense foam
Steel frame
The SL2000 cushioning is comprised of high-density foam, which gives the chair a great deal of support and luxury.
With a composition of high-quality PVC leather, making it incredibly lasting and giving it a gorgeous appearance. Because of its stain and water resistance, this fabric is simple to clean and manage.
The breathability of the fabric ensures that heat created by the body temperature does not become locked within. Even while sitting for long periods, this provides excellent relaxation for you.
The chair is built on a metal structure that provides a strong basis. The chair's metal high-end structure keeps it sturdy, secure, and light.
It's built with a Class 4 gas lift, which means it'll last longer and be easier to use. To handle the extreme load and solidity, the Class 4 Gas Lift features larger sides.
The wheel has been designed to be smoother and more resistant to foreign material and dirt.
The armrests are padded and molded to the curve of the arm with height flexibility, and the gaming arm is supported and protected from repeated stress.
Read more Best Black and Blue Gaming Chairs
Also, check our picks of the best blue and black gaming chairs ever.
Pros & Cons
Pros
Affordable
Great lumbar support
Smooth glide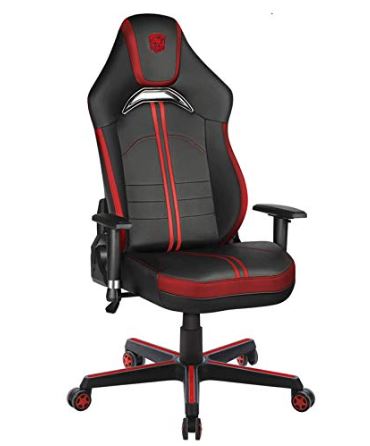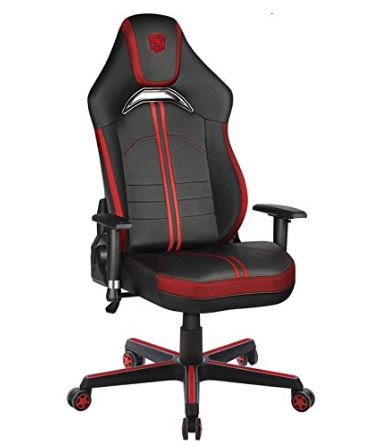 This comfortable gaming chair is padded in airy material PU leather in deep black color with scarlet red accents around the sides and midsection for a ferocious impression.
The chair is not only pleasing to the sight, but it also features back support built into its comfy design, making it comfortable for the back.
Many gaming chairs support a high weight capacity of 300 pounds. But don't worry, there's still a better choice available to you. The furious Gaming chair is ready to support you on your gaming adventures. It is easily capable of supporting a weight capacity of 350 pounds.
To link the basis with the chair, a powerful class 4 gas lift is applied. It is easily moved enough to increase the height. The basis of this comfortable chair is built from steel.
Its PU wheels are quiet and provide outstanding stability. These rollers are built of nylon and are extremely durable.
The 360-degree swivel means moving around freely. This gaming seat will give you lengthy satisfaction whether you use it at your office or on your console.
Key Features
Adjustability options
2D armrest
160 degrees recline
PU faux leather
Lumbar massage pillow
Leather covers the backrest, making it both comfortable and breathable. It contains movable head support for your comfort, during extended gaming sessions.
It also has an equally cool red and black headrest that is both attractive and comfy. The magnificent seat cushion gives you the desired level of coziness. The pad has four layers for maximum comfort. The upper layer, fluffy cotton layer, rubber layer, and high-density spongy layer.
These different layers work together to provide excellent satisfaction. It's constructed of breathable material for a wonderful time in front of your gaming setup.
It not only has all the bells and whistles, but it also has a fantastic massage. The thermal massage in the lumbar support pillow relieves muscular pain and boosts blood circulation.
This massage also boosts your metabolism and keeps your body from becoming tired. So, sit back and enjoy your gaming experience while the massage takes care of you.
These armrests can be adjusted to about 3 inches in length. Because of their adaptability, they can be used in a variety of sitting positions.
This ergonomic chair also has a rocking feature of 20 degrees. You may also choose to lock or release the rocking feature. This gaming chair allows you to adjust the backrest from 90 to 160 degrees.
Pros & Cons
Pros
Strong metal frame
Breathability
Massage lumbar pillow
Cons
Some complained of the wheels being loose
Also check, Best gaming chairs under 500$ (Elite Collection)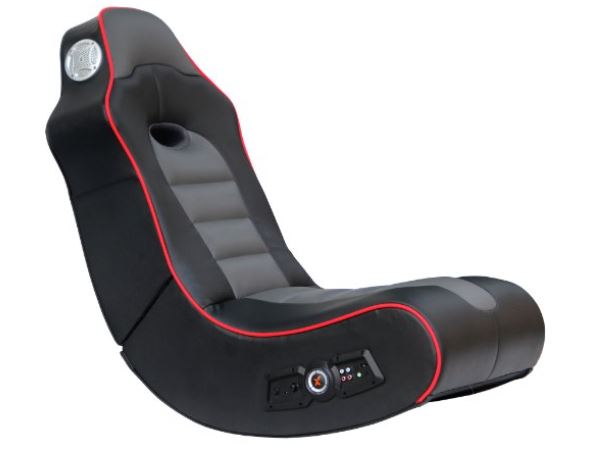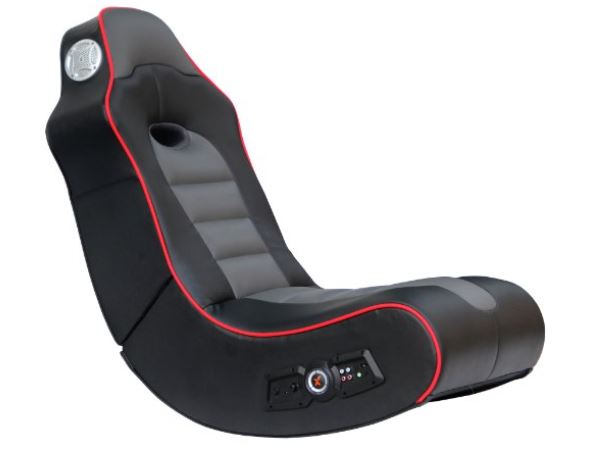 The X Rocker chair is a gaming chair icon that is perfect for gamers. The vivid red piping shines out against the black coating, creating a sleek and clean silhouette.
This wonderful piece of work is quite comfy. It also has a modern touch, and a comfortable ride, and functions well with its wireless audio features.
With the X Rocker, you will game for hours on end without becoming uncomfortable. All of this comes at a fairly affordable price of around $150.
The X Rocker has a lot of expertise, they care about gamers' needs, and they use that care to constantly improve their freshest products. If you've been looking at gaming chairs,
I'm sure you've come across them, and you're probably wondering if they're worth it, especially given the low price. We're not sure how they manage to produce such high-quality goods at such a low cost, but we admire them for it.
Key Features
Foldable chair
Bluetooth speakers and USB portals
Ergonomic design
The design gives not just relaxation but also luxury. The backrest is ergonomically built to provide the most ease for people who play for long periods.
This is why we believe ergonomics to be a primary concern, and the X Rocker does not disappoint.
The structure is sturdy and can support up to 250 pounds. The seat fabric is durable and will stay smooth over time without displaying indications of aging. It is also simple to clean with a moist towel.
Wireless connectivity is a significant benefit. The chair syncs with your gaming platform and also serves as a terrific piece of furniture for binging Netflix, lounging while playing music, and simply sitting.
This is a key marketing factor because we don't see this sort of functionality very frequently, and certainly not with this price range.
The control panel is simple to use yet really effective. On the right side, you can control the volume and bass levels, as well as additional wireless and wired settings.
The speaker is located on the headrest pillow side and delivers excellent sound quality.
Pros & Cons
Pros
Great Tech
Ergonomic design
Amazing looks
Cons
The chair itself is heavy
You might also be interested in our picks of elegant white and black gaming chairs.
Frequently Asked Questions
Does more expensive mean better quality?
We don't believe it is a strict cause-and-effect relationship that spending more money will result in a better chair for you.
Because every gamer has distinct requirements for a gaming chair, think about your requirements first and then shop for a chair that meets them.
Should my chair have a warranty?
It is preferable to get a chair that comes with a guarantee. When purchasing a gadget that you will most likely use every day, think about whether a warranty is vital to you.
Some chairs may have a varied amount of warranty on the chair vs the chair's inner structure. When making a purchase, keep this in mind.
Is lumbar support necessary?
Companies consider lumbar support on a device that you will be sitting on a lot to be crucial. However, lumbar support isn't required; it all relies on your particular preferences and expectations from a gaming chair. Most consumers, on the other hand, remark that gaming is considerably more pleasant when they have lumbar support, especially when that lumbar support is adjustable.
Read more, The Best Gaming Chair Under 200
Final Verdict
That's all folks! Up there are mentioned some of the best red and black gaming chairs you can find on the market. The competition is as fierce as the vibes of the combination of these colors, but we've got your back.
Our top pick is the AKRacing Core Series EX as it has the best of all when it comes to the ergonomics, the aesthetics, and the price.
Our runner-up is Amazon's best choice, which is the X Rocker, 5172601, Gaming Floor Chair. Its premium build, design, and quality are outstanding and very VERY admirable, marking itself as the perfect option.
But it's not our no.1 as it might not suit all the whole armless and legless idea.
Last but not least, is GTRACING Amber Red and Black. As it is the best choice if your main concern is your budget. This chair will do the job just fine with the least price.
If you are looking for a high-quality chair at a low price, check the best gaming chairs under $300.