If you are looking for budget chair, leather seats, lumbar support cushions, a bucket seat under 100$, then we got you!
Here we provide those REAL gamers who spend extended periods of gaming with the most comfortable experience with the price ranges they need.
With our wide range of gaming chairs, we take in consideration your personal preference to give your gaming sessions a nice touch.
In our list of best gaming chairs under 100$, we recommend you a variety. So you can choose an affordable chair, No, but the cheapest gaming chair with extra comfort and maximum weight capacity.
Read More:
https://thegamercollective.com/gaming-chairs/
https://thegamercollective.com/why-are-gaming-chairs-so-expensive/
Here are our top 8 picks for the best gaming chairs under 100$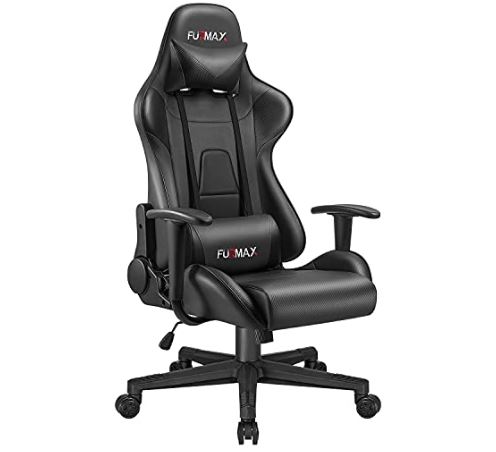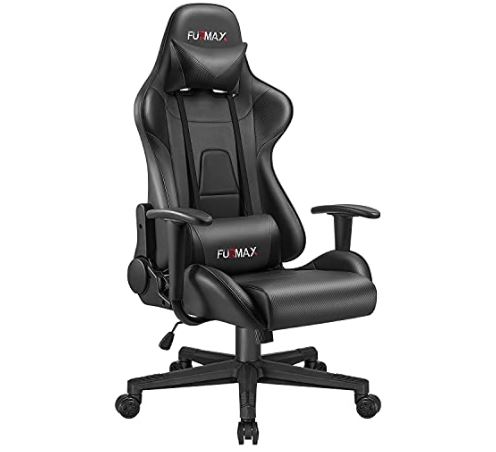 Features that interest you:
Back adjustable
Headrest support
Neck pillow
360 swivel
This Furmax chair is all that you are looking for for under 100$. The lush look of this chair comes from the black carbon fiber painted on the PU leather of the chair. For your comfort the high back is adjustable and the seat is filled with a thick high-density sponge. So no matter how long you stay, you'll still be comfortable.
The steel tubed construction of the chair makes it sturdy and durable. And as this ergonomic chair takes care of your body. The armrests are highly padded and there are headrest, neck pillow, and lumbar support for absolute coziness.
The bucket style of the chair makes it differently hallow and comfortable.
The springs used on the chair for height adjustments are explosion-proof gas springs, so don't worry, you are in safe hands. This cheap gaming chair, helps you recline it to various angles according to your needs. If it's nap time, you can recline it to 150 degrees.
Read More:
https://thegamercollective.com/best-blue-gaming-chairs-calm-and-deep/
https://thegamercollective.com/best-alternatives-for-secretlab-chairs/
Pros & Cons
Pros
Adjustable lumbar support
360 degrees swivel
Comfortable armrests
High back adjustable
Anti-scratch wheeles
Sturdy steel frame
A lot of adjustability features
Cons
Unnecessary bottom pillow
Doesn't recline flat
Verdict: If you are looking for a highly adjustable ergonomic chair, then this is the one for you.
Also check our picks of Secretlab Titan Evo Review: an Honest Opinion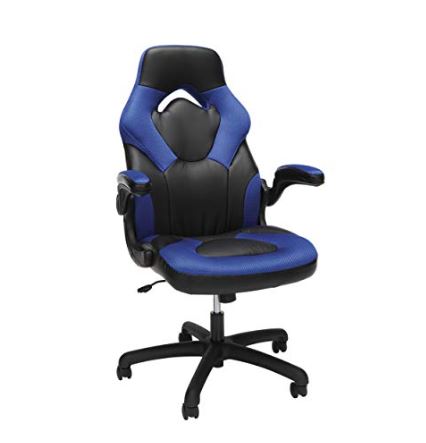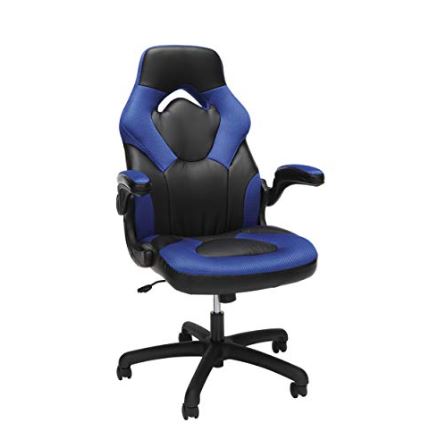 Features that interest you:
Computer gaming chair
Ergonomic swivel
Adjustable for racing gaming
Carries up to 250 lbs
Reclines up to 90 degrees
This OFM office PC gaming chair comes in handy. It doesn't look like a typical gaming chair of high and all, and that's what makes it different and portable.
The ergonomic support of this chair gives no doubt. The padded armrests are kinder to your arms than the plastic ones, plus you can retract them if you don't need them. You will love what's coming now, the upholstering of the chair is SoftThread leather which is a premium PU leather. And what does this benefit you? Oh, this gives you heavenly touch and comfort.
With that touch and the thick padding of the backrest, you will fall in love with work and adore gaming even more. If I were you, I'd purchase two!
Pros & Cons
Pros
Two-in-one
Super soft and comfortable
Portable and light
Budget suitable
Padded armrests and backrest
Ergonomic office chair
Cons
The back isn't high
Not all of its parts are adjustable
Verdict: If you are looking for a chair to use in the office and for gaming, then go ahead and buy this one.
Read More:
https://thegamercollective.com/x-rocker-51396-review/
https://thegamercollective.com/best-black-and-white-gaming-chairs/
https://thegamercollective.com/best-gaming-chairs-for-ps5/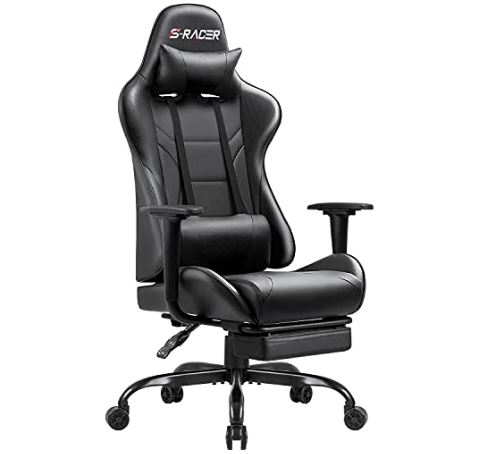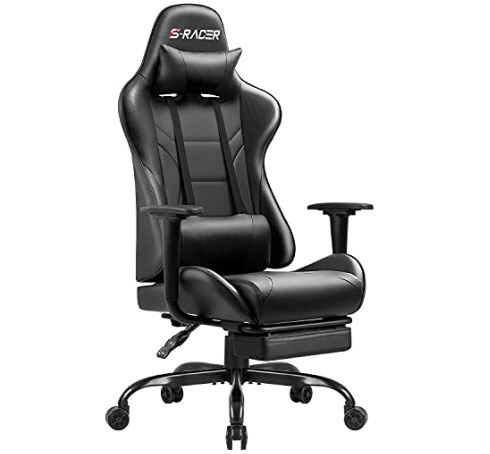 Features that interest you:
360-degree swivel
Reclines between 90-180 degrees
High backrest
Ergonomic design
Capacity to hold up to 300 lbs
For starters, this chair is fun and safe! This Homall racing chair has a high backrest for you to have a full gaming experience leaving everything behind. The high-density shaping foam of the chair helps stay cozy for 8 hours long or more.
Such foam is not just more comfortable, but also anti-oxidizing, resilient to elasticity, and has a long service life. The stability of this chair comes from its 1.8mm-thick steel frame. But for the stability of your own body, it provides you with a lower back cushion and headrest pillow crowned by soft PU leather that is skin-friendly.
You'll find underneath the base a class-3 gas spring that helps to adjust the height properly for your sight and comfort. The wheels of the chair are multi-directional so you can move it wherever you want.
Also, if you wanna take a nap, you can recline the chair 180 degrees
Pros & Cons
Pros
Adjustable height
Reclines 180 degrees
Steel frame which makes it sturdy
High-density foam padding
Soft-touch
Durable chair
Cons
Armrests aren't adjustable
Verdict: if you are looking for a practical gaming chair, then this is the one for you.
Read more, Best gaming chairs under 200$ for your fun and comfort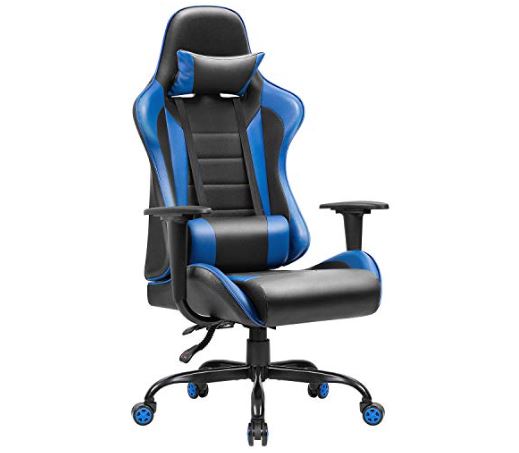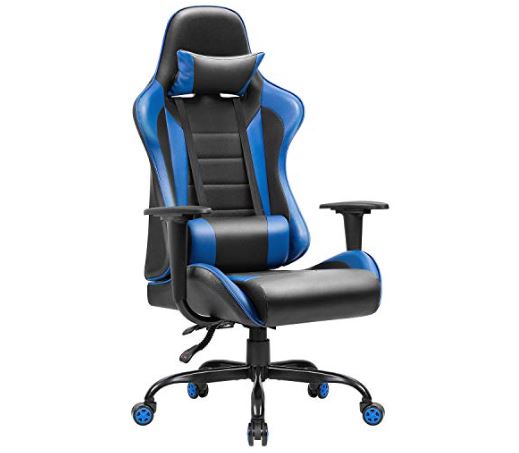 Features that interest you:
Ergonomic chair
Reclines up to 150 degrees
Carries up to 300 pounds
Installation time is 20 minutes
We know you love the two-in-ones. You can use this chair for your office work stuff and for gaming. And of course, you can't use it in both unless it's comfortable enough.
The bucket design of this gaming chair embraces your body with its headrest and lumbar support that can be adjusted for better posture. Speaking of comfy, the chair has a broad backrest and thickly padded wide seat cushion.
The luxurious look comes from its breathable premium leather. And since we are talking about looks, this chair has three color variants: blue, grey, and red. The headrest of this chair is removable and also easily adjusted. Am I the only one impressed here?
The installation of this chair is so easy if you follow the instructions in the instruction manual. It will take approximately 20 minutes.
Pros & Cons
Pros
Premium leather covering
Reclines between 90-150 degrees
Head and lumbar support
Large backrest and seat
Large shoulders
Very handy and adjustable
Cons
Non-spring height adjustment
It May take a long time for installation
Verdict: If you are looking for a cuddly chair, then this is it!
Also read, Dowinx Gaming Chair Review: Does it Live Up to the Hype?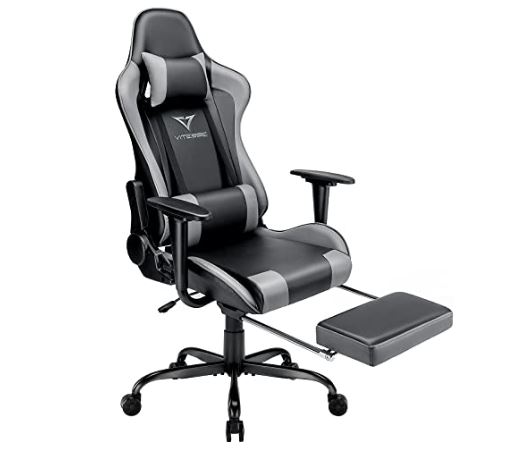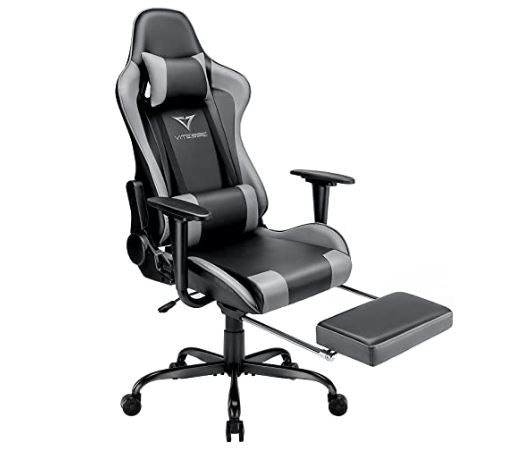 Features that interest you:
Selected material
Carries up to 300 lbs
Reclines from 90-155
Light
This budget gaming chair gives you the ergonomic support that you need. It takes so much care for your body and upper and lower limbs.
The pull-out and thick footrest come in hand when your legs need little temporary spoiling. But if you want to stretch your legs for a nap, you can our other recommended products.
That doesn't mean that you cannot take a quick nap, this gaming chair reclines up to 155 degrees and has a robust backrest. So you can pause a little during the game.
The material of this chair is selected for a comfortable touch and sitting compared to other gaming chairs that cost a fortune. This chair that cost 100$ wins.
Pros & Cons
Pros
Comfortable lumbar and neck support
Thick padded seat
Comfortable backrest
Really affordable
Cons
Armrests are fixed
Non-adjustable height
Can't stretch your legs on it
Final Verdict: If you are looking for a quality budget gaming chair, then this is the one for you.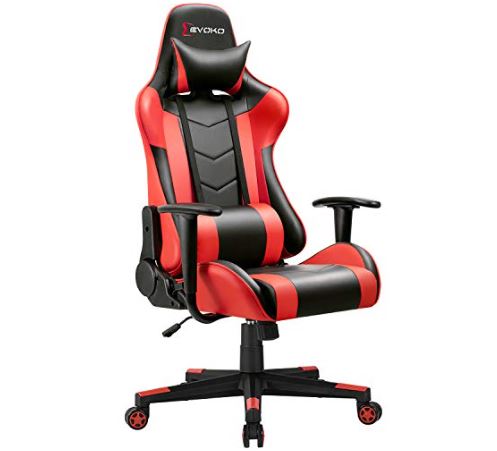 Features that interest you:
PU leather
Ergonomic design
Durable
Rolling wheels
Forget about the stress, now can rest now on this chair. This chair draws inspiration from the racing car seats. Just tell me, is there a better simulation?
The high curved back of the chair literally gives you a hug. The maximum comfort of this chair comes from many aspects, let's see them together! The specially designed head and lumbar support are made to let your body give in.
You can adjust the height of the chair with the help of the gas spring pneumatic. the PU leather of the ergonomic budget gaming chair makes it durable, flexible, and soft at the same time.
You can recline this until you lie stretch. The unique mute rolling rubber caster wheels move to the floor smooth and scratch-free.
Pros & Cons
Pros
Adjustable height
Comfortable lumbar support
Soft high-quality PU leather
Ergonomic for budget gaming
Affordable
Suitable for intense gaming sessions
Cons
The lumbar support pillow isn't attached to the chair
You cannot adjust the armrests
Final Verdict: if you are looking for a racing car seat-like chair, then this is the one for you.
Read also, Best Gaming Chairs for Every Gamer: The Ultimate List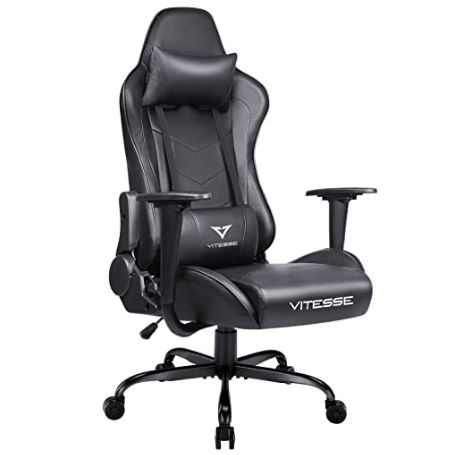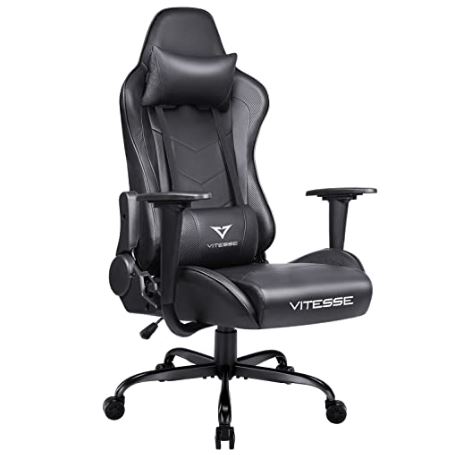 Features that interest you:
360 degrees swivel
Tilts between 90-180 degrees
3-point support
Despite being lightweight this cheap chair is sturdy and durable, thanks to its carbon fiber construction.
The ergonomic chair provides you with a big and broad seat. The backrest is adjustable with safety angles of 90-180 degrees.
Let's get a little scientific now, the chair has 3-point support for the body to afford maximum comfort; on the head, spine, and lower spine. And how is that? Well, with the help of the removable pillow for lumbar cushioning and headrest you can let your body loose.
Smooth-rolling casters make the moving the chair like skating. And also the casters prevent the scratching of the floor. Thankfully, the 3-class gas lift that helps you adjust the height is explosion-proof.
Also, check the best gaming chairs under 300 USD.
Pros & Cons
Pros
Safe
Comfortable
Tilts up to 180 degrees
Removable pillow and lumbar cushioning
Sturdy
Durable
Cheap
Cons
The lumbar cushion needs to be adjusted constantly
The lift function isn't the best
Verdict: If you are looking for the cheapest, then this is the one for you.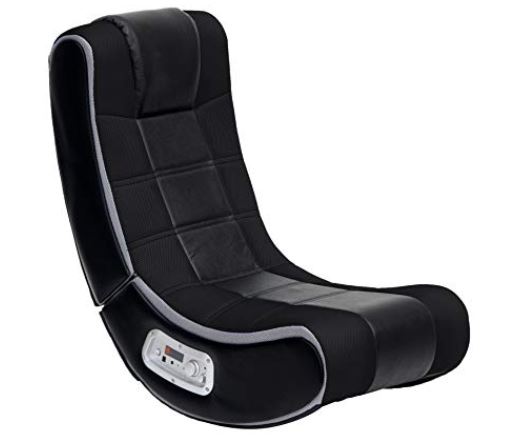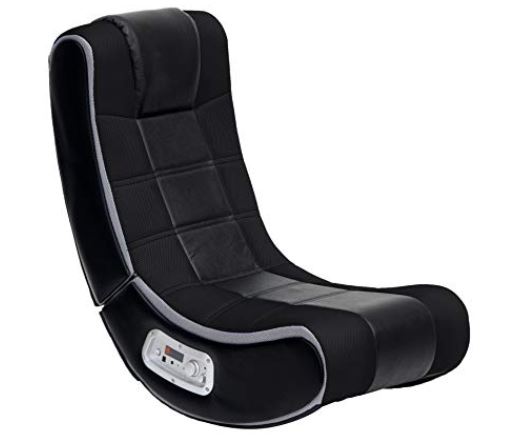 Features that interset you:
Carries up to 275
Reclines 135 degrees
5 color options
Rocker type
For console gamers, this is what you need. This X Rocker V is the best for console gaming.
They provide cutting-edge designs with the most up-to-date immersion technologies and specifications. It's no different with the X Rocker V Gaming Chair.
Two speakers and a specialized subwoofer are incorporated into the headrest of the Rocker V. Isn't that amazing? It also includes a media control panel with a headphone jack and bass/volume control knobs for on-the-fly adjustments.
Connect the chair to your Xbox One or Playstation 4 (wired or wireless) and experience gaming like never before.
Oh, and ergonomics aren't to be overlooked. After all, it's just a chair. Because of its enormous "rocker" design, which includes a vinyl cover and padded headrest, the Rocker V is extremely comfy. Although some customers have expressed dissatisfaction with the lack of lumbar support, the small cushion is here to compensate.
Pros & Cons
Pros
Ideal for all kids and adults
Comfortable headrest
Vinyl cover
Strong speakers and bass
Affordable price
Comfortable chair
Cons
You might face audio lag
Maybe use an extra lumbar pillow
Connecting to your console isn't the easiest
Verdict: As one of the decent gaming chairs, this one with a fair price is the best for you.
Also check,
Why Are Gaming Chairs So Expensive?
https://thegamercollective.com/arozzi-milano-gaming-chair/
FAQs
What are important things to look for in a gaming chair?
Your comfort is the most important of all, and while sitting on a chair your posture matters, so always make sure that your chair provides you with ergonomic support (chair paddings, adjustment..etc.)
Also, read how to get the right gaming chair for you.
Do I get better at playing games when sitting in a gaming chair?
We cannot give a solid answer to that, but what is the point of tiring your body regardless of your physical health? The ordinary chair is good for normal sitting. Meanwhile, gaming requires a specific kind of chair adjustment so your body will stay comfortable and unharmed for a while.
Is it worth buying a gaming chair?
Of course! If you are a gamer, then really need a gaming chair.
How long does a gaming chair last?
The minimum age for a gaming chair shouldn't be less than 2 years. You can keep your chair for up to five years, it really depends on how you use it.
Who can use a gaming chair?
Literally anyone! A gaming chair is naturally comfortable, so it is suitable for adults and kids too.
Final Verdict
Last but least, we made it for. We ranked our marvelous recommendations for you. Here you go!
We know you are here because you don't want an expensive gaming chair. so, Furmax High Back Adjustable Racing Style Gaming Chair gives you what you are here for
Speaking of high-quality material, then Vitesse Gaming Chair Office with its comfort features and seat padding is the one.
About durable material, with its durable steel frame and height pounds weight capacity the Homall ergonomic chair is the one for you.