Best Overall
Logitech G502 Lightspeed Wireless Gaming Mouse with Hero 25K Sensor
Premium Choice
Razer Viper Mini Ultralight Gaming Mouse
Best Budget
Logitech G203 Wired Gaming Mouse

Finding a gaming mouse with an excellent gaming performance isn't rocket science, but finding a gaming mouse with an excellent gaming performance at an affordable price is a really hard thing to do!
In the "best gaming mouse under 100" review you will find the best gaming mice on the market in terms of performance, design, and price.
All you need to do is to select the mouse that better suits your gaming setup, activity, and most of all, budget.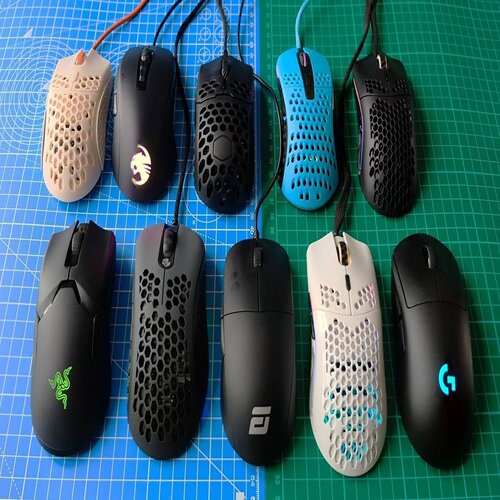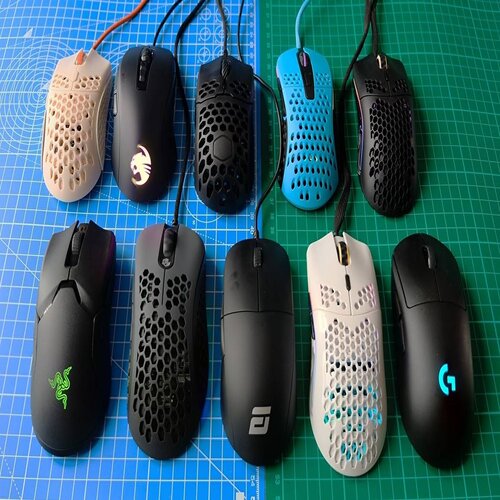 List of Best Gaming Mouse Under 100
Best Gaming Mouse Under 100
Best Overall
PowerPlay wireless charging
11 customizable buttons and hyper-fast scroll wheel
25,600 max dpi sensitivity
Light speed wireless gaming mouse
Plastic neutral certification
Fully customize RGB lighting from around 16.8 million colors
Adjustable weight system
Fully customize RGB lighting
Hero 25K sensor through a software update from G HUB
Logitech G502 Lightspeed Wireless Gaming Mouse with Hero 25K Sensor is the best gaming mouse to get when you have a tight budget.
Excellent Build Quality
Logitech G502 lightspeed is not so different from the stunning Logitech G502 Hero, as the first has a fairly bulky body, a cool gaming look with RGB-lit logo & CPI indicators, which all blend to make you feel that you are holding an expensive gaming mouse in your hand.
As for weight, the Logitech G502 Lightspeed is a bulky gaming mouse as I have just mentioned, making it a heavy mouse. The impressive feature of this mouse is that it lets you choose the weight that will deliver you the most comfort. It has four 2 grams weights & two 4 grams weights.
In spite of its being heavyweight, it is portable as it is a wireless mouse, so you don't have to worry much about the troublesome cables, and you will be happy to know that the mouse has the ability to store its receiver inside it.
In terms of construction, this best gaming mouse is well-built. It comes with a really solid body along with clicky & ergonomic buttons
On the left & right sides of the mouse, you will notice grips for a comfortable gaming session every time. The thumb rest is comfortable too.
While trying out this gaming mouse, I have noticed a wobbling noise coming from the inside of the unit whenever it is Shaked, which is something I have also experienced with the wired version.
You might also be interested, Best Mousepad for Csgo: your ultimate guide
Ergonomic
Logitech gaming mouse has an ergonomic shape, that is more suitable for users with larger hands. Furthermore, it has a slight slant & an ergonomic thumb rest that allows for a comfortable palm grip.
This means that Cyberpunk 2077 edition, Call of Duty gamers (or whatever your favorite games are) with smaller hands aren't going to love this affordable gaming mouse as it will be a hassle for them to reach the buttons, particularly the sniper button, as it is considered to be far from the front of the mouse.
Wondering about the PTFE mouse feet? Okay, the good news is you will find it so smooth & satisfying to use the Logitech gaming mouse on your gaming desk or mouse pad, but you need to keep in mind that they are a little bit thin with sharp edges.
Programmable Buttons
All the buttons Logitech G502 lightspeed mouse' has are customizable, except for the mechanical scroll wheel lock. When you take a closer look at the wireless mouse you will find three buttons on its left, including a sniper button & 2 more buttons built on the main left click for CPI adjustments.
Nice Cable
One more notable feature is the flexible cable, in fact, Logitech G502 lightspeed has a cable that is better than many cables of other competitors, it won't drag and keep many kinks.
Pros
Works with Windows and macOS
Extremely consistent CPI
Many programmable inputs
Low click latency
Very well-built
Cons
Not built for gamers with small hands
Heavyweight
Bottom line
Logitech G502 mouse Will make an expensive addition to your gaming setup at an inexpensive cost.
Premium Choice
Lightest, Zero-Compromise Miniature Mouse
Self-Adhesive Design
Razer Optical Mouse Switch
Faster Than Traditional Mechanical Switches
Anti-Slip Grip Tape
Razer Speedflex Cable
6 Programmable Buttons
Drag-Free Cord for Wireless-Like Performance

If you are looking for an ultra-lightweight mouse, that will perform so well, whether you are using a palm grip or claw grip at an affordable price, don't look further than Razer Viper Mini Ultralight Gaming Mouse!
Decent Design
The Razer Viper Mini mouse is not so different from the original Razer viper mouse, it is just a little bit smaller.
Razer mouse comes with a sleek, black body that has an RGB logo on its back & tiny strip of RGB around its bottom, giving it a really distinctive look.
If you are a fan of lightweight gaming mice you will love to know that the ambidextrous chassis has lost more weight, offering you way faster swipes while staying as sturdy & solid as ever.
Underneath the mouse wheel, you are going to find a CPI switch button.
Unlike Logitech G502 Lightspeed which is mainly targeting gamers with larger hands, this mouse from Razer is meant for gamers with smaller hands, this is because of its smaller body.
Reliable Build-Quality
Razer Viper wired gaming mouse is expertly designed, and actually, this is what makes Razer gaming mice one of the best products on the market along with Logitech.
Unlike Logitech G502 Lightspeed which has a little wobble, this gaming mouse from Razer is free of rattling and wobbling, so you will feel that you are holding a mouse that costs more than $100.
Even the feet of the mouse glide so well and might be even better than those the regular Viper mouses have.
Razer Optical Mouse Switch
Furthermore, the mouse has an infrared light beam for registering each and every single click you are clicking.
Razer has a 0.2 millisecond reaction time on its switches. This sort of actuation eliminates the need for debouncing delay and ensures that no unintended clicks occur, giving you more control.
Anti-Slip Texture
What sets this gaming mouse apart, is that it comes with an anti-slip grip tape, which is made of polyurethane, providing the mouse with more grip and sweat-absorbent properties, ensuring that the gaming mouse will never slip out of your hand.
Pros
ULTRA-LIGHT. ULTRA-FAST
Comes with Grip Tape
Excellent sensor performance
Exceptional low click latency
Great cable with minimal kinks
Excellent mouse movement
Cons
Not comfortable for larger hands
CPI range is not very wide
Bottom line
Razer Viper Mini mouse is an excellent mouse to get for less than $100. regardless of whether you use a claw, palm, or fingertip grip style, it will perform so well.
If you fancy ultra-lightweight gaming mice, this mouse is the best choice to make.
Also, check Best Claw Grip Mouse – Reviews & Buyer's Guide
Best Budget
8,000 DPI gaming-grade sensor
Vibrant Lightsync RGB
16.8 million colors
classic and simple 6-button layout
Durable metal springs for reliability
Primary buttons are mechanical and tensioned with durable metal springs
Logitech gaming software
Microprocessor: 32-bit ARM

If you are looking for a high-quality mouse with a high-precision sensor and a stunning design at an affordable price, Logitech G203 Wired Gaming Mouse is highly recommended, let me tell you more about it.
Compact Design
As for design, Logitech G203 has a comfortable design. It is a compact and simple mouse that measures: 4.5″ (L) x 2.4″ (W) x 1.5″ (H), which makes it an ergonomic gaming mouse for gamers with small hands and medium hands.
This comfortable shape comes with a sleek fully black exterior that allows for a lot of chances to showcase the customizable RGB lighting creativity.
You just need to download & access G HUB software and then you will start to enjoy impressive backlighting in up to 16.8 million colors.
Excellent Performance
This budget gaming mouse features a gaming-grade optical sensor, that you can customize to reach a DPI of up to 8,000.
FPS gamers will love to know that, Logitech G203 allows for a decent amount of flexibility whenever you want for adjusting how precise you are for an excellent performance.
Durable Gaming Mouse
Logitech G203 ergonomic mouse features extra buttons that are fully programmable near the thumb area for extra comfort & easy access
Moreover, it also has a built-in memory board that allows for saving up to 5 different adjustable DPI profiles.
We don't really suggest setting different sensitivity profiles while playing FPS games that require quick actions, as you can press the max DPI button by mistake which makes you so vulnerable to your enemies.
For more durability and high-level gaming performance, the primary two mouse buttons are mechanical and have durable metal springs.
Pros
Well-built
Easy to personalize
Works with Windows and macOS
high-precision sensor
Low click latency
Available in 4 colors
Cons
No left and right tilt buttons
Bottom Line
For every gamer looking for a high-quality mouse with an ergonomic design and long hours of battery life at a low cost, Logitech G203 is worth your money.
Ambidextrous design
ULTRA FLEXIBLE CABLE
100% pure Virgin PTFE
0 mouse acceleration
E-SPORT CUSTOMIZATION
6 buttons with macro support
1000 Hz polling rate
G-Skates mouse Feet
Available in: black matte, white matte, black glossy, & white glossy
180-Day Replacement Guarantee & 2 Year Warranty

Just like glorious model D, glorious model o is one of the most outstanding comfortable mice that come at a reasonable price. In the few next lines, I will tell you why Model O is appreciated by a wide range of gamers.
Glorious Model O isn't so much different from its cousin D, the main differences are: the glorious model D is the newest model, and model o is great for either right-handed & or left-handed gamers.
HoneyComb Shell Strength and Comfort
In terms of weight, the glorious model O wired mouse is one of the lightest mice as it weighs only 67gm.
In spite of being super lightweight, it remains well-balanced & sturdy.
The only downside regarding the lightweight is that this glorious mouse is vulnerable to sidewall flex, particularly when used by aggressive gamers.
The Honeycomb designs achieve a feather-light weight while keeping the mouse's ultra-durable strength.
In fact, you won't really feel the holes underneath your palm but they will allow for ventilation to keep your palms cool & fresh even in the longest gaming sessions.
Cleaning this honeycomb-style mouse is a little bit of a hassle, it requires an air canister every time you need to clean it.
So, what about the mouse feet? They are made of 100% pure virgin-grade PTFE, which makes them glide smoothly on many surfaces.
Stunning RGB Lights
Glorious O has amazing customizable RGB lights, that allow for eight color settings among 3 zones, in a line between the top & side cover and at the back of the scrolling wheel
One more notable feature is the PixArt PMW3360 sensor which provides max DPI from 100-to 12,000, offering the gamer the precise traction he needs.
Pros
Attractive design with cool RGB
Ascended Cord
Glides smoothly
Lightweight
Grippy
Ambidextrous design
Amazing DPI Indicator
Precise scroll wheel
Bottom line
Glorious Model O is a great choice to make if you are seeking a premium quality mouse at an affordable price.
Aura Sync Lighting
Exclusive Push-Fit Switch Socket Design
Omron switches with 50-million-click durability
Perfect Synchronisation
Right-hand design
Advanced 12000 DPI optical sensor
Gaming-Grade Optical Sensor
Detachable cable design and ROG pouch

If you are keen on being the last man standing or the first-person shooter, you are surely going to fall in love with the precision of ASUS ROG Gladius II.
It is designed to offer reliable power, accuracy, and sturdiness.
Ergonomic design
When you hold ASUS ROG Gladius II for the first time, you will immediately feel its hefty design.
Just like Logitech G502 Lightspeed Mouse with Hero Sensor, this mouse is more suitable for gamers with larger hands. So, if you are a gamer with smaller hands, you better find another affordable option on the list.
ASUS ROG Gladius II is also meant for right-handed gamers only.
The small mouse feet on the bottom provide a super smooth grip across the mouse pad or gaming desk, making it such an amazing mouse if you are a fan of fast-paced action games in which the cursor needs to react super-duper quickly.
Let me tell you that after a week of using this mouse I started to feel that it is an extension of my right arm!
What also makes this mouse stand out is its two cables, the short & long one, allowing you to have cable hooked up to your pc all the time, while the other shorter one is in your laptop.
Making this wired mouse a great choice for any gamer who is looking for a gaming mouse to switch back & forth between his devices and gaming setups.
Long lifespan
You will be glad to hear that the optical switches of this mouse allow for up to 50 million clicks and even more, keeping you away from spending your money on buying a new gaming mouse every once in a while.
Gaming-Grade Optical Sensor
Thanks to the stunning 12K DPI optical sensor, you will not miss a click. Asus rog gladius ii is also a great choice for big monitors & multi-monitor gaming setups because it is sensitive enough to glide smoothly between the screens.
Pros
Ergonomic design
2 Detachable cables
Highly precise sensor
Strong aesthetics
Customizable RGB lighting
Cons
Not for left-handed users
Sides can flake
Not for bigger hands
Bottom line
If you are looking for a reliable wired mouse that looks aesthetic on your gaming desk while providing you with the precision you need, Asus rog gladius ii is a good option to take into consideration.
FAQ on The Best Gaming Mouse Under 100
Are gaming mice worth it?
Gaming mice offer the gamer lots and lots of benefits in comparison with regular mice and for many gamers, they could be a good investment.
A gaming mouse can make a stunning addition to your gaming setup in terms of look, while in terms of ergonomics, some of them are designed to be so comfortable even in the longest gaming marathons.
Furthermore, high-quality gaming mice have better precision than regular mice, as well as longer durability which enhances the gamer's gaming performance.
What is the best budget mouse for FPS games?
Logitech G203 LIGHTSYNC gaming mouse is the best budget mouse on the market for the time being.
Even though it is a wired mouse it brings a wireless-like feeling. Furthermore, it has a great click latency, which makes it an amazing mouse for FBS gaming.
This mouse also has a symmetrical, egg-shaped shape that makes it suitable for left & right-handed gamers.
Final Thoughts
The best overall mouse on the list is the undisputed Logitech G502 Lightspeed Wireless Gaming Mouse with Hero 25K Sensor. It offers you to customize its weight to get maximum comfort every time.
Furthermore, the stunning Hero sensor makes delivers an excellent gaming performance.
Our premium choice is the one and only Razer Viper Mini Ultralight Gaming Mouse. It is faster than the other traditional mechanical optical switches. And it comes with an anti-slip grip tape for a smoother glide.
And the best budget mouse on our list of the best gaming mouse under 100 is Logitech G203 Wired Gaming Mouse.
It has a classic & simple design that takes your gaming sessions to the next level at a reasonable price.