What Equipment Do I Need to Stream? Ultimate Streaming Checklist
Want to get into streaming, but have no clue how to get started? What equipment do you even need to stream on Twitch? There are some absolute essentials you'll want to have in your arsenal to host quality, trouble-free streams. This article serves as the ultimate streaming checklist that explains everything you'll need to have to stream gameplay or IRL content using a console, PC, or just a camera ready for action.
What Equipment Do I Need to Stream?
This is, by far, the most common question asked by gamers (or anyone) interested in getting into live streaming of any kind. While streaming isn't difficult, there are some essential pieces of hardware you need to get your channel up and running.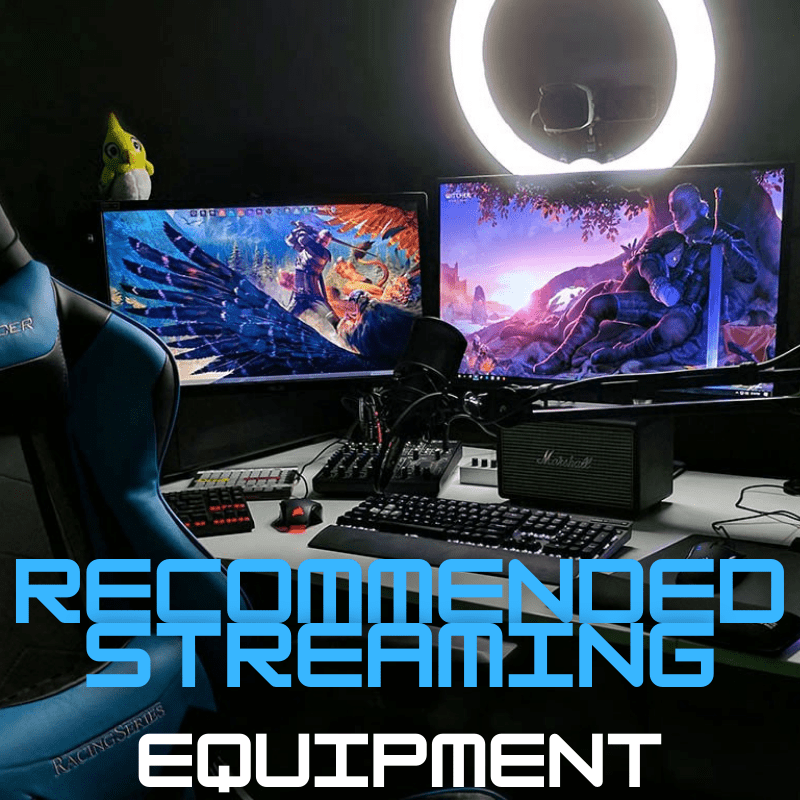 Below, we have provided a guide to every essential piece of equipment necessary for having excellent streams that will attract and KEEP viewers' eyes on your channel.
Quality Webcam or Camera
First up on our list of equipment you need for streaming is, of course, a webcam. While there are a few exceptions, most people that live stream are putting their face out there for the world to see. To make sure you look your absolute best and have good production quality, a good webcam is a for-sure must have piece.
So, what should you be looking for? Resolution, FPS (frames per second), and decent focus are the primary specs you're gonna want to keep an eye on. In terms of resolution – well, it's 2021… if you're not streaming in at least full 1080p HD you're way behind the times.
That said, you don't have to shell out a ton of cash to spring for the most ridiculous cam you can find, either. Logitech has several models in the mid to high price range. The mid-level ones give impressive capturing capabilities for the money. Higher-end models are stunning, but not 100% necessary.
If you're of the "go big or go home" mindset, the Logitech BRIO is easily one of the best, if not THE best webcam for streaming, period. It gives you the ability to stream in stunning 4K quality, works with major stream software like xSplit and OBS (Swift Capture, too for the Mac users), offers up 5x digital zoom, and maintains a solid 60fps.
The Logitech C925-e is an awesome cam, too and it's a bit cheaper. NexiGo, on the other hand, offers a well-rounded webcam at a reasonable price that has a lot of stellar reviews. They also manufacture one that sits at $40, still streams in 1080P, and is a decent choice if you're looking for a cheaper streaming setup.
So if you're trying to figure out the answer to the question "what equipment do I need to stream?" – a quality webcam should definitely be high up on your list!
Professional-Grade Microphone
On top of your viewers wanting to get a good look at you, they're also going to want to be able to hear you clearly. For that, you'll definitely need a decent mic. There are tons of options out there. A few are staples when it comes to Twitch streaming. Blue mics are easily one of the most popular. There are plenty of other great models, too, though.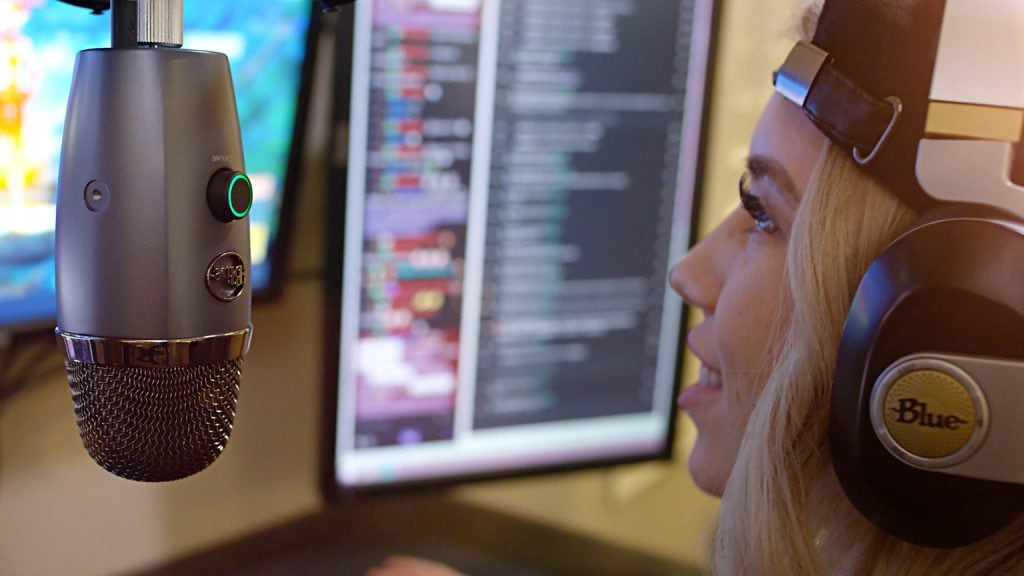 We've already made a list of the best mics for streaming, but, if you're looking for a few decent recommendations….
Four-Capsule Array
High-Res LED Metering
Multi-Function Smart Knob
Blue VO!CE Software
Customizable LED Lighting
Logitech G HUB Integration
Our first recommendation is none other than the Blue Yeti X (pictured above). Blue mics are a staple in the gaming community for streaming. They're affordable, look great on your favorite gaming desk, provide great audio for streams, and are ridiculously easy to setup and use.
The mic features on-board LED lighting, Blue voice effects are available for use, it's quick and easy to adjust the gain, mute, and headphone volume functions through a turn of a dial, and the Yeti X is amazing for use on Twitch, YouTube, and any other platform where voice audio is needed.
Anti-vibration shock mount
Tap to mute sensor with LED indicator
Four selectable polar patterns
Mount adapter included
Convenient gain control adjustment
Multi device and chat program compatibility
The HyperX QuadCast USB Condenser Gaming Microphone is another impressive choice for streaming. Featuring a tap-to-mute sensor, adjustable gain, mic monitoring, crisp audio, and an included shock mount – this bad boy is ripped and ready to go. It makes for a beast of a mic that's perfect for practically any gamer's dream setup.
The QuadCast has an incredible, unique look, works beautifully with Twitch, YouTube, and Discord, is reasonably priced, and comes straight from a company that develops nothing but top-notch gaming equipment. It even has a built-in pop filter that helps cut down on unwanted sounds coming through during your stream. This is easily a must-have piece of equipment for streaming.
Condenser capsule with a tight cardioid polar pattern captures speech with precision
Use the Wave Link app to control Wave
Up to 24-bit / 96kHz analog to digital conversion delivers lush detail
Proprietary Clipguard technology makes distortion virtually impossible
Superior circuitry ensures seamless audio signal transmission
Rounding off our top 3 picks for best mics for Twitch streaming is the Elgato Wave 3. This mic is built amazingly well. It has a user-friendly dial that gives you the ability to adjust gain, volume, and crossfade between mic and PC mix quickly and easily. It's plug-and-play ready for stream software such as OBS and xSplit as well making it an ideal choice for gamers wanting to just plug up and go live.
The Wave 3 is also fully compatible with the Elgato Stream Deck. Through use of Wave Link you can connect the Wave 3 to your Stream Deck and have full studio control with buttons mapped for all essential functions at your fingertips at all times.
Recommended Mic Accessories
Along with getting a microphone you're also going to need a few things to go with it. Depending on your mic of choice and your actual setup you will need things like a mic stand or boom arm, pop filter, shock mount, etc.
You may or may not need these depending on if your mic is capable of being a freestanding piece of equipment or has a built-in pop filter. The pop filter is one of the most highly recommended pieces to get, though. So, if your mic doesn't include one, definitely grab one.
These things may seem trivial but if you're trying to figure out what equipment do I need to stream, these are pretty important items to keep in mind.
Proper Lighting
"What other equipment do I need for streaming", you ask? Well, to put your best foot forward when you're in the limelight you're going to want to invest in proper lighting as well. You can purchase individual pieces such as a ring light or you can get yourself an entire lighting kit if your budget allows it.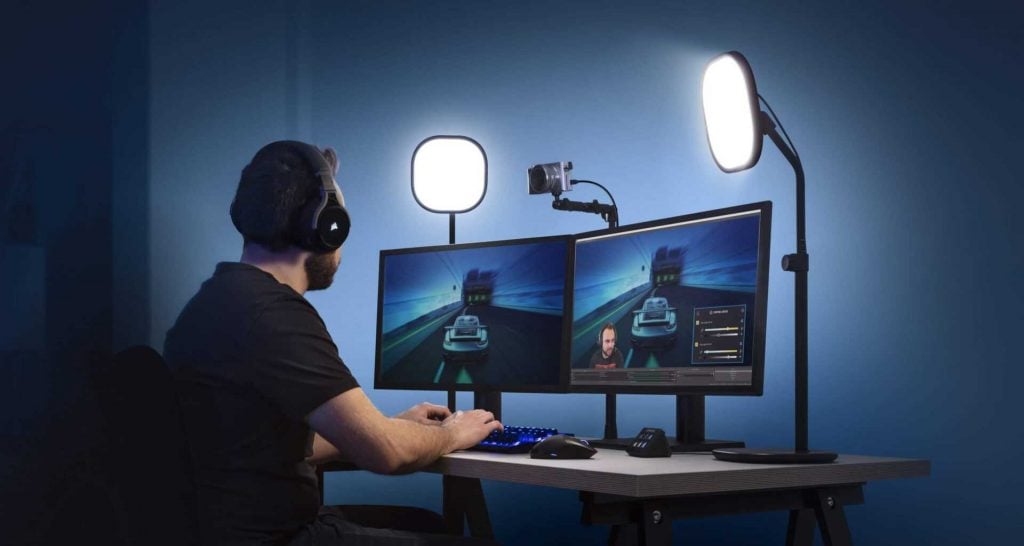 Most lighting kits include everything you need. Perhaps the most popular option amongst streamers is the ring light. These are incredible for giving you the perfect lighting to highlight yourself and really bring out the best quality possible with your webcam setup, too. The better the light, the better the shot. That's why it's very important to have a good lighting setup for streaming. Again, not a requirement, but – for the sake of high production value, we suggest investing in this if you can.
The best options? One of our favorites is the Lume Cube Broadcast Lighting Kit. This is an iPhone-sized, LED panel light that comes with a tripod as well as a suction cup mount. It's quick and easy to put together, provides excellent lighting for streams, and isn't terribly priced either.
Other good choices are the Cyezcor Video Conference Lighting Kit or the Neewer Dimmable USB LED Video Lights. All three of these are amazing for streaming on Twitch or any other broadcasting service. They're affordable, simple to use, and can improve the overall quality of your streams significantly.
Greenscreen
Don't want your room in the background? Want to be able to add some ridiculously impressive effects and really make your stream stand out from the rest? Then another recommended piece of equipment you'll need for streaming is none other than – a green screen.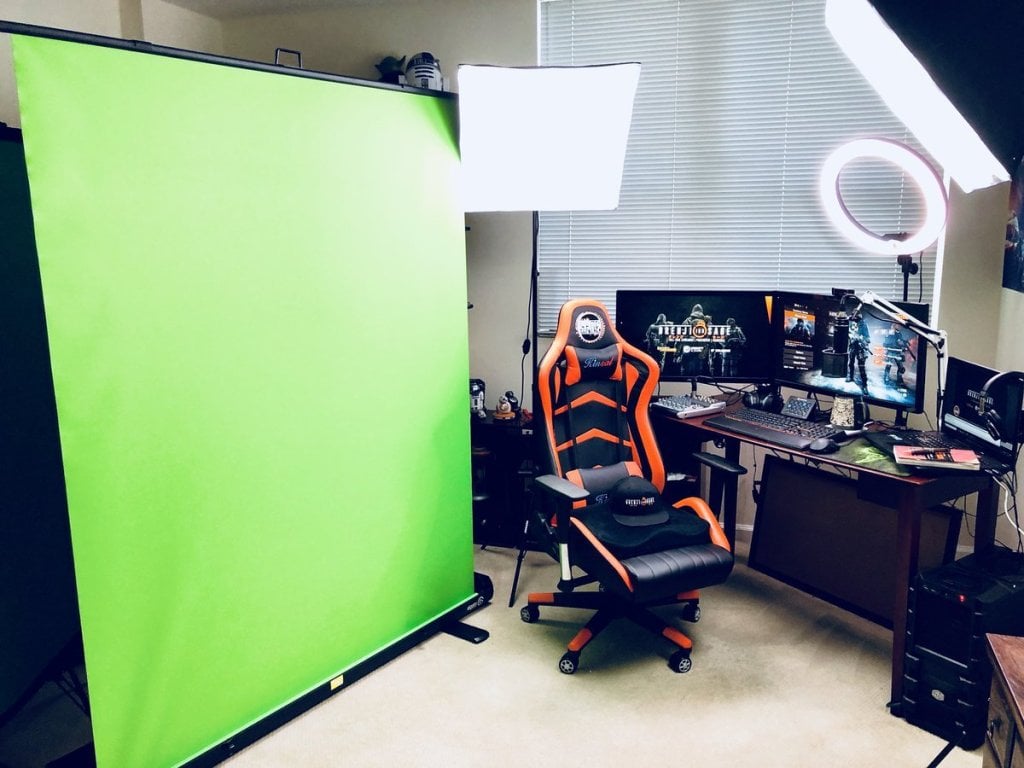 A green screen allows you to add awesome effects, change the setting you're in, and make your entire stream a bit more creative and eye-popping. There are entire kits available that include the screen, backdrop stand, lighting elements (this is primarily intended for photography, but can be used for streams as well), and more. Or, if you just want the screen, you can buy one individually as well.
Quality Gaming Headset
What equipment do you need to stream on twitch? A good gaming headset is definitely a staple in ANY proper streamer's arsenal. This is true no matter if you're streaming from a PC, Xbox Series X, Xbox One, PS5, PS4, or ANY other platform.
This, of course, applies to your actual gaming more than stream audio. The voice capturing will come from your dedicated mic that we've mentioned above. But, to show off your skills, communicate better with friends or teammates, and just enjoy gaming while you're live – you'll definitely want to get a decent headset to game with.
Supportive / Stylish Gaming Chair
If you're planning to stream your gaming adventures you'll no doubt be planting yourself in front of your PC or console for HOURS. In order to keep yourself comfortable and put off a true gamer vibe, you may want to consider getting a gaming chair, too. Is this really necessary equipment you need for streaming on Twitch? No. You can absolutely use a standard office chair. But, come on… gaming chairs look too sweet to pass on!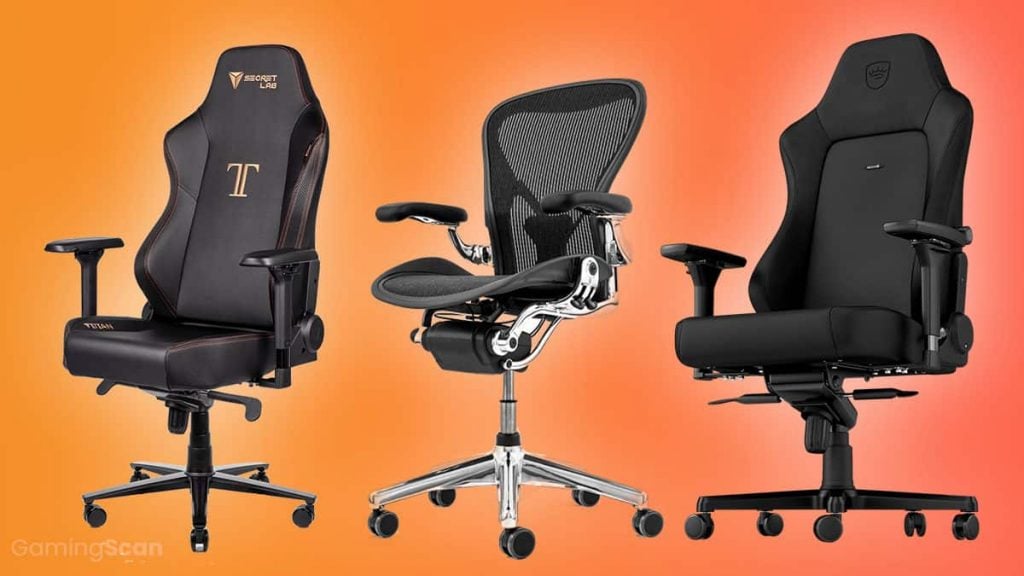 There are TONS to choose from, but, as with anything, not all are equal. You'll want to take multiple things into consideration when looking for a good chair including overall build quality, size, styles based on your own personal preferences, pricing, and so on.
Decent Monitor Setup
What equipment do you need to stream? Well, while it isn't 100% about the streaming aspect, a quality monitor (or monitors if you really go all out) is another essential piece to the puzzle.
Monitors are tricky to shop for. There are literally thousands out there. The best thing to do is size up your budget, figure out what size monitor would work best for your streaming setup, and dig into online reviews to figure out which ones will give you the best bang for your buck.
For most people – a single monitor setup is more than enough to cut it. Others, however, build elaborate gaming and stream setups involving two to three monitors. This can be a bit overkill for a lot of people, but if you need the ability to multitask on your PC and have the room for it on your desk, go for it.
We've listed a few of the most recommended gaming monitors above. There are tons of other options to explore, though. Just take a browse through them, see if they're a good fit for your own setup, and be sure to read reviews to make sure you're getting a monitor that isn't going to give you a headache down the road.
What Equipment Do I Need to Stream? A Capable PC, For Sure
Of course pretty much none of the aforementioned streaming equipment makes much of a difference if your PC can't handle the components or the software to make all the magic happen in the first place. We assume if you're Googling questions like "what equipment do i need to stream?" you've already got this part covered, BUT – if you don't – well, this is definitely the place to start. You'll definitely want to invest a good chunk of change in a good streaming PC build before all else.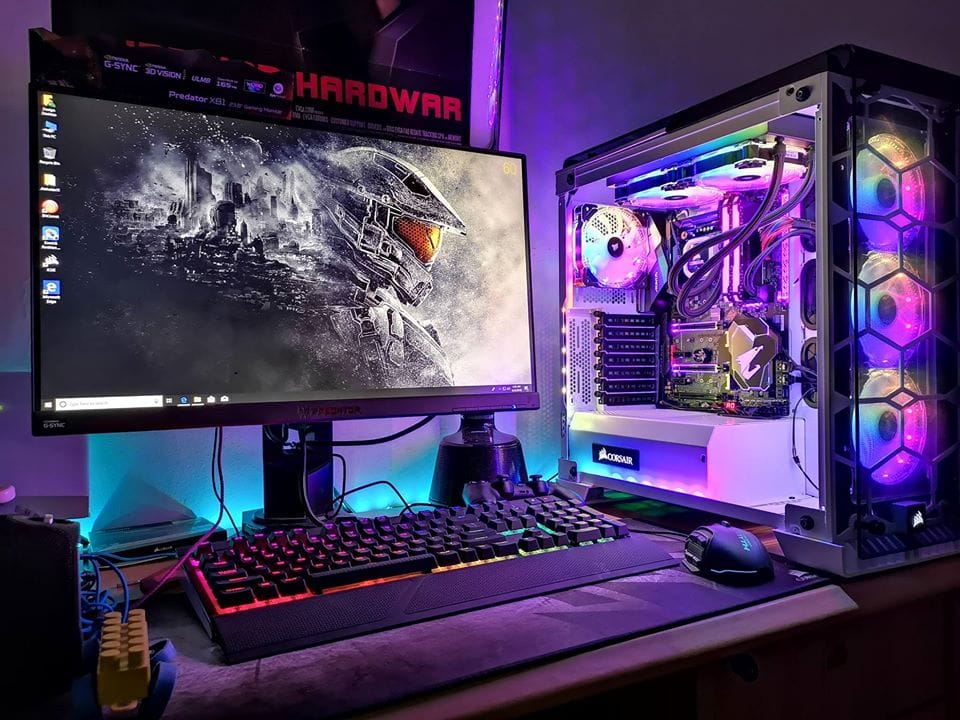 The absolute best option when it comes to a great PC build is ALWAYS going to be building your own. It's more cost-effective, you can put together a tower with everything YOU want and need, and you can customize the crap out of it to your liking.
There are plenty of companies out there that offer prebuilt gaming PCs, too. And while most do give you the option of picking out certain components (RAM, GPU, etc) they're not fully customizable and are usually a little pricier than constructing a PC on your own. Nevertheless, if you don't have the time or know-how and just want to jump into gaming and streaming quickly – they aren't terrible options to consider.